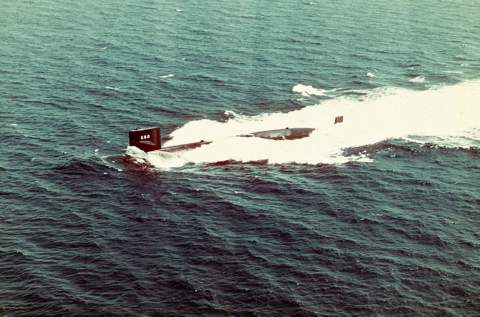 U.S.S. SAND LANCE
(SSN-660)

WARRIORS OF THE DDEP
Click to view crew list
USS SAND LANCE (SSN-660) - a Sturgeon-class attack submarine
In Commission 1971 to 1998
SSN-660 Deployments - Major Events
Add a SSN-660 Shellback Initiation
Add a SSN-660 Deployment - Major Event
Month
Year
to
Month
Year
Deployment / Event
JAN
1965
-
Keel Date: 15 JAN 1965
at Portsmouth Naval Shipyard Kittery ME
NOV
1969
-
Launch Date: 11 NOV 1969
JAN
1971
-
Shellback Initiation - 13 JAN 1971 - Atlantic Ocean
SEP
1971
-
Commissioned: 25 SEP 1971
JAN
1978
-
MAY
1978
Mediterranean
FEB
1979
-
APR
1979
North Atlantic
NOV
1981
-
APR
1982
Mediterranean
DEC
1984
-
MAY
1985
Mediterranean
MAR
1987
-
JUN
1987
Blue Nose - Arctic Circle
NOV
1988
-
OCT
1990
Regular Overhaul
JUL
1991
-
OCT
1991
UNITAS
AUG
1998
-
Decommissioned: 7 AUG 1998
SSN-660 General Specifications
Class: Sturgeon-class attack submarine
Named for: The sand lance
Complement: 12 Officers and 95 Enlisted
Displacement: 4031 tons
Length: 292 feet
Beam: 31 feet
Final Disposition: Disposed of by submarine recycling
USS SAND LANCE (SSN-660)
The second Sand Lance was laid down by Portsmouth Naval Shipyard on 15 January 1965; launched on 11 November 1969; sponsored by Mrs. Thomas J. Mclntyre; was placed in service on 4 January 1971; and commissioned on 25 September 1971, Comdr. William A. Kennington in command.


On the day of her commissioning, Sand Lance's home port was changed from Portsmouth to Charleston, S. C., and she spent the remainder of the year on shakedown. Sand Lance operated in the Charleston area for the whole of 1972; and, in February 1973, stood out of that port for special operations. She returned to Charleston on 21 April, remained in port until 11 June, and departed again on special operations. She completed these operations in August and put in at Fas-lane, Scotland, on the 13th. Sand Lance left Faslane on 20 August and arrived in Charleston on 5 September. Sand Lance has continued to operate out of Charleston, in the western Atlantic and in the Caribbean, since then. As of June 1974, she is in port in Charleston.


Sand Lance (SSN-660) under construction at Portsmouth, with temporary safety railings rigged around her deck. The external difference between this new generation of submarines and its predecessors is readily apparent, and almost as marked as their internal differences. The external fairing on the lower hull is temporary, designed to provide added buoyancy for the bow during the launching and to avoid excessive strain on the hull.


[Note: The above USS SAND LANCE (SSN-660) history may, or may not, contain text provided by crew members of the USS SAND LANCE (SSN-660), or by other non-crew members, and text from the Dictionary of American Naval Fighting Ships]