For RATING SHIRTS - Click on your Rating Abbreviation below:
Click on your Rating abbreviation above: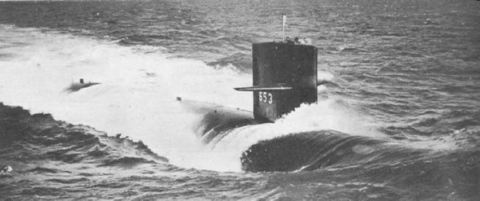 U.S.S. RAY
(SSN-653)


Click to view crew list
USS RAY (SSN-653) - a Sturgeon-class attack submarine
In Commission 1967 to 1993
SSN-653 Deployments - Major Events
Add a SSN-653 Shellback Initiation
Add a SSN-653 Deployment - Major Event
Month
Year
to
Month
Year
Deployment / Event
JAN
1965
-
Keel Date: 4 JAN 1965
at Newport News Shipbuilding & Drydock Co. Newport News VA
JUN
1966
-
Launch Date: 21 JUN 1966
APR
1967
-
Commissioned: 12 APR 1967
APR
1968
-
MAY
1968
Antarctic Circle
JAN
1980
-
JAN
1982
Blue Nose - Arctic Circle
JAN
1985
-
DEC
1987
North Atlantic
MAR
1987
-
JUN
1987
Blue Nose - Arctic Circle
JAN
1991
-
JAN
1993
Blue Nose - Arctic Circle
MAR
1993
-
Decommissioned: 16 MAR 1993
SSN-653 General Specifications
Class: Sturgeon-class attack submarine
Named for: The rays
Complement: 107 Officers and Enlisted
Displacement: 3800 tons
Length: 292 feet 3 inches
Beam: 31 feet 8 inches
Flank Speed: 20 knots
Final Disposition: Scrapping via Ship and Submarine Recycling Program begun 15 March 2002 completed 30 July 2003
USS RAY (SSN-653)
The second Ray (SSN-653) a nuclear-powered attack submarine was laid down 4 January 1965 by Newport News Shipbuilding & Drydock Co. Newport News Va.; launched 22 June 1966; sponsored by Mrs. Thomas H. Kuchel wife of Senator Kuchel of California; and commissioned 12 April 1967 Comdr. A. L. Kelln in command.
Ray uses a teardrop hull and sailplane configuration for maximum speed and maneuverability. Primarily designed as a hunter-killer submarine Ray is equipped with the latest equipment in sonar weapons fire control communications and electronics countermeasures enabling her to quietly and efficiently seek out and destroy undersea enemies.
Homeported in Norfolk Ray underwent shakedown training weapons and sonar testing until 16 October 1967 when she deployed on Atlantic submarine operations until 12 December. In 1968 Ray again deployed on submarine operations from 8 April to 9 June and from 13 November to 20 December.
She spent the first 5 months of 1969 in submarine type training and fleet exercises off the east coast and in the Caribbean. SSN-653 departed Norfolk 6 June on a special operation before sailing for Scotland arriving Holy Loch 26 June. She departed Scotland 31 July and returned to Norfolk 12 August. For the remainder of the year and into 1970 Ray trained in the Atlantic with other units of the fleet.
Ray spent most of 1970 operating in the Atlantic out of Norfolk Va. Her operations were concentrated primarily upon training and testing. In December 1970 she entered Norfolk Naval Shipyard for a 14 month overhaul period. She steamed out of Norfolk 5 March 1972 and engaged in various tests and exercises notably two NATO exercises STRONG EXPRESS and ESCORT DEEP during the remainder of 1972. Returning to Norfolk 12 December Ray's crewmen were able to spend the holidays in home port. She departed Norfolk in late February 1973 for a Mediterranean cruise which lasted until mid-summer at which time she returned to Norfolk and normal Atlantic operations. As of January 1974 Ray is in Norfolk Va.


[Note: The above USS RAY (SSN-653) history may or may not contain text provided by crew members of the USS RAY (SSN-653) or by other non-crew members and text from the Dictionary of American Naval Fighting Ships]