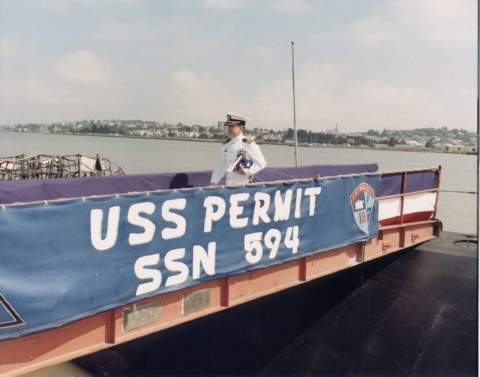 U.S.S. PERMIT
(SSN-594)

VIGILATE IN PACE ET BELLO
Click to view crew list
USS PERMIT (SSN-594) - a Thresher/Permit-class submarine
In Commission 1962 to 1991
SSN-594 Deployments - Major Events
Add a SSN-594 Shellback Initiation
Add a SSN-594 Deployment - Major Event
Month
Year
to
Month
Year
Deployment / Event
MAY
1959
-
Keel Date: 1 MAY 1959
at Mare Island Naval Shipyard Vallejo CA
JUL
1961
-
Launch Date: 1 JUL 1961
MAY
1962
-
Commissioned: 29 MAY 1962
MAR
1963
-
MAR
1963
March 28th, 1963 first submerged launch of SUBROC
MAY
1965
-
DEC
1965
West Pac
MAY
1966
-
AUG
1966
Sealed Boat Record of 87days. PeriscopeOnlyMast used. Submerged
JUN
1966
-
AUG
1966
West Pac
APR
1970
-
DEC
1970
West Pac
JUN
1970
-
JUL
1970
Scope Replacement - Subic
JUL
1974
-
JAN
1975
West Pac
MAR
1976
-
AUG
1976
West Pac
JAN
1977
-
JAN
1977
1st Submerged Tomahawk Launch
JUN
1979
-
DEC
1979
West Pac-Indian Ocean-Persian Gulf
JUN
1980
-
DEC
1980
West Pac-Indian Ocean-Persian Gulf
MAR
1982
-
SEP
1982
West Pac
DEC
1982
-
SEP
1984
Regular Overhaul
MAR
1987
-
SEP
1987
West Pac
JUN
1989
-
DEC
1989
West Pac
JUL
1991
-
Decommissioned: 23 JUL 1991
SSN-594 General Specifications
Class: Thresher/Permit-class submarine
Named for: Permit
Complement: 105 Officers and Enlisted
Displacement: 3700 tons
Length: 278 feet 5 inches
Beam: 31 feet 7 inches
Flank Speed: 20 knots
Final Disposition: Entered Ship-Submarine Recycling Program 30 September 1991
USS PERMIT (SSN-594)
The second Permit (SSN-594) was laid down by the Mare Island Naval Shipyard in May 1959; launched 1 July 1961; sponsored by Mrs. John A. McCone, and commissioned 29 May 1962, Comdr. Richard H. Blount in command.


She spent 5 weeks of trials in the Puget Sound area, and then 3 weeks at Mare Island for checkout of the SUBROC missile system. During late summer and early fall, Permit underwent shakedown in the San Diego area. After final acceptance trials in January 1963, she participated in a thorough evaluation of the SUBROC missile, and on 28 March, became the first submarine to successfully fire one. During 1964 and 1965 Permit engaged in more testing and training of an advanced nature.


Permit underwent an overhaul at Mare Island during the winter of 1966. From May to July she deployed to WestPac, and after a short stop at Pearl Harbor, returned to San Diego 13 August. She spent the remainder of the year operating in local waters.


The submarine underwent overhaul at Mare Island in 1967. During this period, her homeport was changed to Vallejo. By late November Permit was ready for trials in Puget Sound, Wash., and a return to San Diego 12 December. She operated off San Diego until 22 April, when she departed for Special Operations in the Pacific, which lasted until 26 June. From 24 July to 1 October she was engaged in another special assignment. Permit then resumed local operations off San Diego, and into 1970 is still actively engaged with the Pacific Fleet.


[Note: The above USS PERMIT (SSN-594) history may, or may not, contain text provided by crew members of the USS PERMIT (SSN-594), or by other non-crew members, and text from the Dictionary of American Naval Fighting Ships]