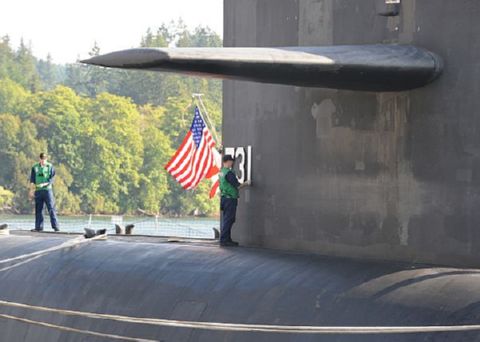 U.S.S. ALABAMA
(SSBN-731)

AUDEMUS JURA NOSTRA DEFENDERE
WE DARE DEFEND OUR RIGHTS
Click to view crew list
The USS ALABAMA (SSBN-731), an Ohio-class ballistic missile submarine, was commissioned on 25 MAY 1985. USS ALABAMA serves her country from her homeport of

The USS ALABAMA (SSBN-731) deployment history and significant events of her service career follow:
SSBN-731 Deployments - Major Events
Add a SSBN-731 Shellback Initiation
Add a SSBN-731 Deployment - Major Event
Month
Year
to
Month
Year
Deployment / Event
OCT
1980
-
Keel Date: 14 OCT 1980
at General Dynamics Electric Boat Groton CT
MAY
1984
-
Launch Date: 19 MAY 1984
MAY
1985
-
Commissioned: 25 MAY 1985
FEB
1986
-
Shellback Initiation - 20 FEB 1986 - Pacific Ocean
SEP
1989
-
Shellback Initiation - 15 SEP 1989 - Pacific Ocean
MAR
1996
-
Shellback Initiation - 7 MAR 1996 - Pacific Ocean
SSBN-731 General Specifications
Class: Ohio-class ballistic missile submarine
Named for: U.S. state of Alabama
Complement: 15 Officers and 140 Enlisted
Displacement: 16764 tons
Length: 560 feet.
Beam: 42 feet
Flank Speed: 25+ knots
USS ALABAMA (SSBN-731)
The fourth Alabama (SSBN-731) was laid down on 14 October 1980 at Groton, Conn., by the Electric Boat Division of the General Dynamics Corp.; launched on 19 May 1984; sponsored by Mrs. Barbara E. Dickinson; and commissioned at the Submarine Base, New London, on 25 May 1985, Capt. Wade H. Taylor (Blue Crew) and Capt. Malcolm S. Wright (Gold Crew) in command.


The nuclear-powered fleet ballistic missile submarine (FBM) departed the Connecticut coast three days later to conduct her shakedown cruise off the coast of Florida. The Blue Crew completed its shakedown training late in July, and the warship stopped at Port Canaveral, Fla., on the 22d for the Gold Crew to take over for its cruise. At the conclusion of the Gold Crew's shakedown training late in October, the Blue Crew came on board again at New London on the 20th to take Alabama back to the yard at Electric Boat for post-shakedown availability. Those repairs occupied the warship until mid-December when she completed sea trials in Narragansett Bay.


Alabama enjoyed a brief holiday standdown from 22 to 31 December and then got underway on New Year's Day 1986 for sound trials in the Bahamas. She completed that assignment on 30 January and shaped a course for her namesake state. The ballistic missile submarine visited Mobile, Ala., between 2 and 11 February before heading for the Panama Canal. She passed through the canal on the 17th and arrived in Bangor, Wash., on 6 March. The warship remained at Bangor, where she exchanged crews, until 13 April when she put to sea for independent ship's exercises. Alabama operated out of Bangor until mid-May when she embarked upon her first deterrent patrol. Operating from the Pacific Northwest, the ballistic missile submarine carried out four deterrent patrols during the last seven months of 1986. As of the beginning of 1987, however, she was undergoing refit at Pearl Harbor, Hawaii.


[Note: The above USS ALABAMA (SSBN-731) history may, or may not, contain text provided by crew members of the USS ALABAMA (SSBN-731), or by other non-crew members, and text from the Dictionary of American Naval Fighting Ships]