For RATING SHIRTS - Click on your Rating Abbreviation below:
Click on your Rating abbreviation above: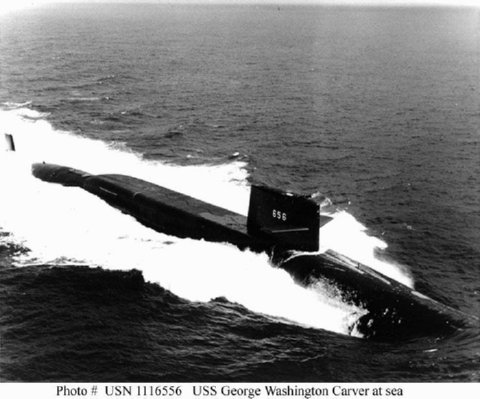 U.S.S. GEORGE WASHINGTON CARVER
(SSBN-656)

STRENGTH THROUGH KNOWLEDGE
Click to view crew list
USS GEORGE WASHINGTON CARVER (SSBN-656) - a Benjamin Franklin-class fleet ballistic missile submarine
In Commission 1966 to 1993
SSBN-656 Deployments - Major Events
Add a SSBN-656 Shellback Initiation
Add a SSBN-656 Deployment - Major Event
Month
Year
to
Month
Year
Deployment / Event
AUG
1964
-
Keel Date: 24 AUG 1964
at General Dynamics Electric Boat Groton CT
AUG
1965
-
Launch Date: 14 AUG 1965
JUN
1966
-
Commissioned: 15 JUN 1966
MAY
1977
-
AUG
1977
Mediterranean
DEC
1977
-
MAR
1978
Mediterranean
JUL
1978
-
OCT
1978
Mediterranean
MAR
1993
-
Decommissioned: 18 MAR 1993
SSBN-656 General Specifications
Class: Benjamin Franklin-class fleet ballistic missile submarine
Named for: George Washington Carver (1865–1943)
Complement: 100 Officers and Enlisted
Displacement: 7300 tons
Length: 425 feet
Beam: 33 feet
Flank Speed: Over 20 knots
Final Disposition: Scrapping via Ship and Submarine Recycling Program completed 21 March 1994
USS GEORGE WASHINGTON CARVER (SSBN-656)
From: Dictionary of American Fighting Ships
George Washington Carver
George Washington Carver was born in 1864 on a plantation near Diamond Mo. His parents were Negro slaves owned by Moses Carver. When he was only a few months old he and his mother were stolen by raiders and taken to Arkansas. After the end of the Civil War he was recovered by his owner with whose family he remained until he set out to make his own way in the world at about the age of 9.
Overcoming prejudice and poverty he eagerly seized every opportunity to acquire an education. He studied agricultural science at Iowa State College graduating in 1894 and receiving a Master of Science degree 2 years later. After serving briefly on the faculty there he joined Booker T. Washington at Tuskegee Normal and Industrial Institute where he headed the Agricultural Department.
In the ensuing years his achievements in the fields of soil conservation crop diversification and utilization of southern plants and crops won him worldwide acclaim. He is remembered for the ingenuity which enabled him to discover some 300 new and useful products from the peanut over 100 from the sweet potato and about 60 from the pecan. He also found new uses from cotton cowpeas and wild plums. He selflessly refused offers of fortunes for the commercial exploitation of his discoveries choosing rather to give them freely to mankind.
An indefatigable researcher and inventor George Washington Carver died in Tuskegee Ala. 5 January 1943.
---
(SSB(N) - 656: dp. 7 250; l. 425; b. 33'; dr. 33'; s. over 20 k.; cpl. 100; a. 16 A-3 Pol. mis. 4 21" tt.; cl. Benjamin Franklin)
George Washington Carver (SSB(N)-656) was laid down by Newport News Shipbuilding & Dry Dock Co. 24 August 1964; launched 14 August 1965; sponsored by Miss Marian Anderson; and commissioned 15 June 1966 Captain R. D. Donavan (blue crew) and Lt. Comdr. Carl J. Lidel (gold crew) in command.
Following shakedown George Washington Carver prepared for her role as one of the Navy's nuclear-powered Polaris submarines silently and invisibly roving the seas as a mighty deterrent against aggression preserving peace and protecting freedom. Her first patrol began 12 December 1966.
Transcribed by Yves HUBERT (hubertypc@aol.com)
---
^
[Note: The above USS GEORGE WASHINGTON CARVER (SSBN-656) history may or may not contain text provided by crew members of the USS GEORGE WASHINGTON CARVER (SSBN-656) or by other non-crew members and text from the Dictionary of American Naval Fighting Ships]