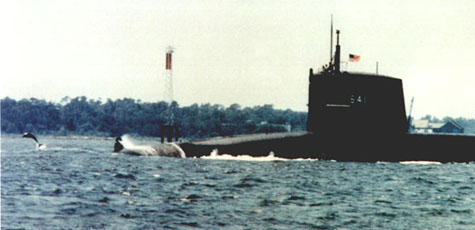 U.S.S. SIMON BOLIVAR
(SSBN-641)

WITHOUT FEAR WITHOUT REPROACH
Click to view crew list
USS SIMON BOLIVAR (SSBN-641) - a Benjamin Franklin-class fleet ballistic missile submarine
In Commission 1965 to 1995
SSBN-641 Deployments - Major Events
Add a SSBN-641 Shellback Initiation
Add a SSBN-641 Deployment - Major Event
Month
Year
to
Month
Year
Deployment / Event
APR
1963
-
Keel Date: 17 APR 1963
at Newport News Shipbuilding & Drydock Co. Newport News VA
AUG
1964
-
Launch Date: 22 AUG 1964
OCT
1965
-
Commissioned: 29 OCT 1965
SEP
1968
-
JAN
1969
Blue Nose - Arctic Circle
JAN
1976
-
MAR
1976
North Atlantic
AUG
1977
-
OCT
1977
Blue Nose - Arctic Circle
OCT
1978
-
Shellback Initiation - 18 OCT 1978 - Atlantic Ocean
MAR
1979
-
MAY
1981
Regular Overhaul
JUN
1986
-
JUL
1987
Regular Overhaul
FEB
1994
-
APR
1994
Mediterranean
FEB
1995
-
Decommissioned: 8 FEB 1995
SSBN-641 General Specifications
Class: Benjamin Franklin-class fleet ballistic missile submarine
Named for: Simón Bolívar (1783–1830)
Complement: 14 Officers and 126 Enlisted
Displacement: 6494 tons
Length: 129.5 m
Beam: 33 feet
Flank Speed: 16 knots
Final Disposition: Scrapping via Ship and Submarine Recycling Program begun 1 October 1994; completed 1 December 1995
USS SIMON BOLIVAR (SSBN-641)
Simon Bolivar (SSBN-641) was laid down on 17 April 1963 by the Newport News Shipbuilding and Drydock Co., Newport News, Va.; launched on 22 August 1964; sponsored by Mrs. Thomas C. Mann; and commissioned on 29 October 1965, Comdr. Charles H. Griffiths commanding the Blue Crew and Comdr. Charles A. Orem commanding the Gold.


In late December 1965 and most of January 1966, the submarine underwent demonstration and shakedown operations. The normal routine for fleet ballistic missile submarines is for the Gold Crew to make a patrol and then alternate with the Blue Crew. The Gold Crew successfully fired an A-3 Polaris missile off the coast of Cape Kennedy on 17 January, and the Blue Crew completed a successful missile firing two weeks later. In February, the Gold Crew continued shakedown operations in the Caribbean. The following month, her homeport was changed to Charleston, S.C., and minor deficiencies were corrected during a yard availability period. Beginning in April, the Blue Crew prepared for and conducted the first and third regular Polaris patrols. The Gold Crew meanwhile entered the training period and later conducted the second patrol, finishing the year in a training status. Simon Bolivar completed her third deterrent patrol in January 1967, operating as a unit of Submarine Squadron (SubRon) 18.


This routine continued until 7 February 1971 when the submarine returned to Newport News for overhaul and conversion of her weapons system to Poseidon missiles.


Simon Bolivar departed Newport News on 12 May 1972 for post-overhaul shakedown operations and refresher training for the two crews which lasted until 16 September. The end of 1972 found the submarine back on patrol.


Into August 1974, the Blue and Gold Crews have alternated in keeping the fleet ballistic missile submarine on deterrent patrols, providing the United States with instant retaliatory capabilities in case of attack.


[Note: The above USS SIMON BOLIVAR (SSBN-641) history may, or may not, contain text provided by crew members of the USS SIMON BOLIVAR (SSBN-641), or by other non-crew members, and text from the Dictionary of American Naval Fighting Ships]