For RATING SHIRTS - Click on your Rating Abbreviation below:
Click on your Rating abbreviation above: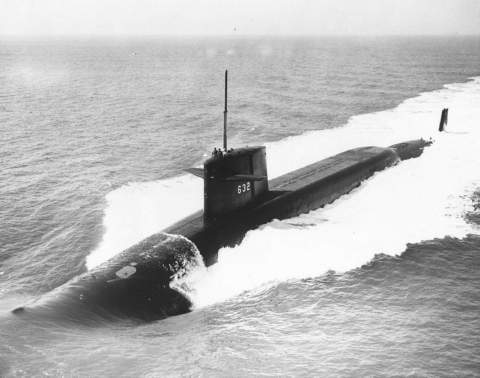 U.S.S. VON STEUBEN
(SSBN-632)


Click to view crew list
USS VON STEUBEN (SSBN-632) - a James Madison-class submarine
In Commission 1964 to 1994
SSBN-632 Deployments - Major Events
Add a SSBN-632 Shellback Initiation
Add a SSBN-632 Deployment - Major Event
Month
Year
to
Month
Year
Deployment / Event
SEP
1962
-
Keel Date: 4 SEP 1962
at Newport News Shipbuilding & Drydock Co. Newport News VA
OCT
1963
-
Launch Date: 18 OCT 1963
SEP
1964
-
Commissioned: 30 SEP 1964
MAR
1976
-
APR
1976
Dry Dock
MAY
1980
-
Shellback Initiation - 11 MAY 1980 - Atlantic Ocean
FEB
1994
-
Decommissioned: 26 FEB 1994
SSBN-632 General Specifications
Class: James Madison-class submarine
Named for: Baron Friedrich Wilhelm von Steuben (1730-1794)
Complement: 120 Officers and Enlisted
Displacement: 6504 tons
Length: 425 feet
Beam: 33 feet
Flank Speed: Over 20 knots
Final Disposition: Scrapping via Ship and Submarine Recycling Program begun 1 October 2000 and completed 30 October 2001
USS VON STEUBEN (SSBN-632)
The second Von Steuben (SSBN-632) was laid down on 4 September 1962 at Newport News, Va., by the Newport News Shipbuilding & Dry Dock Co.; launched on 18 October 1963; sponsored by Mrs. Fred Korth; and commissioned on 30 September 1964, Comdr. John P. Wise (blue crew) and Comdr. Jeffrey C. Metzel (gold crew) in command.


During the fall of 1964, the fleet ballistic missile submarine completed two shakedown cruises-one for each crew-and a period of antisubmarine warfare (ASW) training between the two. On 22 December, the submarine's gold crew fired her first Polaris missile on the Atlantic missile range before returning to Newport News for Christmas. She changed crews again at the beginning of the new year, 1965, and returned to the missile range off Cape Canaveral (then called Cape Kennedy) where the blue crew fired its first missile. In February, after completing all initial training operations, she returned to Newport News.


In March, Von Steuben headed for her first duty assignment. The submarine joined Submarine Squadron (SubRon) 18 at Charleston, S.C., her new base of operations, and immediately began conducting classified deterrent patrols. Her primary mission was and is to deter aggression by providing a highly-mobile launch platform for her nuclear warhead-bearing Polaris missiles. Since her security and mission would be impaired should any potential enemy learn of her patrol routes and activities, that information is highly classified and cannot be recounted here. However, she has conducted more than 30 such patrols since her commissioning, at the rate of four or five per year.


At the end of her 11th patrol early in 1968, Von Steuben was reassigned to SubRon 16 and operated out of Rota, Spain, until the middle of 1969. During that assignment, she visited Groton, Conn., in the summer of 1968 for repairs at the Electric Boat Division of General Dynamics Corp., after which she resumed deterrent patrols out of Rota. In November 1970, she visited Groton once again, this time near the end of a 16-month overhaul during which she was modified to carry the newly developed Poseidon C-3 missile. She conducted post-conversion shakedown during the early months of 1971 and fired her first and second Poseidon missiles in February and March, respectively. She returned to Charleston and resumed deterrent patrols in May 1971. Since that time, she continued to make patrols out of Charleston and, recently, also from the submarine base at Holy Loch in Scotland.


[Note: The above USS VON STEUBEN (SSBN-632) history may, or may not, contain text provided by crew members of the USS VON STEUBEN (SSBN-632), or by other non-crew members, and text from the Dictionary of American Naval Fighting Ships]