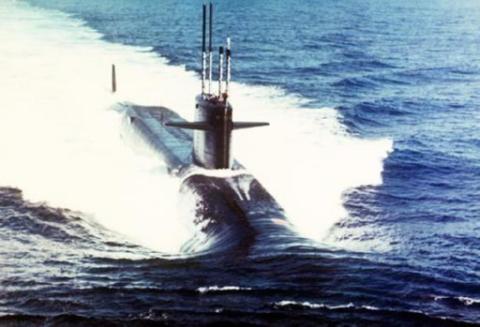 U.S.S. ANDREW JACKSON
(SSBN-619)

ONE MAN WITH COURAGE IS A MAJORITY
Click to view crew list
The USS ANDREW JACKSON (SSBN-619), a Lafayette-class submarine, was commissioned on 3 JUL 1963. USS ANDREW JACKSON served her country for 26 years, 1 month and 28 days, until decommissioned on 31 AUG 1989.

The USS ANDREW JACKSON (SSBN-619) deployment history and significant events of her service career follow:
SSBN-619 Deployments - Major Events
Add a SSBN-619 Shellback Initiation
Add a SSBN-619 Deployment - Major Event
Month
Year
to
Month
Year
Deployment / Event
JUL
1960
-
JUL
1960
Order to Build
APR
1961
-
Keel Date: 26 APR 1961
at Mare Island Naval Shipyard Vallejo CA
SEP
1962
-
Launch Date: 15 SEP 1962
JUL
1963
-
Commissioned: 3 JUL 1963
SEP
1963
-
SEP
1963
Panama Canal
NOV
1963
-
APR
1964
Post Shakedown Availability - Charleston Naval Shipyard
MAY
1964
-
FEB
1966
Mediterranean
FEB
1966
-
MAR
1966
Mediterranean
JAN
1967
-
DEC
1967
Eastern Mediteranian
MAY
1969
-
NOV
1971
North Atlantic-Med-Indian Ocean
DEC
1975
-
MAR
1976
Caribbean
JAN
1976
-
MAR
1976
Blue Nose - Arctic Circle
JUL
1976
-
OCT
1976
Blue Nose - Arctic Circle
OCT
1976
-
DEC
1976
Blue Nose - Arctic Circle
DEC
1976
-
MAR
1977
Blue Nose - Arctic Circle
JUN
1978
-
AUG
1978
Blue Nose - Arctic Circle
JUL
1978
-
Shellback Initiation - 6 JUL 1978 - Pacific Ocean
AUG
1989
-
Decommissioned: 31 AUG 1989
SSBN-619 General Specifications
Class: Lafayette-class submarine
Named for: Andrew Jackson (1767-1845)
Complement: 13 Officers and 130 Enlisted
Displacement: 7250 tons
Length: 425 feet
Beam: 33 feet
Flank Speed: 20 knots
Final Disposition: Scrapping via Ship-Submarine Recycling Program completed 30 August 1999
USS ANDREW JACKSON (SSBN-619)
Andrew Jackson (SSBN-619) was laid down on 26 April 1961 at Vallejo, Calif., by the Mare Island Naval Shipyard; launched on 15 September 1962; sponsored by Mrs. Estes Kefauver, the wife of Senator Kefauver of Tennessee; and commissioned on 3 July 1963, Comdr. Alfred J. Whittle, Jr., (Blue crew) and Comdr. James B. Wilson (Gold crew) in command.


Following commissioning, the nuclear-powered fleet ballistic missile submarine sailed via the Panama Canal to the east coast. On 1 and 11 October, during shakedown training out of Cape Canaveral, Fla., she successfully launched A-2 Polaris missiles; and, on 26 October, she sent A-3X Polaris missiles into space in the first submerged launching of its type; and she repeated the feat on 11 November. Five days later and six days before his assassination, on 16 November 1963, President John F. Kennedy-embarked in Observation Island (EAG-154)-observed Andrew Jackson launch another A-2 polaris missile from a point off Cape Canaveral and congratulated Comdr. Wilson and his crew for "impressive teamwork." In late November, Andrew Jackson entered the Charleston Naval Shipyard, Charleston, S.C., for post-shakedown availability.


The yard work was completed on 4 April 1964, and Andrew Jackson was assigned to Submarine Squadron 16, Submarine Force, Atlantic Fleet. In May, she departed her home port, Charleston, for her first patrol and continued to conduct deterrent patrols from the advanced base at Rota, Spain, through 1973. On 19 March of that year, the submarine arrived at the Electric Boat Division, General Dynamics Corp., Groton, Conn., for a conversion to Poseidon.


This modernization and repair task was completed on 7 August 1975, and the ship sailed to Exuma Sound, Bahamas, for acoustic trials. Next she reported to Cape Canaveral, Fla., for Poseidon missile tests. In December, Andrew Jackson returned to Groton, her new home port, for the Christmas holidays.


Post-shakedown operations continued in 1976. During February, the submarine conducted nuclear weapons acceptance tests and made port visits at Roosevelt Roads, Puerto Rico; St. Croix, Virgin Islands; and Ft. Lauderdale, Fla. She sailed to Charleston on 5 March and entered the Charleston Naval Shipyard on 8 March for an availability period. Andrew Jackson was underway again on 9 May and returned to New London, Conn., in June. The next four weeks were spent in midshipman training cruises in the New London operating area. In late July, she left New London for her first strategic deterrent patrol after her Poseidon conversion. When the patrol was completed, Andrew Jackson entered her advanced base at Holy Loch, Scotland. In 1977, patrols from Holy Loch were interspersed with port visits at Halifax, Nova Scotia, and New London. In September, a refit was conducted at Charleston, then the submarine returned to Holy Loch. Andrew Jackson continued these deterrent patrols from Holy Loch for another decade, completing her sixty-ninth and final strategic deterrent patrol on 27 August 1987. Andrew Jackson returned to Groton in October for pre-inactivation planning before shifting to Charleston on 14 February 1988. Following an inactivation ceremony on 28 May, the boat entered drydock for dismantling of the missile compartment and defueling, as task completed in time for the submarine's decommissioning at Charleston on 31 August 1989. Later towed to Puget Sound Naval Shipyard, the former ballistic missile boat was disposed of through the submarine recycling program on 30 August 1999. 14 February 2006


[Note: The above USS ANDREW JACKSON (SSBN-619) history may, or may not, contain text provided by crew members of the USS ANDREW JACKSON (SSBN-619), or by other non-crew members, and text from the Dictionary of American Naval Fighting Ships]