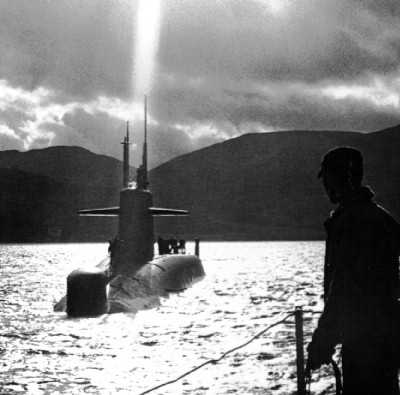 U.S.S. SAM HOUSTON
(SSBN-609)

TRY ME
Click to view crew list
USS SAM HOUSTON (SSBN-609) - an Ethan Allen-class submarine
In Commission 1962 to 1991
SSBN-609 Deployments - Major Events
Add a SSBN-609 Shellback Initiation
Add a SSBN-609 Deployment - Major Event
Month
Year
to
Month
Year
Deployment / Event
DEC
1959
-
Keel Date: 28 DEC 1959
at Newport News Shipbuilding & Drydock Co. Newport News VA
FEB
1961
-
Launch Date: 2 FEB 1961
MAR
1962
-
Commissioned: 6 MAR 1962
DEC
1962
-
FEB
1963
Blue Nose - Arctic Circle
APR
1963
-
APR
1963
First on Patrol Port of Call visit
MAY
1971
-
JUN
1971
Mediterranean
MAY
1971
-
JUN
1971
Mediterranean
MAY
1971
-
JUN
1971
Mediterranean
OCT
1971
-
JAN
1972
Mediterranean
MAY
1972
-
JUL
1972
Mediterranean
DEC
1975
-
Shellback Initiation - 25 DEC 1975 - Pacific Ocean
SEP
1976
-
Shellback Initiation - 8 SEP 1976 - Pacific Ocean
SEP
1976
-
Shellback Initiation - 8 SEP 1976 - Pacific Ocean
JUN
1989
-
NOV
1989
West Pac
SEP
1991
-
Decommissioned: 6 SEP 1991
SSBN-609 General Specifications
Class: Ethan Allen-class submarine
Named for: Sam Houston (1793-1863)
Complement: 12 Officers and 128 Enlisted
Displacement: 7900 tons
Length: 410 feet 4 inches
Beam: 33.1 feet
Flank Speed: 16 knots surfaced
Final Disposition: Recycling via Ship and Submarine Recycling Program completed 3 February 1992
USS SAM HOUSTON (SSBN-609)
The second Sam Houston (SSBN-609) was laid down on 28 December 1959 by the Newport News Shipbuilding and Dry Dock Co., Newport News, Va.; launched on 2 February 1961; sponsored by Mrs. John B. Connally; and commissioned on 6 March 1962, Capt. W.P. Willis, Jr., (blue crew) in command.
Following shakedown, the nation's seventh Polaris submarine fired her first missile on 25 April off Cape Canaveral, Fla. The gold crew, commanded by Comdr. J. H. Hawkins, then took over, completed its missile firing on 11 May 1962 and then departed from Cape Canaveral for its own shakedown training.


On her first patrol, Sam Houston, manned by the blue crew, operated continuously submerged for 48 days and 2 hours, then moored alongside the submarine tender, Proteus, in Holy Loch, Scotland. Following upkeep, the gold crew commenced its first patrol on Christmas Day, returning to Holy Loch in February 1963. The crews were again alternated, and Sam Houston departed on her third patrol in March. On this patrol, she was the first fleet ballistic missile submarine to enter the Mediterranean where she joined the NATO forces. On a short operational visit to Izmir, Turkey, she became the first Polaris submarine to make a port-of-call during a patrol. With the two crews alternating every 90 days, Sam Houston completed 6 successful Polaris patrols by the end of the year.


By the end of 1964, Sam Houston had completed 10 patrols. During 1965, she completed four additional deterrent patrols. During 1966, Sam Houston completed 3 more patrols, including her longest which lasted 71 days. On 10 August 1966, she returned to the United States for the first time since her deployment in 1962 and commenced a major overhaul at the United States Naval Shipyard at Portsmouth, N.H. On 30 October 1967, she got underway for sea trials; and, a month later, her blue crew began shakedown training. In January 1968, the gold crew conducted shakedown operations. Following further tests, she got under way for her 18th deterrent patrol, and put into Holy Loch on 25 May. By the end of the year, she was on her 21st patrol. During 1969, Sam Houston completed her 22nd through 24th patrols. In 1970, she continued to operate with Submarine Squadron 14 until shifting to the Mediterranean on 9 August to join Submarine Squadron 16.


She operated out of her advanced base at Rota, Spain, until October of 1972. On 27 November, she entered Charleston Naval Shipyard and began an extended in-port period, which included regular overhaul and the updating of her weapons and propulsion systems. As of May 1974, Sam Houston is still in port at Charleston, S.C.


[Note: The above USS SAM HOUSTON (SSBN-609) history may, or may not, contain text provided by crew members of the USS SAM HOUSTON (SSBN-609), or by other non-crew members, and text from the Dictionary of American Naval Fighting Ships]