For RATING SHIRTS - Click on your Rating Abbreviation below:
Click on your Rating abbreviation above: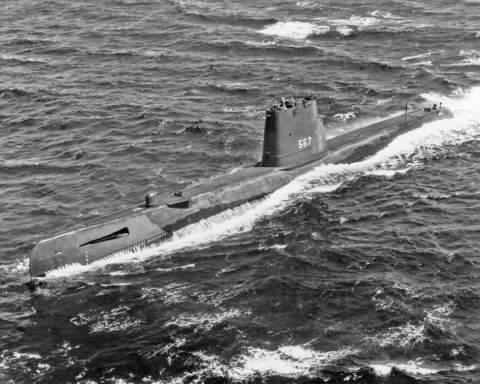 U.S.S. GUDGEON
(SS-567)

THE GALLOPING GHOST
OF THE WEST COAST
Click to view crew list
USS GUDGEON (SS-567) - a Tang-class submarine
In Commission 1983 to 1983
SS-567 Deployments - Major Events
Add a SS-567 Shellback Initiation
Add a SS-567 Deployment - Major Event
Month
Year
to
Month
Year
Deployment / Event
MAY
1950
-
Keel Date: 20 MAY 1950
at Portsmouth Naval Shipyard
JUN
1952
-
Launch Date: 11 JUN 1952
JAN
1955
-
JAN
1958
Middle Pacific
JUL
1957
-
FEB
1958
Around the World
JAN
1963
-
MAY
1964
West Pac
JAN
1967
-
JAN
1972
West Pac
JAN
1968
-
AUG
1968
West Pac-Viet Nam
JAN
1968
-
AUG
1968
West Pac
JAN
1971
-
AUG
1971
West Pac
JUL
1971
-
Shellback Initiation - 6 JUL 1971 - Pacific Ocean
SEP
1971
-
DEC
1971
West Pac
JUL
1972
-
NOV
1972
West Pac
JAN
1974
-
JAN
1976
West Pac-Viet Nam
DEC
1974
-
MAY
1975
West Pac
MAR
1978
-
Shellback Initiation - 10 MAR 1978 - Indian Ocean
SEP
1983
-
Commissioned: 30 SEP 1983
SEP
1983
-
Decommissioned: 30 SEP 1983
SS-567 General Specifications
Class: Tang-class submarine
Complement: 83 Officers and Enlisted
Displacement: 1560 tons
Length: 269 feet 2 inches
Beam: 27 feet 2 inches
Draft: 17 feet
Final Disposition: Leased to Turkey 1983Sold to Turkey 1987
USS GUDGEON (SS-567)
The second Gudgeon was launched by the Portsmouth Naval Shipyard Portsmouth N.H 11 June 1952; sponsored by Mrs. Robert A. Bonin widow of the first Gudgeon's last commanding officer; and commissioned 21 November 1952 Comdr. Robert M. Carroll in command.
After builders' trials Gudgeon sailed for Pearl Harbor where she joined SubRon 1 SubDiv 1 18 July 1953. Local operations and training exercises continued until 11 April 1954 when Gudgeon sailed to the mainland for ASW exercises along the Washington coast. A Mare Island overhaul occupied the remainder of the year and Gudgeon returned to Pearl Harbor 9 March 1955. She sailed 21 July 1955 for the first of five WestPac tours visiting Yokosuka Formosa Hong Kong Manila and Guam before returning to Pearl Harbor 30 January 1956. Local operations out of the Hawaiian port overhaul special secret operations and a second trip to the West Coast took Gudgeon through the next 18 months.
Sailing from Pearl Harbor 8 July 1957 Gudgeon began a history-making cruise around the world making the Pacific Fleet Submarine Force's flagship the first American submarine to circumnavigate the globe. After exercises at Yokosuka Gudgeon sailed west 26 August 1957. As she made her way around the world for the next 6 months the submarine docked at Asian African and European ports before a triumphal entry into Pearl Harbor 21 February 1958 8 months and 25 000 miles since taking departure.
After extensive overhaul Gudgeon again settled into the peacetime local and special operations training exercises and ASW activities. Three WestPac cruises in 1959 1961 and 1963 took her to Japan for exercises with the 7th Fleet as well as to Subic Bay and Hong Kong for liberty. The alternate years 1960 and 1962 saw Gudgeon heading back to the mainland where she trained and exercised along the Washington and California coasts.
Gudgeon returned from the Far East to Pearl Harbor 1 August 1963 and for the next 2 years operated in Hawaiian waters. She departed Pearl Harbor 29 November and arrived San Francisco 9 December for overhaul at Mare Island. The ship was cut in half and an 18 foot section was added during a conversion which gave the submarine new and larger engines as well as much other improved modern equipment. Modernization was completed in April 1967 and Gudgeon returned to duty in the Pacific Fleet.


[Note: The above USS GUDGEON (SS-567) history may or may not contain text provided by crew members of the USS GUDGEON (SS-567) or by other non-crew members and text from the Dictionary of American Naval Fighting Ships]