For RATING SHIRTS - Click on your Rating Abbreviation below:
Click on your Rating abbreviation above: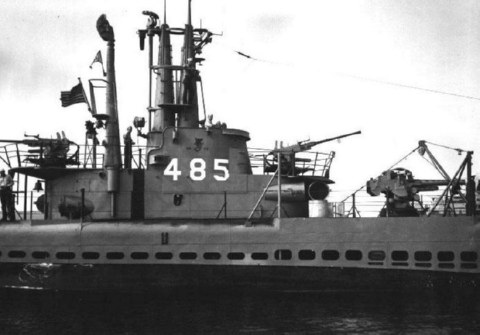 U.S.S. SIRAGO
(SS-485)

FIGHTER FEEDER SQUADRON LEADER
Click to view crew list
USS SIRAGO (SS-485) - a Tench-class submarine
In Commission 1945 to 1972
SS-485 Deployments - Major Events
Add a SS-485 Shellback Initiation
Add a SS-485 Deployment - Major Event
Month
Year
to
Month
Year
Deployment / Event
JAN
1945
-
Keel Date: 3 JAN 1945
at Portsmouth Naval Shipyard Kittery ME
MAY
1945
-
Launch Date: 11 MAY 1945
AUG
1945
-
Commissioned: 13 AUG 1945
DEC
1965
-
DEC
1969
West Pac-Viet Nam
NOV
1966
-
NOV
1969
West Pac-Viet Nam
MAY
1967
-
SEP
1967
North Atlantic
JUN
1972
-
Decommissioned: 1 JUN 1972
SS-485 General Specifications
Class: Tench-class submarine
Complement: 10 Officers and 71 Enlisted
Displacement: 1870 tons
Length: 307 feet
Beam: 27 feet 4 inches
Draft: 17 feet
Range: 15 000 Nautical Miles
Final Disposition: Sold for scrap 2 May 1973
USS SIRAGO (SS-485)
Sirago (SS-485) was laid down on 4 January 1945 at the Portsmouth Navy Yard, Portsmouth, N.H.; launched on 13 May 1945; sponsored by Mrs. L. Mendel Rivers; and commissioned on 13 August 1945, Comdr. F. J. Harlfinger, II, in command.


Commissioned at the end of World War II, Sirago conducted her shakedown cruise off the east coast and in the Caribbean during the fall of 1945. After shakedown, she joined Submarine Squadron (SubRon) 8 at New London; and, in January 1946, she proceeded to Provincetown, Mass., where she participated in the destruction of two German submarines. On returning to New London, Sirago commenced duties which included training services for the Submarine School and for the fleet's destroyer force; experimental exercises to evaluate new techniques and equipment; type training; and fleet exercises which took her from Davis Strait into the Caribbean. In December 1948, she entered the Philadelphia Naval Shipyard for a GUPPY II conversion; and, on 25 July 1949, she left the yard for Norfolk where, as a modernized high-speed attack submarine, she joined SubRon 6.


Attached to SubRon 6 for the next twenty-two years, Sirago's primary mission was antisubmarine warfare. Secondary missions included antishipping warfare, intelligence gathering, and the provision of services for research and development studies. Those duties, during the 1950's, continued to see her operating primarily in the western Atlantic as she participated in exercises with others of her ASW group; in fleet exercises; in joint Candian-United States exercises; and in NATO exercises, which took her into the eastern Atlantic and North Sea areas. During the 1950's, she also deployed to the Mediterranean where she operated as a unit of the 6th Fleet from September to November 1951 and from September to December 1954.


In October 1962, Sirago entered the Norfolk Naval Shipyard for another extensive overhaul which included the installation of a fiberglass superstructure and sail, and, in the spring of 1963, she resumed operations with her ASW group, Task Group "ALFA." That fall, she deployed to the Middle East for CENTO exercise "MID-LINK VI"; but, during the remainder of the 1960's and into the 1970's, her operations were similar to those of the 1950's.


On 1 July 1971, Sirago was reassigned to SubRon 12 at Key West; but, less than four months later, on 15 October, she was ordered back to Norfolk where she rejoined SubRon 6. She remained in that squadron until decommissioned on 1 June 1972. Struck from the Navy list on the same day, she was turned over to the Naval Ships Systems Command and sold for scrapping to the Jacob-son Metal Co., Chesapeake, Va., on 2 May 1973.


[Note: The above USS SIRAGO (SS-485) history may, or may not, contain text provided by crew members of the USS SIRAGO (SS-485), or by other non-crew members, and text from the Dictionary of American Naval Fighting Ships]