For RATING SHIRTS - Click on your Rating Abbreviation below:
Click on your Rating abbreviation above: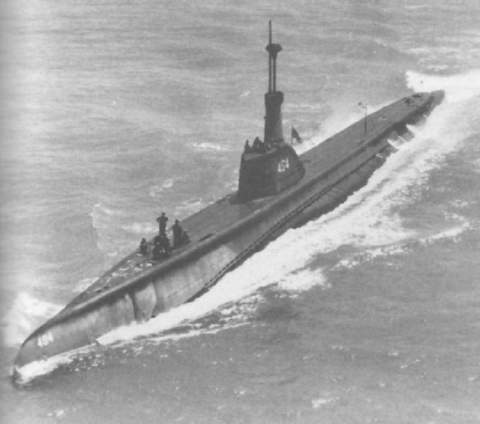 U.S.S. ODAX
(SS-484)


Click to view crew list
USS ODAX (SS-484) - a Tench-class submarine
In Commission 1945 to 1972
SS-484 Deployments - Major Events
Add a SS-484 Shellback Initiation
Add a SS-484 Deployment - Major Event
Month
Year
to
Month
Year
Deployment / Event
DEC
1944
-
Keel Date: 4 DEC 1944
at Portsmouth Naval Shipyard Kittery ME
APR
1945
-
Launch Date: 10 APR 1945
JUL
1945
-
Commissioned: 11 JUL 1945
AUG
1960
-
DEC
1960
South America
AUG
1960
-
DEC
1960
USS ODAX SS 484
OCT
1960
-
Shellback Initiation - 14 OCT 1960 - Atlantic Ocean
AUG
1964
-
MAR
1965
Circumnavigation
JUL
1972
-
Decommissioned: 8 JUL 1972
SS-484 General Specifications
Class: Tench-class submarine
Complement: 10 Officers and 71 Enlisted
Displacement: 1570 tons
Length: 311 feet 8 inches
Beam: 27 feet 4 inches
Draft: 17 feet
Range: 11 000 Nautical Miles
Final Disposition: Transferred to Brazil 8 July 1972
USS ODAX (SS-484)
Odax (SS-484) was laid down by Portsmouth Navy Yard 4 December 1944; launched 10 April 1945; sponsored by Mrs. John E. Fogarty; and commissioned 11 July 1945, Comdr. F. D. Walker, Jr. in command.


After shakedown off Portsmouth, Odax got underway 19 September 1945 for Guantanamo Bay to provide services to the Fleet Training Group. On 30 October she sailed to Key West, Fla. for duty with the Fleet Sonar School and conducted operational training until September 1946.


In September 1946, as part of the Bureau of Ships post-war investigation of the high speed submarine, Odax was selected for conversion to a Guppy and returned to Portsmouth. Completing conversion in August 1947, first of the Guppy submarines, she sailed to Key West for extensive research development work.


In August 1951 Odax again sailed to Portsmouth for conversion. The major aspect was the addition of a Snorkel and redesignation as a Guppy II. She first put her snorkel to tactical use in a large scale convoy exercise in the spring of 1952.


From 1952 through 1955, Odax provided services to the Operational Development Force and Fleet Sonar School in Key West and to the Fleet Training Group in Guantanamo Bay. During 1956 she received new equipment of improved design at the Charleston Naval Shipyard and departed in December, bound for the North Atlantic, to operate with the British Fleet. Subsequent operations in 1957 included services to the Operational Development Force, training submariners in the latest tactics of undersea warfare.


In September 1958, Odax deployed to the Mediterranean for a tour with the 6th Fleet. During this deployment she transited the Suez Canal to participate in a Baghdad Pact exercise in the Arabian Sea.


After her return home, Odax changed home port transferring to Charleston, S.C. in August 1959. She sailed from here early in 1960 to return to the North Atlantic for Barrier Patrol.


Odax departed Glasgow, Scotland in August 1960 for South America to conduct exercises with naval units of various South American countries. In December she returned to Charleston to resume local operations.


Between 1961 and 1964, Odax conducted training operations out of Charleston with interim periods for overhaul and modernization.


In August 1964 she deployed again to South America to participate in combined operations while circumnavigating the continent, returning in December. From 1965 to 1967 she operated out of Charleston.


In May 1967 Odax began a deployment in Northern Europe. Upon her return to Charleston she was awarded the coveted Battle Efficiency E for Fiscal Year 1967. She resumed coastal operations in October 1967 and continues this into 1970.


[Note: The above USS ODAX (SS-484) history may, or may not, contain text provided by crew members of the USS ODAX (SS-484), or by other non-crew members, and text from the Dictionary of American Naval Fighting Ships]