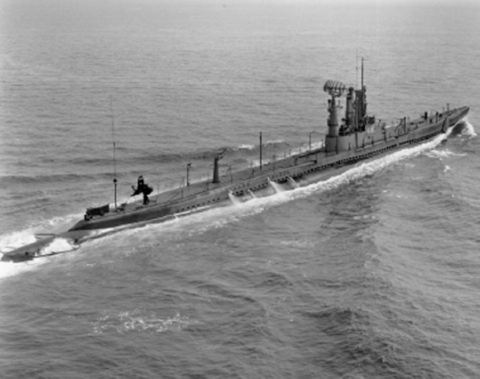 U.S.S. REQUIN
(SS-481)

BROTHERS OF THE PHIN
Click to view crew list
USS REQUIN (SS-481) - a Tench-class submarine
In Commission 1945 to 1968
SS-481 Deployments - Major Events
Add a SS-481 Shellback Initiation
Add a SS-481 Deployment - Major Event
Month
Year
to
Month
Year
Deployment / Event
AUG
1944
-
Keel Date: 24 AUG 1944
at Portsmouth Naval Shipyard Kittery ME
JAN
1945
-
Launch Date: 1 JAN 1945
APR
1945
-
Commissioned: 28 APR 1945
MAY
1949
-
JUN
1949
Mediterranean
JAN
1951
-
MAY
1951
Mediterranean
MAY
1955
-
JUL
1955
Mediterranean
FEB
1964
-
MAY
1964
Mediterranean
AUG
1966
-
Shellback Initiation - 22 AUG 1966 - Atlantic Ocean
AUG
1966
-
DEC
1966
UNITAS
SEP
1966
-
SEP
1966
Golden Shellback Intiation
SEP
1966
-
Shellback Initiation - 18 SEP 1966 - Atlantic Ocean
SEP
1966
-
SEP
1966
Panama Canal
NOV
1966
-
NOV
1966
Cape Horn
NOV
1966
-
NOV
1966
Golden Shellback Intiation
FEB
1967
-
MAR
1967
Caribbean
APR
1967
-
JUL
1967
Mediterranean
SEP
1967
-
OCT
1967
Dry Dock
DEC
1968
-
Decommissioned: 2 DEC 1968
APR
1990
-
APR
1990
towed to Pittsburgh Pa in 1990 and is currently a tourist attra
SS-481 General Specifications
Class: Tench-class submarine
Complement: 10 Officers and 71 Enlisted
Displacement: 1570 tons
Length: 311 feet 8 inches
Beam: 27 feet 4 inches
Draft: 17 feet
Range: 11 000 Nautical Miles
Final Disposition: Museum ship at Tampa Florida 17 July 1972
USS REQUIN (SS-481)
Requin (SS-481) was laid down on 24 August 1944 by the Portsmouth Navy Yard Portsmouth N.H.; launched on 1 January 1945; sponsored by Mrs. Slade D. Cutter; and commissioned on 28 April 1945 Comdr. Slade D. Cutter in command.
Following shakedown off the New England coast Requin departed Portsmouth on 3 June 1945 en route to Hawaii. She joined the Pacific Fleet on 13 July at Balboa and at the end of the month reached Pearl Harbor. Two weeks after her arrival however World War II ended and Requin by then en route to Guam was recalled and ordered back to the Atlantic.
She arrived at Staten Island N.Y. on 18 September; remained in that area through the year; and on 6 January 1946 sailed for Key West where she joined Submarine Squadron 4 (SubRon 4). Later in the year she returned to Portsmouth N.H. for conversion to a radar picket submarine.
After leaving the yard she resumed operations in the western Atlantic and in the fall of 1947 moved north for exercises north of the Arctic Circle. Reclassified SSR 481 in January 1948 Requin was transferred to SubRon 8 at New London in June and in May 1949 sailed east for her first deployment with the 6th Fleet. Arriving at Gibraltar on 14 May she operated in the Mediterranean until 30 June.
Soon after her return to New London Requin was transferred to Norfolk for duty with SubRon 6. Into the spring of 1950 she operated in the western Atlantic ranging from Nova Scotia to the West Indies. Overhaul occupied most of the summer and with the end of the year she prepared for another 6th Fleet tour. In the Mediterranean from mid-January to mid-May 1951 she resumed operations off the east coast and in the Caribbean on her return. In August 1952 she was back in European waters. During September she visited the United Kingdom; then in October the submarine transited the Straits of Gibraltar for her regular 6th Fleet duty.
In 1953 she maintained her schedule of 2d and 6th Fleet operations but at the end of the year put into Philadelphia for an extensive modernization overhaul. On 2 May 1955 she sailed for her fifth Mediterranean deployment. Detached at the end of July she returned to Norfolk and remained on the east coast with cruises to the Caribbean until November 1957 when she resumed duty with the 6th Fleet.
Returning to Norfolk in late January 1958 Requin reclassified SS-481 on 15 August 1959 conducted local operations and cruised off the east coast and into the Caribbean until 7 January 1964. From then into May she operated with the 6th Fleet then resumed her 2d Fleet duties which continued into 1968 interrupted only twice for extended deployments. Operation UNITAS VII in the fall of 1966 called for Requin to cruise around the South American continent for exercises with various South American navies; while her last 6th Fleet deployment sent her back to the Mediterranean for duty from 4 April to 27 July 1967.
In October 1968 Requin began inactivation at Norfolk. Decommissioned on 3 December 1968 she was sent to St. Petersburg Fla. in February 1969 and served there as a Naval Reserve Training ship until struck from the Navy list 20 December 1971.


[Note: The above USS REQUIN (SS-481) history may or may not contain text provided by crew members of the USS REQUIN (SS-481) or by other non-crew members and text from the Dictionary of American Naval Fighting Ships]