For RATING SHIRTS - Click on your Rating Abbreviation below:
Click on your Rating abbreviation above: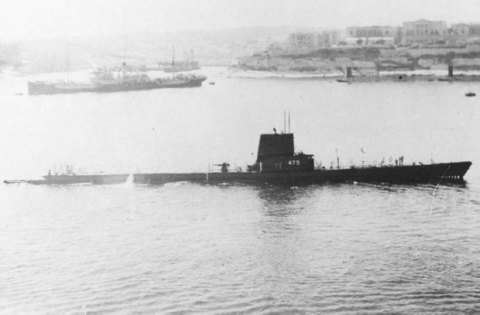 U.S.S. ARGONAUT
(SS-475)

SKILLED IN SEAMANSHIP AND WAR
Click to view crew list
The USS ARGONAUT (SS-475), a Tench-class submarine, was commissioned on 15 JAN 1945. USS ARGONAUT served her country for 23 years, 10 months and 17 days, until decommissioned on 2 DEC 1968.

The USS ARGONAUT (SS-475) deployment history and significant events of her service career follow:
SS-475 Deployments - Major Events
SS-475 General Specifications
Class: Tench-class submarine
Complement: 10 Officers and 71 Enlisted
Displacement: 1570 tons
Length: 311 feet 8 inches
Beam: 27 feet 4 inches
Draft: 17 feet 0 in
Range: 11 000 Nautical Miles
Final Disposition: Transferred to Canada 2 December 1968
USS ARGONAUT (SS-475)
The second Argonaut (SS-475) was laid down on 28 June 1944 by the Portsmouth (N.H.) Navy Yard launched on 1 October 1944; sponsored by Mrs. Allen R. McCann the wife of Capt. McCann; and commissioned on 15 January 1945 Lt. Comdr. John Sneed Schmi dt in command.
The submarine held shakedown in the Portsmouth area and in Narragansett Bay and returned briefly to Portsmouth on 27 March for post-shakedown availability. She then sailed on 14 April for Key West Fla. where she conducted special tests for lighter-than- air craft and training operations with the Fleet Sound School. Argonaut departed the Florida coast on 13 May to transit the Panama Canal en route Hawaii. Reaching Pearl Harbor on 11 June the submarine spent two weeks in repairs and training exerci ses before beginning her first war patrol on 28 June.
She made a fuel stop at Saipan on 10 July and then proceeded to the Formosa Strait and the East China and Yellow Seas to search for enemy shipping. On 16 July Argonaut spotted a downed aviator picked him up and later transferred him to Quillb ack (SS-424). Her only contact with Japanese vessels during the patrol came on 12 August when Argonaut sank a 25-ton junk with fire from her 40-millimeter and 20-millimeter guns. Since she terminated her patrol at Guam on 21 August six days a fter Japan capitulated this was her only combat action during World War II.
Argonaut departed Guam on 1 September and proceeded via Pearl Harbor and the Panama Canal to Tompkinsville N.Y. She arrived in New York on 4 October but continued on to Portsmouth N.H. for an overhaul. Early in 1946 Argonaut was assign ed to the Atlantic Fleet and was based at Panama While en route to Panama Argonaut collided with Honolulu (CL-48) off the eastern coast between New York and Philadelphia during a heavy fog. Both ships sustained minor damage and Argonaut continued on to Panama. Later in 1946 Argonaut became a unit of Submarine Squadron 2 based at New London Conn.
In July 1952 the submarine underwent a major conversion at the Philadelphia Naval Shipyard during which she received a snorkel system and a streamlined conning tower. These changes gave the submarine greater underwater endurance. Argonaut operate d from New London until July 1955 when she was reassigned to Submarine Squadron 6 at Norfolk Va. Following this move Argonaut was converted to a guided-missile submarine armed with a Regulus I missile.
In 1958 Argonaut's home port was changed to San Juan Puerto Rico where she remained for a year engaged primarily in missile operations. The submarine returned to Norfolk in 1959. During an overhaul in early 1960 Argonaut's missile equip ment was removed. When the alterations were completed the submarine resumed her routine of supporting antisubmarine warfare (ASW) training operations out of Norfolk.
On 15 October 1962 Argonaut performed duties in conjunction with the naval quarantine of Cuba. She then had a routine overhaul at the Norfolk Naval Shipyard Portsmouth Va. The yard work was completed on 13 May 1963 and the submarine sailed to t he New London area for refresher training. After further training in the Virginia capes area she got underway on 19 August for the Mediterranean and service with the 6th Fleet. Her ports of call during the deployment included Gibraltar; Suda Bay Crete; Rhodes Greece Izmir Turkey Toulon and Marseilles France; and San Remo and Naples Italy. The submarine returned to home port on 15 December.
Argonaut continued her routine of operations along the east coast with periodic deployments to the Mediterranean through 1 December 1965. On that day she commenced overhaul at the Norfolk Naval Shipyard. Argonaut left the shipyard on 10 Jun e 1966 for sea trials and on 20 January headed for New London for refresher training. She then provided services to the submarine school at New London through the remainder of 1966.
The submarine moved to Norfolk early in 1967 but left the Virginia capes area on 9 January bound for San Juan Puerto Rico. Argonaut took part in Operation "Springboard" through the rest of January and most of February before leaving the Caribbean on 23 February to return to Norfolk arriving there five days later. During the next two months Argonaut prepared for a North Atlantic and Mediterranean cruise. She sailed on 26 May and made her first port call at Trondheim Norway. The submarine also visited Cuxhaven Germany; Leith Scotland; Rota Spain Naples Italy and Valietta Malta before returning to her home port on 20 September. She remained in the local operating area through the duration of the year.
The submarine traveled to New London on 6 February 1968 entered drydock there on 9 February and remained in it through the 26th. Argonaut left the keelblocks on 27 February and returned to Norfolk. She made a patrol in the Jacksonville Fla. oper ating area in mid-March and put in at Port Everglades Fla. on 22 March. Three days later the submarine got underway for her home port. Upon her arrival in Norfolk on 29 March she assumed a schedule of local operations. This was interrupted by another c ruise to Port Everglades in October. She returned that month to Norfolk and began preparations for deactivation. Argonaut was decommissioned on 2 December and her name was struck from the Navy list that same day. She was sold to Canada and served the Royal Canadian Navy as HMCS Rainbow.
Argonaut won one battle star for her World War II service.


[Note: The above USS ARGONAUT (SS-475) history may or may not contain text provided by crew members of the USS ARGONAUT (SS-475) or by other non-crew members and text from the Dictionary of American Naval Fighting Ships]