For RATING SHIRTS - Click on your Rating Abbreviation below:
Click on your Rating abbreviation above: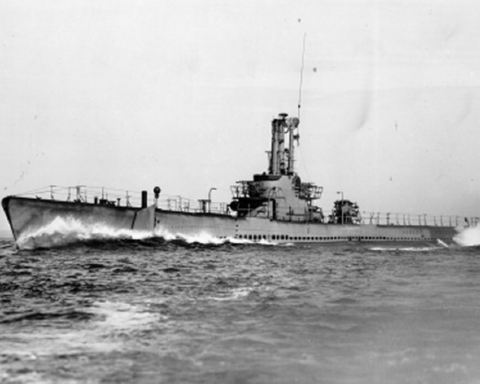 U.S.S. QUILLBACK
(SS-424)


Click to view crew list
USS QUILLBACK (SS-424) - a Tench-class submarine
In Commission 1944 to 1973
SS-424 Deployments - Major Events
Add a SS-424 Shellback Initiation
Add a SS-424 Deployment - Major Event
Month
Year
to
Month
Year
Deployment / Event
JUN
1944
-
Keel Date: 27 JUN 1944
at Portsmouth Naval Shipyard Kittery ME
OCT
1944
-
Launch Date: 1 OCT 1944
DEC
1944
-
Commissioned: 29 DEC 1944
MAR
1951
-
OCT
1951
Mediterranean
SEP
1957
-
NOV
1957
Blue Nose - Arctic Circle
MAY
1959
-
JUL
1959
Operation Inland Sea
AUG
1967
-
NOV
1967
Mediterranean,During 6 Day War,submerged,snorkeling most time.
JAN
1971
-
APR
1971
Caribbean
MAR
1973
-
Decommissioned: 23 MAR 1973
SS-424 General Specifications
Class: Tench-class submarine
Complement: 10 Officers and 71 Enlisted
Displacement: 1870 tons
Length: 307 feet
Beam: 27 feet 4 inches
Draft: 17 feet
Range: 11 000 Nautical Miles
Final Disposition: Sold for scrap 21 March 1974
USS QUILLBACK (SS-424)
Quillback (SS-424) was laid down by the Portsmouth Navy Yard, Portsmouth, N.H., 27 June 1944; launched I October 1944; sponsored by Mrs. J. A. Tyree, Jr.; and commissioned 29 December 1944, Lt. Comdr. R. P. Nicholson in command.


After training at New London and work on an experimental ordnance project at Key West, Quillback departed for Pearl Harbor and her maiden war patrol, off the coast of Kyushu. During this patrol (30 May-24 July 1945) she destroyed a Japanese suicide motorboat and rescued one aviator from the water only a half mile from the heavily armed shore. Surrender of the enemy found Quillback refitting for her second patrol at Guam.


Peacetime duties returned Quillback to New London for duty as a unit of Submarine Squadron 2. From 1945 to 1951, she operated with the Submarine School in a training capacity and as an experimental unit of the Naval Underwater Sound Laboratory. In April 1951, Quillback departed New London for a six months tour of duty with the 6th Fleet in Mediterranean waters. In April 1952, she reported to the Portsmouth Naval Shipyard for decommissioning and conversion.


On 27 February 1953, Quillback was recommissioned and joined the Submarine Force, Atlantic Fleet as a streamlined Guppy (Greater Underwater Propulsion Power) Submarine. She reported to ComSubRon 4 at Key West, Fla. There in local operations, with occasional trips to Guantanamo Bay, she assisted the Fleet Training Group in Destroyer ASW indoctrination. In 1956, 1957, and 1958 Quillback took part in major fleet and NATO exercises in the North Atlantic.


In 1959 Quillback was transferred to Submarine Squadron 12. During 1960 she underwent extensive overhaul at Charleston to improve her offensive capabilities. She deployed to the Mediterranean in October 1961, returning to Key West in February 1962. Operating locally out of Key West from May to October, Quillback was deployed to Guantanamo Bay when the Cuban Quarantine was put into effect and remained there during the first 10 days of the crisis. During 1963 Quillback operated out of Key West and rendered services to the Fleet Training Group at Guantanamo.


Quillback deployed to the Mediterranean for six months in July 1964. Experimental torpedo research and development projects were assigned to Quillback in 1965 until she deployed to Guantanamo Bay in June. She continued to operate out of Key West until deploying to the Mediterranean again from August to November 1667. She spent most of 1968 and 1969 in the Caribbean. She remains with the Atlantic Fleet into 1970.


Quillback earned one battle star for World War II service.


[Note: The above USS QUILLBACK (SS-424) history may, or may not, contain text provided by crew members of the USS QUILLBACK (SS-424), or by other non-crew members, and text from the Dictionary of American Naval Fighting Ships]