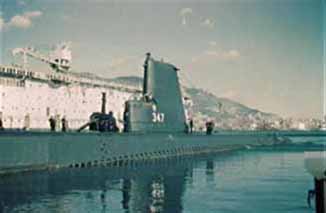 U.S.S. CUBERA
(SS-347)

LIBERTY OR DEATH
Click to view crew list
USS CUBERA (SS-347) - a Balao class submarine
In Commission 1945 to 1972
SS-347 Deployments - Major Events
Add a SS-347 Shellback Initiation
Add a SS-347 Deployment - Major Event
Month
Year
to
Month
Year
Deployment / Event
MAY
1944
-
Keel Date: 11 MAY 1944
at Electric Boat Company Groton CT
JUN
1945
-
Launch Date: 17 JUN 1945
DEC
1945
-
Commissioned: 19 DEC 1945
AUG
1959
-
MAR
1960
Task Force Alfa
OCT
1960
-
MAR
1961
Mediterranean
APR
1963
-
MAY
1963
Great Lakes
AUG
1964
-
NOV
1964
Mediterranean
APR
1965
-
AUG
1965
Mediterranean
MAR
1968
-
SEP
1968
Dry Dock
SEP
1968
-
JUL
1970
key west florida
JUN
1971
-
JUL
1971
Guantanamo Bay
JAN
1972
-
Decommissioned: 5 JAN 1972
SS-347 General Specifications
Class: Balao class submarine
Complement: 10 Officers and 70 Enlisted
Displacement: 1526 tons
Length: 311 feet 9 inches
Beam: 27 feet 3 inches
Draft: 16 feet 10 in
Range: 11 000 Nautical Miles
Final Disposition: Scrapped 1989
USS CUBERA (SS-347)
Cubera (SS-347) was launched 17 June 1945 by Electric Boat Co Groton Conn.; sponsored by Mrs J. Taber; commissioned 19 December 1945 Lieutenant Commander R. W. Paine Jr. in command; and reported to the Atlantic Fleet.
After shakedown training off New London Cubera arrived at Key West Fla. 19 March 1946. She tested sonar equipment provided services to experimental antisubmarine warfare development projects in the Florida Straits and joined in fleet exercises until 4 July 1947 when she sailed to Philadelphia Naval Shipyard for extensive modernization.
Returning to Key West 9 March 1948 Cubera continued to operate locally out of this port as well as taking part in fleet exercises in the Caribbean and Atlantic until 3 July 1952 when she arrived at Norfolk her new home port. Through 1957 Cubera conducted local operations and participated in fleet exercises in the Caribbean as well as cruising to Sydney Nova Scotia in June 1955. During 1959 and 1960 she was assigned to TF "Alfa " a force conducting constant experiments to improve antisubmarine warfare techniques. With this group she cruised the western Atlantic from Nova Scotia to Bermuda.


[Note: The above USS CUBERA (SS-347) history may or may not contain text provided by crew members of the USS CUBERA (SS-347) or by other non-crew members and text from the Dictionary of American Naval Fighting Ships]