For RATING SHIRTS - Click on your Rating Abbreviation below:
Click on your Rating abbreviation above: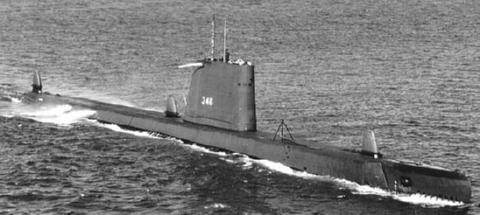 U.S.S. CORPORAL
(SS-346)

EXARTEPENDEMUS
Click to view crew list
USS CORPORAL (SS-346) - a Balao class submarine
In Commission 1945 to 1973
SS-346 Deployments - Major Events
Add a SS-346 Shellback Initiation
Add a SS-346 Deployment - Major Event
Month
Year
to
Month
Year
Deployment / Event
APR
1944
-
Keel Date: 27 APR 1944
at Electric Boat Company Groton CT
JUN
1945
-
Launch Date: 10 JUN 1945
NOV
1945
-
Commissioned: 9 NOV 1945
JAN
1951
-
JAN
1970
Mediterranean
JAN
1954
-
DEC
1954
Alaska
NOV
1960
-
MAR
1961
North Atlantic-Med-Indian Ocean
JAN
1962
-
JAN
1963
Cuban Missle Blockade
JUL
1963
-
NOV
1963
Blue Nose - Arctic Circle
JAN
1966
-
MAR
1966
Special Operations North Atlantic
MAY
1966
-
JUL
1966
Special Operations North Atlantic
NOV
1973
-
Decommissioned: 28 NOV 1973
SS-346 General Specifications
Class: Balao class submarine
Complement: 10 Officers and 70 Enlisted
Displacement: 1526 tons
Length: 311 feet 9 inches
Beam: 27 feet 3 inches
Draft: 16 feet 10 in
Range: 11 000 Nautical Miles
Final Disposition: Transferred to Turkey 21 November 1973
USS CORPORAL (SS-346)
Corporal (SS-346) was launched 10 June 1945 by Electric Boat Co. Groton Conn.; sponsored by Mrs. H. C. Wick; commissioned 9 November 1945 Commander E. E. Shelby in command; and reported to the Atlantic Fleet.
Corporal cleared New London 8 January 1946 for her base at Key West arriving 25 February. She took part in antisubmarine warfare projects and fleet exercises off Florida and Bermuda and in the Caribbean until returning to Groton Conn. 26 February 1947. After extensive modernization she returned to Key West 2 March 1948. She continued to conduct training and join in exercises off Florida and in the Caribbean until her first tour of duty in the Mediterranean with the 6th Fleet from 16 July 1952 to 15 October. Returning to local operations off Key West she also participated in large-scale fleet exercises in the Atlantic and Caribbean. She cruised to the British Isles from 11 March to 16 May 1957 and upon her return to Key West continued training and services to the Fleet Sonar School. Through 1958 and 1959 she operated frequently in ordnance tests and from August 1959 when Charleston S.C. became her home port cruised widely along the east coast. In December 1960 Corporal sailed to visit Germany and then join the 6th Fleet in the Mediterranean.


[Note: The above USS CORPORAL (SS-346) history may or may not contain text provided by crew members of the USS CORPORAL (SS-346) or by other non-crew members and text from the Dictionary of American Naval Fighting Ships]