For RATING SHIRTS - Click on your Rating Abbreviation below:
Click on your Rating abbreviation above: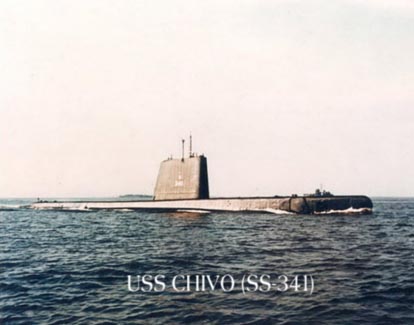 U.S.S. CHIVO
(SS-341)

EX SCIENTIA VIS E PROFUNDO FULMEN
Click to view crew list
USS CHIVO (SS-341) - a Balao class submarine
In Commission 1945 to 1971
SS-341 Deployments - Major Events
Add a SS-341 Shellback Initiation
Add a SS-341 Deployment - Major Event
Month
Year
to
Month
Year
Deployment / Event
FEB
1944
-
Keel Date: 21 FEB 1944
at Electric Boat Company Groton CT
JAN
1945
-
Launch Date: 14 JAN 1945
APR
1945
-
Commissioned: 28 APR 1945
JAN
1963
-
MAR
1964
North Atlantic
JAN
1964
-
JAN
1964
North Atlantic
JAN
1965
-
APR
1965
North Atlantic
MAY
1968
-
MAY
1968
Search for USS Scorpion
JUL
1971
-
Decommissioned: 1 JUL 1971
SS-341 General Specifications
Class: Balao class submarine
Complement: 10 Officers and 70 Enlisted
Displacement: 1526 tons
Length: 311 feet 9 inches
Beam: 27 feet 3 inches
Draft: 16 feet 10 in
Range: 11 000 Nautical Miles
Final Disposition: Transferred to Argentina 1 July 1971
USS CHIVO (SS-341)
Chivo (SS-341) was launched 14 January 1945 by Electric Boat Company Groton Conn.; sponsored by Mrs. R. E. Baldwin wife of the governor of Connecticut; and commissioned 28 April 1945 Lieutenant Commander W. B. Crutcher USNR in command.
Chivo departed New London 7 June 1945 for Key West where she trained and exercised briefly before sailing on to Pearl Harbor. While the submarine was preparing for her first war patrol hostilities ended; Chivo then remained at Pearl Harbor operating locally with other ships of the Pacific Fleet. She returned to the States in October basing on San Diego for local operations which continued until January 1946 when Chivo sailed for a tour of duty in the western Pacific. Returning to San Diego in May the submarine exercised along the west coast for the next 15 months. In August 1947 Chivo began a simulated war patrol which took her to Suva Fiji Islands; Guam and Japan before she arrived back at San Diego in November. West coast duty continued for her until mid-1949 when she was transferred to the Atlantic Fleet arriving at her new home port of Key West on 4 July 1949. The submarine continued to train and provide services for other ships in intertype exercises until 30 October 1950 when she arrived at New London to begin an extensive overhaul and modernization.
With increased power and a new streamlined shape Chivo returned to duty with the Atlantic Fleet in July 1951. Since that time based on Key West and Charleston (1959) she has participated in exercises and tests off the east coast through 1963. Interspersed among her regular operations have been a tour of duty with the 6th Fleet in the Mediterranean (1952) and visits to the Pacific Coast of Colombia (1953) Quebec City Canada (1959) and South Africa (1960).


[Note: The above USS CHIVO (SS-341) history may or may not contain text provided by crew members of the USS CHIVO (SS-341) or by other non-crew members and text from the Dictionary of American Naval Fighting Ships]