For RATING SHIRTS - Click on your Rating Abbreviation below:
Click on your Rating abbreviation above: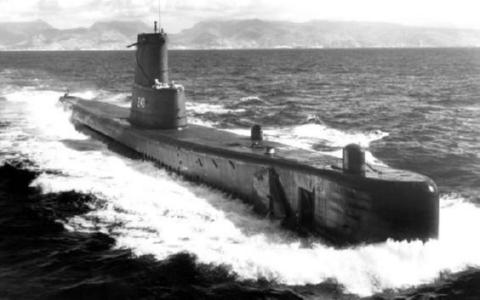 U.S.S. BREAM
(SS-243)

SUBMARINE SQUADRON 3
DE PROFUNDOUS TRIDENS
Click to view crew list
USS BREAM (SS-243) - a Gato-class submarine
In Commission 1944 to 1946
SS-243 Deployments - Major Events
Add a SS-243 Shellback Initiation
Add a SS-243 Deployment - Major Event
Month
Year
to
Month
Year
Deployment / Event
FEB
1943
-
Keel Date: 5 FEB 1943
at Electric Boat Company Groton CT
AUG
1943
-
JAN
1945
Middle Pacific
OCT
1943
-
Launch Date: 17 OCT 1943
JAN
1944
-
JAN
1945
Commisioning
JAN
1944
-
Commissioned: 24 JAN 1944
SEP
1954
-
NOV
1954
Antarctic Circle
MAY
1962
-
SEP
1967
West Pac-Viet Nam
OCT
1964
-
NOV
1964
Alaska
JUL
1968
-
JUN
1969
Running aground on a beach in North Vietnam nearly.
JUN
1969
-
Decommissioned: 28 JUN 1969
SS-243 General Specifications
Class: Gato-class submarine
Complement: 6 Officers and 54 Enlisted
Displacement: 1525 tons
Length: 311 feet 9 inches
Beam: 27 feet 3 inches
Draft: 17 feet
Range: 11 000 Nautical Miles
Final Disposition: Sunk as a target off California 7 November 1969
USS BREAM (SS-243)
Bream (SS-243) was launched 17 October 1943 by Electric Boat Co. Groton Conn.; sponsored by Mrs. Wreford G. Chapple wife of the prospective commanding officer; and commissioned 24 January 1944 Commander Chapple in command.
Bream's war operations extend from 1 June 1944 to 15 June 1945. During this period she completed six war patrols operating in the Java Celebes Sulu and South China Seas and the Gulf of Siam. She sank two Japanese vessels totaling 6934 tons.
In addition Bream shared with Ray (SS-271) and Guitarro (SS-363) the destruction of a 6806-ton passenger-cargo vessel. On 23 October 1944 while patrolling off western Luzon Bream made a daring surface attack on a Japanese formation damaging the heavy cruiser Aoba.
Bream got underway from Saipan for Pearl Harbor 6 June 1945 enroute to the United States for navy yard overhaul. She arrived at San Francisco 24 June 1945 and underwent overhaul and was placed out of commission in reserve 31 January 1946.
Bream was recommissioned 5 June 1951 and reported to Submarine Squadron 3 Pacific Fleet. From June 1951 to August 1952 Bream engaged in type training and services to the Fleet Sonar School San Diego. On 10 September 1952 she went out of commission in reserve at San Francisco. Bream was converted to a killer submarine and reclassified SSK-243 18 February 1953.
Following recommissioning 20 June 1953 Bream participated in all phases of peacetime submarine operations in the Pacific Ocean. She conducted an Alaskan training cruise in September 1954 returning to San Diego 5 November 1954 via Pearl Harbor. Bream carried out operations off California until she made another trip to Pearl Harbor during 7-24 May 1955. Her next departure from the west coast was on 6 March 1956 for a cruise in the Western Pacific which terminated at San Francisco in early 1957.
Bream was awarded four battle stars for her World War II service.


[Note: The above USS BREAM (SS-243) history may or may not contain text provided by crew members of the USS BREAM (SS-243) or by other non-crew members and text from the Dictionary of American Naval Fighting Ships]