For RATING SHIRTS - Click on your Rating Abbreviation below:
Click on your Rating abbreviation above: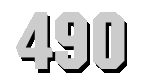 U.S.S. LEADER
(MSO-490)


Click to view crew list
USS LEADER (MSO-490) - an Aggressive class minesweeper
In Commission 1955 to 1991
MSO-490 Deployments - Major Events
Add a MSO-490 Shellback Initiation
Add a MSO-490 Deployment - Major Event
Month
Year
to
Month
Year
Deployment / Event
SEP
1953
-
Keel Date: 22 SEP 1953
at J. M. Martinac Shipbuilding Corp. Tacoma Washington
SEP
1954
-
Launch Date: 15 SEP 1954
NOV
1955
-
Commissioned: 16 NOV 1955
JAN
1963
-
AUG
1963
West Pac
JAN
1963
-
JAN
1965
West Pac-Viet Nam
SEP
1966
-
Shellback Initiation - 16 SEP 1966 - Pacific Ocean
JAN
1967
-
JAN
1967
West Pac-Viet Nam
FEB
1977
-
APR
1978
Antarctic Circle
JAN
1978
-
APR
1979
north atlantic
AUG
1978
-
SEP
1979
North Atlantic
JAN
1988
-
MAY
1988
Arabian Gulf Mine Battle Fleet Fearless (Gold)
JAN
1988
-
JAN
1992
Desert Shield
JAN
1988
-
MAY
1988
West Pac-Indian Ocean-Persian Gulf
JAN
1988
-
MAY
1988
Mediterranean-Indian Ocean-Persian Gulf
FEB
1991
-
SEP
1991
Desert Storm
DEC
1991
-
Decommissioned: 12 DEC 1991
MSO-490 General Specifications
Class: Aggressive class minesweeper
Complement: 74 Officers and Enlisted
Displacement: 775 tons
Length: 172 feet
Beam: 36 feet
Draft: 10 feet
Final Disposition: Scrapped 1994
USS LEADER (MSO-490)
Leader (AM-490) was laid down by J. M. Martinac Shipbuilding Corp. Tacoma Wash. 22 September 1953; launched 15 September 1954; sponsored by Mrs. Norman Wordlund; reclassified MSO-490 7 February 1955 and commissioned 16 November 1955 Lt. Comdr. Harvey Toponce in command.
After shakedown Leader joined Mine Squadron 9 at Long Beach 21 December. During 1956 she performed mine evaluation exercises and tactical training until 1 October when she departed on her first WestPac cruise. Arriving Yokosuka 30 October she operated with the 7th Fleet for the next 5 months performing mine warfare exercises in the Far East. Returning home 12 April 1957 the minesweeper resumed mine evaluation tests along the west coast; and she continued these operations for the next 2 years.
From 1959 through 1968 Leader alternated six WestPac cruises with west coast mine warfare and mine countermeasures exercises. During her 1961 cruise Leader became the first warship ever to visit the Cambodian capital of Phnom Penh when she completed the 180-mile transit up the Mekong River 27 August. On this same cruise she directed South Vietnamese units in minesweep training operations. During her tour with the 7th Fleet in 1965 Leader again operated off South Vietnam this time under more serious circumstances. From June to August she performed special minesweeping operations and played a major role in the expanded American effort to assist the courageous people of Vietnam in their fight against Communist aggressors. Her tour completed Leader returned to Long Beach 14 December to resume training operations.
1966 saw an extensive overhaul for the minesweeper from 9 May to 30 September After further training and readying for deployment Leader once again sailed for WestPac 6 January 1967. She participated in Market Time operations for the better part of her tour returning to Long Beach 18 November. She operated locally through the first half of 1968 Then on 12 August Leader departed Long Beach for another extensive deployment and continues operating off Vietnam into 1969.
Decommissioned 12 December 1991 and struck from the Navy Register 18 March 1992, Leader was sold 15 April 1994 and scrapped.


[Note: The above USS LEADER (MSO-490) history may or may not contain text provided by crew members of the USS LEADER (MSO-490) or by other non-crew members and text from the Dictionary of American Naval Fighting Ships]