For RATING SHIRTS - Click on your Rating Abbreviation below:
Click on your Rating abbreviation above: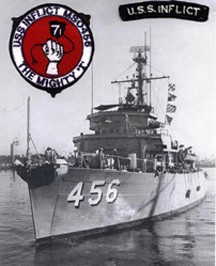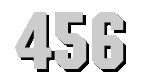 U.S.S. INFLICT
(MSO-456)

MINE BUSTERS
Click to view crew list
USS INFLICT (MSO-456) - an Aggressive class minesweeper
In Commission 1954 to 1990
MSO-456 Deployments - Major Events
Add a MSO-456 Shellback Initiation
Add a MSO-456 Deployment - Major Event
Month
Year
to
Month
Year
Deployment / Event
OCT
1952
-
Keel Date: 29 OCT 1952
at Wilmington Boat Works Inc. Wilmington CA
OCT
1953
-
Launch Date: 16 OCT 1953
MAY
1954
-
Commissioned: 11 MAY 1954
JAN
1958
-
Shellback Initiation - 22 JAN 1958 - Pacific Ocean
JAN
1958
-
JUL
1958
West Pac
MAY
1960
-
NOV
1960
West Pac
JAN
1966
-
DEC
1966
West Pac-Viet Nam
JAN
1972
-
NOV
1973
Operation Endsweep - Hyphong Harbor Vietnam
OCT
1973
-
Shellback Initiation - 19 OCT 1973 - Pacific Ocean
NOV
1987
-
JUN
1989
Persian Gulf Operation Earnest Will
MAR
1990
-
Decommissioned: 30 MAR 1990
MSO-456 General Specifications
Class: Aggressive class minesweeper
Complement: 72 Officers and Enlisted
Displacement: 620 tons
Length: 172 feet
Beam: 36 feet
Draft: 10 feet
Final Disposition: Sold 1 December 1992
USS INFLICT (MSO-456)
The second Inflict (AM456) was launched 16 October 1953 by Wilmington Boat Works, Inc., Wilmington, Calif.; sponsored by Mrs. Robert E. Carlson; and commissioned 11 May 1954, Lt. G. T. Ragon in command.


After shakedown along the West Coast, Inflict engaged in sonar and minesweeping exercises until she departed Long Beach 1 July for the western Pacific. Arriving Yokosuka, Japan 5 August she began operations with the navies of South Korea, Nationalist China, and Japan, In February 1955 she was reclassified MSO-456. Inflict returned to Long Beach 17 February 1956 and spent the remainder of the year on training operations.


During 1957 Inflict continued operations off California and Mexico, helping to maintain one of America's mighty antisubmarine warfare forces. The minesweeper sailed 3 January 1958 for duty in the Far East. She arrived there as a crisis loomed in Indonesia. The strength of this mighty armada made itself felt as the crisis diminished quickly without incident.


During her tour Inflict participated in joint exercises with the Philippine, Thailand, and Chinese Nationalist navies before returning to Long Beach 15 July.


For the next 20 months she remained in California waters constantly training to keep at peak readiness. Inflict sailed 3 May 1960 for joint operations with our Asian allies, remaining there for the next 6 months as a symbol of joint naval cooperation for security of the Free World. She returned to Long Beach 16 November. During 1961, Inflict was engaged in minesweeping operations and midshipman training out of Long Beach. She sailed 7 April 1962 for exercises in Hawaiian waters, returning to Long Beach 17 August. In 1963, in addition to her training in California waters, Inflict sailed 28 October for joint countermeasure exercises with Canada. Returning to Long Beach 3 December she resumed operations out of Long Beach until 22 May 1964 when she sailed for duty in the Far East. Inflict again operated with the friendly navies of Asia, and during the summer was deployed for service along South Vietnam, as our support of that embattled republic was increased to assist its struggle against aggression. Inflict returned to Long Beach 7 December.


She sailed for the Far East 7 February 1966. Arriving Subic Bay 28 March, she headed for her "Market Time" station 5 April and remained on patrol preventing the infiltration of arms and men from North Vietnam to the south. Except for brief interludes, she continued this important duty until she left the war zone 1 November and returned to Long Beach 13 December.


Inflict operated on the West Coast through mid-1967.


[Note: The above USS INFLICT (MSO-456) history may, or may not, contain text provided by crew members of the USS INFLICT (MSO-456), or by other non-crew members, and text from the Dictionary of American Naval Fighting Ships]