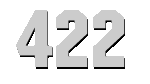 U.S.S. AGGRESSIVE
(MSO-422)


Click to view crew list
USS AGGRESSIVE (MSO-422) - an Aggressive-class minesweeper
In Commission 1953 to 1971
MSO-422 Deployments - Major Events
MSO-422 General Specifications
Class: Aggressive-class minesweeper
Complement: 7 Officers and 70 Enlisted
Displacement: 853 tons
Length: 172 feet
Beam: 35 feet
Draft: 10 feet
Final Disposition: Sold for scrapping May 1980
USS AGGRESSIVE (MSO-422)
Aggressive (AM-422) was laid down on 25 May 1951 at Stamford, Conn., by Luders Marine Construction Co.; launched on 4 October 1952; sponsored by Mrs. Stephen M. Archer; and commissioned on 25 November 1953 at Brooklyn, N.Y., in the New York Naval Shipyard, Lt. Lawrence W. Kelley in command.


The minesweeper remained in the shipyard for alterations during most of 1954. Late in the year, she got underway for shakedown training at Key West, Fla. She then reported to her home port, Charleston, S.C., for more training. In February 1955, her designation was changed to MSF422. Aggressive took part in a large-scale mine warfare exercise held off the southeast coast of the United States. Upon completing the exercise, she returned to Charleston to prepare for an overseas deployment.


Throughout her career, Aggressive alternated duty in the Mediterranean with the 6th Fleet-usually lasting about one-half year-with services to fleet units and activities on the east coast of the United States. There, she participated in numerous NATO mine warfare training exercises. During a cruise in 1958, Aggressive took part in the landing of American forces in Lebanon.


The ship was homeported at Charleston for her whole naval career. She also provided services to the Naval Mine Warfare School, Charleston; Naval Mine Defense Laboratory, Panama City, Fla.; Mine Evaluation Detachment, Key West, Fla.; and the Naval Ordnance Laboratory Test Facility, Fort Lauderdale, Fla. Aggressive also took part in several fleet exercises and operations along the Atlantic coast and in the Caribbean.


On 1 October 1970, preparations to deactivate the ship were begun, and she was decommissioned on 2 July 1971. Her name was struck from the Navy list on 28 February 1975, and she was sold to R. E. Williams in May 1980.


[Note: The above USS AGGRESSIVE (MSO-422) history may, or may not, contain text provided by crew members of the USS AGGRESSIVE (MSO-422), or by other non-crew members, and text from the Dictionary of American Naval Fighting Ships]