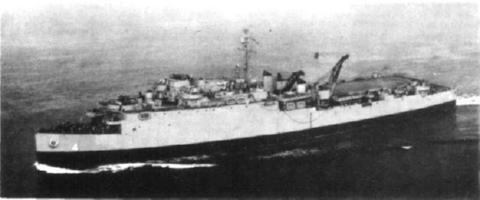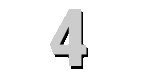 U.S.S. EPPING FOREST
(LSD-4)

MAXIMUS IN MINIMUS
Click to view crew list
USS EPPING FORREST (LSD-4) - an Ashland class dock landing ship
In Commission 1943 to 1968
LSD-4 Deployments - Major Events
Add a LSD-4 Shellback Initiation
Add a LSD-4 Deployment - Major Event
Month
Year
to
Month
Year
Deployment / Event
NOV
1942
-
Keel Date: 23 NOV 1942
APR
1943
-
Launch Date: 2 APR 1943
OCT
1943
-
Commissioned: 11 OCT 1943
JAN
1944
-
JAN
1946
Luzon
FEB
1944
-
Shellback Initiation - 8 FEB 1944 - Pacific Ocean
JAN
1945
-
JAN
1945
Luzon
DEC
1950
-
DEC
1950
Recommisioned
AUG
1961
-
OCT
1968
transfer permanent new home port to Sasepo Japan
MAR
1963
-
AUG
1963
West Pac-Viet Nam
APR
1963
-
JUN
1963
West Pac-Viet Nam
OCT
1968
-
Decommissioned: 31 OCT 1968
LSD-4 General Specifications
Complement: 17 Officers and 237 Enlisted
Displacement: 7930 tons
Length: 457 feet 9 inches
Beam: 72 feet 2 inches
Draft: 8 feet 2 in
Flank Speed: 17 knots
Final Disposition: Sold for scrapping in Japan 30 October 1969
USS EPPING FORREST (LSD-4)
Epping Forest (LSD-4) was launched 2 April 1943 by Moore Dry Dock Co. Oakland Calif.; sponsored by Mrs. J. H. Heintz and commissioned 11 October 1943 Lieutenant Commander L. Martin USNR in command.

Epping Forest sailed from San Diego 13 January 1944 with marines on board for training in the Hawaiian Islands. She cleared Maui 22 January combat-loaded for the invasion of the Marshalls and sent men and artillery-laden landing craft ashore in the initial assaults on Roi and Namur 31 January. After replenishing at Funafuti early in February Epping Forest sailed to Tulagi where alterations were made and she loaded men and equipment of the 1st Marines. These she landed in the assault on Emirau 20 March. During the next 3 weeks Epping Forest brought reinforcements and supplies in to Emirau from Guadalcanal and Manus and on 10 April arrived at Finschhafen to prepare for the Hollandia operations.

Epping Forest arrived off Aitape 22 April 1944 for preinvasion bombardment then sent her landing craft ashore in the assault and returned to Finschhafen to reload. She shuttled supplies to Aitape and Hollandia and repaired landing craft at Buna and on 11 May reached Guadalcanal to load marines and their equipment for the invasion of Guam. After standing by in reserve during the invasions of Tinian and Saipan she arrived off Guam 21 July for the assault landings. For 5 days she lay off the island repairing landing craft and then returned to Guadalcanal from which she made several voyages to Manus transporting landing craft through August.

Epping Forest brought her specialized facilities into play once more in the invasion of the Palau Islands Iying off Peleliu to repair landing craft after the assault of 15 September 1944. After staging at Hollandia she joined in the initial assault in Leyte Gulf 20 October landing engineering troops and their equipment and sailing immediately to Hollandia to reload. She continued to voyage between New Guinea and Leyte with men and gear into December then prepared for the Lingayen Gulf assault.

On 9 January 1945 Epping Forest sent her boats away in the assault of Lingayen Gulf working under almost constant air attack. The next day she got underway for Morotai to reload Army equipment with which she returned to Lingayen 27 January. For 2 weeks she repaired landing craft here then put into Leyte on her way to transfer landing craft from Saipan to Guam and again from Milne Bay to Leyte arriving 13 March to prepare for the Okinawa assault.

Epping Forest arrived off the Hagushi beaches 1 April 1945 for the invasion of Okinawa and during the days of bitter fighting repaired landing craft at various anchorages around the island. She worked with the skill of long practice under air attacks and the constant threat of enemy suicide attacks by small boats and swimmers as well as aircraft. On 1 July she sailed for Portland Oreg. arriving 25 days later. After carrying landing craft along the west coast and to the Hawaiians she brought a load of small craft to Bikini in June 1946 for use in Operation "Crossroads " the atomic weapons tests and returned to San Diego 27 June. She was decommissioned and placed in reserve at Long Beach 25 March 1947.

Epping Forest was recommissioned 1 December 1950 and sailed along the west coast for training until 2i May 1951 when she departed San Diego for the troubled Far East.

Operating in support of UN forces until 7 February 1952 she returned to the west coast for local training and exercises. From October 1952 to September 1953 she again deployed to the waters off Korea where she supported minesweeping operations in Wonsan harbor the first such use of an LSD.

Epping Forest underwent overhaul in November 1953 and resumed her station in the Far East during the following April. She participated in amphibious operations at Okinawa and Korea transported the refugees of French Indo-China in the "Passage to Freedom" mission during the summer of 1954 and engaged in exercises off the Japanese coast.

Her tour of Far Eastern waters in 1955-56 was devoted to local operations. In August 1957 she again departed San Diego to engage in the 7th Fleet Operation "Phiblink" in which she won special recognition for her performance. Following fleet exercises in the South China Sea she returned to San Diego in April 1958 for a period of yard availability.

Coastal operations preceded her return to the western Pacific in June 1959 to provide transportation and support to a division of minesweeping craft. During the Laotian crisis she joined Amphibious Squadron One at Okinawa in a state of combat readiness for any eventuality.

Epping Forest returned to the States in November 1959 for another period of overhaul and upkeep. Assigned to the control of Mine Forces Pacific she was ordered to a new homeport Sasebo Japan whence she sailed on 22 August 1960 prior to offloading quantities of supplies for Operation "Hand Clasp" in Korea. During the remainder of the year she cruised as flagship of Commander Mine Flotilla One and took part in mine countermeasure exercises.


[Note: The above USS EPPING FORREST (LSD-4) history may or may not contain text provided by crew members of the USS EPPING FORREST (LSD-4) or by other non-crew members and text from the Dictionary of American Naval Fighting Ships]