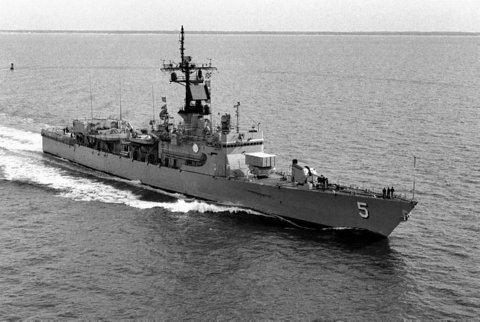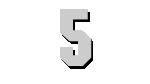 U.S.S. RICHARD L. PAGE
(FFG-5)

FIT TO FIGHT
Click to view crew list
USS RICHARD L. PAGE (FFG-5) - a Brooke class frigate
In Commission 1967 to 1988
FFG-5 Deployments - Major Events
Add a FFG-5 Shellback Initiation
Add a FFG-5 Deployment - Major Event
Month
Year
to
Month
Year
Deployment / Event
JAN
1965
-
JAN
1972
West Pac-Viet Nam
JAN
1965
-
Keel Date: 4 JAN 1965
at Bath Iron Works Bath ME
APR
1966
-
Launch Date: 4 APR 1966
AUG
1967
-
Commissioned: 5 AUG 1967
SEP
1968
-
FEB
1969
Mediterranean
MAY
1970
-
OCT
1970
North Atlantic
JUL
1970
-
JUL
1970
Blue Nose - Arctic Circle
OCT
1970
-
JUL
1971
To Boston Naval Shipyard/ drydock
AUG
1972
-
FEB
1975
Mediterranean
MAY
1975
-
FEB
1976
Philly Naval Ship Yards - Dry Dock. Redesignated FFG-5 upon comp
OCT
1976
-
APR
1977
Mediterranean
NOV
1977
-
JUN
1978
North Atlantic-Med-Indian Ocean
JAN
1979
-
JUL
1979
Mediterranean-Indian Ocean
MAR
1982
-
SEP
1982
Mediterranean-Lebanon
SEP
1983
-
APR
1984
Mediterranean-Lebanon
MAY
1987
-
NOV
1987
Mediterranean-Lebanon
SEP
1988
-
Decommissioned: 30 SEP 1988
FFG-5 General Specifications
Class: Brooke class frigate
Named for: Richard L. Page
Complement: 14 Officers and 214 Enlisted
Displacement: 3426 tons
Length: 414 feet
Beam: 44 feet
Flank Speed: 27 Knots
Range: 4 000 nautical miles
Final Disposition:Disposed of by Navy title transfer to the Maritime Administration March 28 1994
USS RICHARD L. PAGE (FFG-5)
The guided missile escort Richard L. Page (DEG-5) was laid down on 4 January 1965 by the Bath Iron Works Corp. Bath Maine; launched 4 April 1966; sponsored by Miss Edmonia Lee Whittle and Mrs. Nannie Page Trinker granddaughters of Brigadier General Page; and commissioned at Boston on 5 August 1967 Comdr. Milton J. Schultz Jr. in command.
In mid-October 1967 Richard L. Page moved from Boston to her homeport Newport R.I. then sailed south for shake-down exercises in the Caribbean. On 21 December she returned to Newport and after post-shakedown availability began operations with CortRon 6. Into 1968 she operated in the western Atlantic and in the fall she deployed to the Mediterranean for duty with the 6th Fleet. On that duty until 10 February 1969 she returned to Newport on the 18th and in March resumed operations with the 2d Fleet. On 1 July 1969 she relieved Brumby (DE-1044) as flagship of DesDiv 122 then conducted exercises in the Caribbean.

Richard L. Page spent all of 1971 and the first eight months of 1972 in port at Newport and in operations along the east-coast of the United States and in the Caribbean. In mid-August 1972 she steamed out of Newport R.I. bound for an extended deployment with the Sixth Fleet in the Mediterranean. As of January 1974 she continues operations in the Mediterranean.


[Note: The above USS RICHARD L. PAGE (FFG-5) history may or may not contain text provided by crew members of the USS RICHARD L. PAGE (FFG-5) or by other non-crew members and text from the Dictionary of American Naval Fighting Ships]