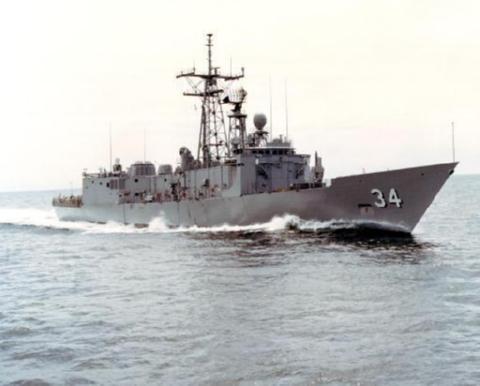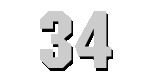 U.S.S. AUBREY FITCH
(FFG-34)

A BREED APART
Click to view crew list
The USS AUBREY FITCH (FFG-34), an Oliver Hazard Perry class frigate, was commissioned on 9 OCT 1982. USS AUBREY FITCH served her country for 15 years, 2 months and 3 days, until decommissioned on 12 DEC 1997.

The USS AUBREY FITCH (FFG-34) deployment history and significant events of her service career follow:
FFG-34 Deployments - Major Events
Add a FFG-34 Shellback Initiation
Add a FFG-34 Deployment - Major Event
Month
Year
to
Month
Year
Deployment / Event
APR
1981
-
Keel Date: 10 APR 1981
at Bath Iron Works Bath ME
OCT
1981
-
Launch Date: 17 OCT 1981
OCT
1982
-
Commissioned: 9 OCT 1982
NOV
1983
-
DEC
1983
Grenada
APR
1984
-
Shellback Initiation - 6 APR 1984 - Atlantic Ocean
JUN
1984
-
NOV
1984
North Atlantic
JUN
1984
-
DEC
1984
North Atlantic-Med-Indian Ocean
DEC
1984
-
JUN
1985
Operation Deep Freeze
SEP
1985
-
Shellback Initiation - 9 SEP 1985 - Pacific Ocean
JAN
1986
-
FEB
1986
Space Shuttle Challenger Disaster Recovery 26 Jan 1986
JUN
1986
-
DEC
1986
Persian Gulf
SEP
1988
-
FEB
1989
Desert Shield
OCT
1988
-
DEC
1988
Desert Shield
AUG
1991
-
FEB
1992
Mediterranean-Indian Ocean-Persian Gulf
MAR
1995
-
JUL
1995
EASTLANT/WESTMED
JUN
1996
-
DEC
1996
Standing Naval Forces Atlantic (SNFL)
DEC
1997
-
Decommissioned: 12 DEC 1997
FFG-34 General Specifications
Class: Oliver Hazard Perry-class frigate
Named for: Admiral Aubrey Fitch
Complement: 15 Officers and 190 Enlisted
Displacement: 4100 tons
Length: 453 feet
Beam: 45 feet
Flank Speed: over 29 knots
Range: 5 000 nautical miles
Final Disposition:Disposed of by scrapping dismantling
USS AUBREY FITCH (FFG-34)
Aubrey Fitch (FFG-34) was laid down on 10 April 1981 at Bath Maine by the Bath Iron Works; launched on 17 October 1981 sponsored by Mrs. Francesca Fitch Ferguson the granddaughter of the late Admiral Fitch and was commissioned at Bath Maine on 9 October 1982 Comdr. Floyd A. Weeks in command.
Aubrey Fitch remained at Bath for another five weeks completing her outfitting propulsion plant examination and crew inspections. In mid-November she made the passage from Bath to her home port Mayport in Florida where she spent the remainder of 1982. Early in January of 1983 the guided-missile frigate embarked upon her shakedown cruise to the vicinity of Guantanamo Bay Cuba. The warship returned to Mayport during the middle of February and then launched into a series of trials qualifications and certifications preparatory to her final acceptance by the Navy. She completed final acceptance trials late in May and entered the yard at Bath Iron Works for a three-month post-shakedown availability. Aubrey Fitch completed repalrs and returned to Mayport in September. In October she commenced refresher training out of Guantanamo Bay.
The guided-missile frigate was so engaged when United States military forces invaded the small Caribbean island nation of Grenada on 25 October in response to a power struggle between leftist factions that endangered the stability of the region as well as the lives of United States citizens attending the medical college there. Aubrey Fitch interrupted refresher training to conduct patrols in defense of the base at Guantanamo Bay against possible hostile action by Cuba as a result of the conflict in Grenada where Americans found themselves fighting Cuban "advisors" and "construction workers." Early in November however the warship completed refresher training and assumed tactical control of Aquila (PHM-4) and Taurus (PHM-5) for the purpose of testing the feasibility of operating guided-missile frigates and guided-missile hydrofoil gunboats together in the same task organization. Demands attendant to the continuing American presence in Grenada however overtook the experiment and sent Aubrey Fitch and her two consorts south to the tiny republic. Duty in the waters adjacent to Grenada lasted until mid-December when the warship returned to Mayport.
Aubrey Fitch began 1984 in her home port. Later in January she embarked upon a normal schedule of training operations in the West Indies. That employment occupied her through the month of May and into June. On 22 June the guided missile frigate put to sea to become a unit of NATO's Standing Naval Force Atlantic based at Plymouth England. That deployment included visits to a number of ports in northern Europe as well as training evolutions in the Baltic Sea. Early in the fall of 1984 the NATO force visited American waters and made calls at Charleston Savannah and New Orleans. Late in November the warships visited Aubrey Fitch's home port in Florida. Early in December the NATO force headed back to Europe leaving Aubrey Fitch at Mayport.
The warship opened 1985 much the same way as she did 1984. After concluding holiday leave and upkeep at Mayport during the first half of January she returned to sea for the usual training exercises equipment operation certifications and ASW helicopter landing qualifications. These and similar evolutions alternated with periods in port for routine upkeep and availability occupied her time during the first five months of the year. In June Aubrey Fitch began providing escort and plane guard services for America (CV-66) and Saratoga (CV-60) when the carriers put to sea to conduct landing qualifications. Near the end of June she put to sea for special operations off the west coast of the Isthmus of Panama. She transited the Panama Canal and then operated from the base at Rodman during July August and nart of September. After passing back through the canal in mid-September Aubrey Fitch arrived back at Mayport on the 21st. Repairs took up the remainder of September as well as October and November. She concluded her restricted availability with sea trials on 5 and 6 December and after a brief round trip to Charleston and back settled into the usual year-end holiday routine.
The relative inactivity of holiday standdown carried over into the first three weeks of 1986. On 21 January Aubrey Fitch put to sea for a week of ASW training in the Bahama Islands. On 28 January she interrupted her return voyage when the space shuttle Challenger exploded soon after launch. From her position just 50 miles southeast of Cape Canaveral Aubrey Fitch rushed to the scene of the tragedy and began recovering debris. She collected several tons of material which she later delivered to Cape Canaveral to be inspected as a part of the investigation into the cause of the disaster. From Cape Canaveral the guided-missile frigate returned to Mayport and remained there until the second week in February. On 10 February Aubrey Fitch resumed training operations out of Mayport and she continued so employed until the beginning of April at which time the warship began preparations to deploy to the Persian Gulf.
On 4 June Aubrey Fitch stood out of Mayport in company with Talbot (FFG-4) to rendezvous with Nicholson (DD-982) and Semmes (DDG-18). She and her traveling companions then laid in a course that took them across the Atlantic Ocean and the Mediterranean Sea through the Suez Canal and around the Arabian Peninsula to the Strait of Hormuz. Aubrey Fitch and her consorts arrived at Bahrain in the Persian Gulf on 8 July. The guided-missile frigate spent the next four months conducting patrols and escorting merchant ships in the strategicóand troubled waters of the Persian Gulf the Gulf of Oman and the northern portion of the Arabian Sea. No untoward events marred her sojourn in the region and she concluded her assignment on 30 October by turning her responsibilities over to Sampson (DDG-10).
Retracing her outward-bound voyage via the Red Sea the Suez Canal, the Mediterranean Sea, and the Atlantic Ocean Aubrey Fitch steamed into Mayport on 4 December. Post-deployment standdown took up the remainder of 1986 and as of the beginning of 1987 the warship was at Mayport.


[Note: The above USS AUBREY FITCH (FFG-34) history may or may not contain text provided by crew members of the USS AUBREY FITCH (FFG-34) or by other non-crew members and text from the Dictionary of American Naval Fighting Ships]