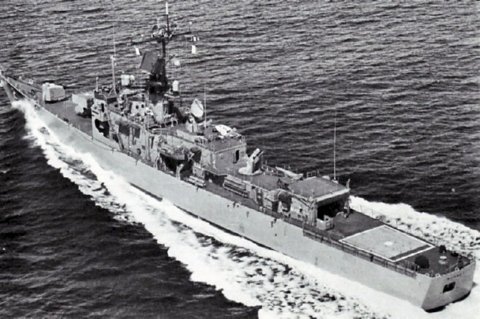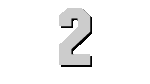 U.S.S. RAMSEY
(FFG-2)

SECOND TO NONE
Click to view crew list
USS RAMSEY (FFG-2) - a Brooke-class frigate
In Commission 1967 to 1988
FFG-2 Deployments - Major Events
Add a FFG-2 Shellback Initiation
Add a FFG-2 Deployment - Major Event
Month
Year
to
Month
Year
Deployment / Event
FEB
1963
-
Keel Date: 4 FEB 1963
at Lockheed Shipbuilding & Construction Co. Seattle WA
OCT
1963
-
Launch Date: 15 OCT 1963
JUN
1967
-
Commissioned: 3 JUN 1967
APR
1968
-
NOV
1968
West Pac
OCT
1969
-
APR
1970
WestPac Planeguard for USS Hancock / Shellback .
MAR
1970
-
Shellback Initiation - 31 MAR 1970 - Pacific Ocean
MAY
1971
-
NOV
1971
West Pac
MAY
1971
-
NOV
1971
West Pac-Viet Nam
JUN
1972
-
MAR
1973
West Pac
JUN
1972
-
MAR
1973
West Pac-Viet Nam
JAN
1975
-
AUG
1975
West Pac-Viet Nam
JUN
1976
-
APR
1977
West Pac
SEP
1976
-
Shellback Initiation - 6 SEP 1976 - Pacific Ocean
SEP
1976
-
Shellback Initiation - 6 SEP 1976 - Pacific Ocean
OCT
1976
-
Shellback Initiation - 26 OCT 1976 - Pacific Ocean
JAN
1979
-
JUL
1979
West Pac
OCT
1980
-
APR
1981
West Pac
OCT
1980
-
APR
1981
West Pac
NOV
1982
-
NOV
1982
Emergency Sortie from Pearl Harbor Due to Hurricane Iwa
JAN
1983
-
JUN
1983
West Pac-Indian Ocean-Persian Gulf
FEB
1983
-
Shellback Initiation - 14 FEB 1983 - Indian Ocean
JUN
1987
-
Shellback Initiation - 25 JUN 1987 - Indian Ocean
SEP
1988
-
Decommissioned: 1 SEP 1988
FFG-2 General Specifications
Class: Brooke-class frigate
Named for: DeWitt Clinton Ramsey
Complement: 241 Officers and Enlisted
Displacement: 3426 tons
Length: 414 feet 6 inches
Beam: 44 feet 2 inches
Flank Speed: 27 knots
Range: 4 000 nautical miles
Final Disposition:Sunk as a target 15 June 2000
USS RAMSEY (FFG-2)
Ramsey (DEG-2) was laid down 4 February 1963 by Lockheed Shipbuilding & Construction Co. Seattle Wash.; Iaunched 15 October 1963; sponsored by Mrs. DeWitt Clinton Ramsey; and commissioned 3 June 1967 Comdr. William D. Robertson Jr. in command.
After shakedown off the west coast Ramsey (DEG 2) departed Long Beach Calif. on 1 May 1968 for the western Pacific. Following duty off Vietnam and her return to Long Beach 9 November she sailed again for the western Pacific 8 October 1969 and again operated off Vietnam before returning to Long Beach 18 April 1970. Between January 1970 and January 1974 Ramsey alternated two more WestPac cruises with operations off the west coast of the United States. As of January 1974 she is in port at Long Beach Calif.
Ramsey has earned five battle stars for Vietnam service.


[Note: The above USS RAMSEY (FFG-2) history may or may not contain text provided by crew members of the USS RAMSEY (FFG-2) or by other non-crew members and text from the Dictionary of American Naval Fighting Ships]