For RATING SHIRTS - Click on your Rating Abbreviation below:
Click on your Rating abbreviation above: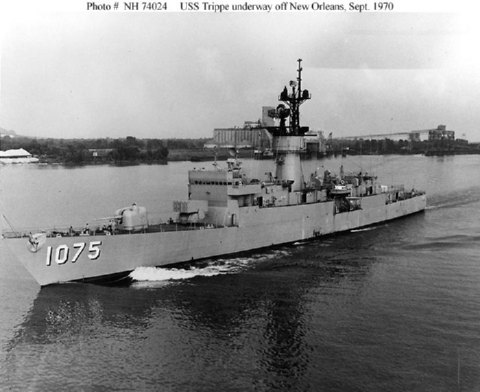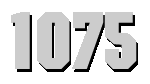 U.S.S. TRIPPE
(FF-1075)

ALWAYS A CLEAN SWEEP
Click to view crew list
USS TRIPPE (FF-1075) - a Knox-class frigate
In Commission 1970 to 1992
FF-1075 Deployments - Major Events
Add a FF-1075 Shellback Initiation
Add a FF-1075 Deployment - Major Event
Month
Year
to
Month
Year
Deployment / Event
JUL
1968
-
NOV
1969
Ship Construction - Date Keel Laid and Date Launched
JUL
1968
-
Keel Date: 29 JUL 1968
at Avondale Shipyard Inc. Westwego LA
NOV
1969
-
Launch Date: 1 NOV 1969
DEC
1969
-
AUG
1970
Sea Trials
SEP
1970
-
Commissioned: 19 SEP 1970
NOV
1970
-
JAN
1971
Refresher Training Guantanamo Bay Cuba
FEB
1972
-
MAY
1972
Post REFTRA Shakedown Boston Naval Shipyard
JUN
1972
-
DEC
1972
West Pac-Viet Nam
OCT
1972
-
Shellback Initiation - 17 OCT 1972 - Indian Ocean
NOV
1972
-
DEC
1972
Circumnavigation
AUG
1973
-
JAN
1974
Mediterranean
JAN
1974
-
JUL
1974
Mideast
MAR
1974
-
APR
1974
Homeport Change from Newport RI to Charleston SC
JAN
1975
-
JUN
1975
Middle East Forces/Indian Ocean
OCT
1975
-
MAY
1976
Regular Overhaul Charleston Naval Shipyard
JAN
1977
-
AUG
1977
Mediterranean - Middle East - Indian Ocean
JAN
1977
-
AUG
1977
Mediterranean-Indian Ocean-Persian Gulf
MAY
1977
-
Shellback Initiation - 4 MAY 1977 - Indian Ocean
MAY
1977
-
Shellback Initiation - 4 MAY 1977 - Indian Ocean
MAY
1977
-
Shellback Initiation - 4 MAY 1977 - Indian Ocean
NOV
1977
-
JAN
1978
Refresher Training Guantanamo Bay Cuba
APR
1978
-
OCT
1978
Mediterranean
NOV
1978
-
JAN
1979
Caribbean - SHAREM XXIX ASW Exercises
JUN
1979
-
OCT
1979
UNITAS
OCT
1979
-
DEC
1979
West Africa -Senegal Liberia Gambia and 8 other countries
NOV
1979
-
Shellback Initiation - 4 NOV 1979 - Atlantic Ocean
JAN
1980
-
DEC
1980
Major Overhaul Bath Maine
JAN
1981
-
JUL
1981
Post Overhaul Sea Trials/Testing of new Harpoon Missile System
AUG
1981
-
FEB
1982
Mediterranean
MAR
1983
-
SEP
1983
West Africa/Mediterranean/Suez Canal/Indian Ocean/Mediterranean
JAN
1984
-
FEB
1985
Atlantic Fleet Ops/Gulf of Mexico/New Orleans World's Fair
MAR
1985
-
OCT
1985
Mediterranean
DEC
1986
-
JUN
1987
Mediterranean
JUL
1987
-
FEB
1989
Regular Overhaul Charleston/REFTRA/NGFS Guantanamo Bay Cuba
APR
1989
-
APR
1989
Collison at Sea during Atlantic UNREP with USS PLATTE (AO-186)
APR
1989
-
SEP
1989
Collison Repair Boston Naval Shipyard
APR
1989
-
APR
1989
Homeport Change from Charleston SC to Boston MA
OCT
1989
-
OCT
1989
Homeport Change from Boston MA to Newport RI
FF-1075 General Specifications
Class: Knox-class frigate
Named for: John Trippe
Displacement: 3238 tons
Length: 438 feet
Beam: 46 feet 9 inches
Draft: 24 feet 9 in
Range: 4 500 nautical miles
Final Disposition: Transferred to Greece July 1992
USS TRIPPE (FF-1075)
The fourth Trippe (DE-1075) was laid down on 29 July 1968 at Westwego, La., by Avondale Shipyards, Inc.; launched on 1 November 1969; sponsored by Mrs. John S. Foster; and commissioned at Charleston, S.C., on 19 September 1970, Comdr. Allen B. Higgenbotham in command.


Trippe completed outfitting during the first week in February 1971, loaded ammunition at the weapons station on the 7th and 8th, and cleared Charleston on the 9th. Following a five-week stay at Newport, R.I., the escort ship got underway on 23 March to conduct shakedown training in the Caribbean. During that cruise, she visited Guantanamo Bay, Cuba; Frederik-sted, St. Croix, in the American Virgin Islands; Puerto Rico; and Andros Island in the Bahamas. She interrupted her shakedown cruise from 22 to 28 April to conduct a surveillance mission off the coast of Haiti just after the death of the President of Haiti, Francois Duvalier. She resumed training on 29 April and continued it until 23 May when she headed for home. Trippe entered Newport again on 25 May and remained there until 6 July, conducting final trials between 14 and 16 June. The ship entered the Boston Naval Shipyard on 7 July and began post-shakedown availability, which included the installation of one sonar and two missile systems. She completed sea trials on 9 December and returned to Newport 10 days later.


On 10 January 1972, she departed Newport for operations in the Caribbean. On the 26th, just before reaching the Virgin Islands, Trippe received a distress call from the SS Fiona C, a merchant ship damaged by fire and in danger of running aground. A boarding party from Trippe succeeded in dropping Fiona C.'s anchor to keep her from drifting ashore on Culebra Island. After notifying Coast Guard authorities of the ship's exact position, Trippe continued on into the harbor at St. Thomas. From 28 January to 18 February, she conducted a series of Standard and Sparrow III missile test firings for the Operational Test and Evaluation Force and then returned north, arriving at Newport on 22 February. From then until 28 April, she remained in the Newport area, putting to sea only once-from 13 to 17 March-to participate in COMPTUEX 8-72. Between 28 April and 11 May, Trippe joined in LANTREADEX 4-72. She returned to Newport on 11 May and remained for almost a month.


On 5 June, she departed Newport bound for the Pacific. She transited the Panama Canal on 10 June and, after stops at Oahu and Guam, joined the 7th Fleet at Subic Bay in the Philippines on Independence Day. Five days later, Trippe, in company with America (CVA-66), headed for the combat zone off the coast of Vietnam. For the next month, she conducted combat operations in the Gulf of Tonkin. She served as a plane-guard for America and conducted naval gunfire support missions for troops ashore in the vicinity of Quang Tri City and of the old imperial capital, Hue. The warship returned to Subic Bay on 13 August.


Soon after her arrival, Trippe was ordered to the Middle East to fulfill missions originally assigned to damaged Warrington (DD-843). On 16 August, she departed the Philippines and, after visits to Singapore and Ceylon, arrived in Manama, Bahrain. For almost three months, she conducted goodwill visits to Middle Eastern ports-stopping at Bandar Shapur, Iran; Sitrah, Bahrain; Karachi, Pakistan; Djibouti in the French territory of Afars and Issas; Victoria in the Seychelles Islands; Tamatave, Malagasy Republic; and Mombasa, Kenya.


At Mombasa, she turned her duties over to Sellars (DDG-11) on 2 November and headed back to the United States. En route home, Trippe stopped at Lourenco Marques, Mozambique; Luanda, Angola; Dakar, Senegal; and Bermuda. On 2 December, she moored at Newport and began post-deployment standdown.


Trippe opened 1973 in port at Newport preparing for a restricted availability at the Boston Naval Shipyard. Between 9 and 12 January, she made a brief run to Earle, N.J., to offload ammunition and, on 6 February, entered the shipyard. During her almost five months in the yard, Trippe's DASH flight deck and hangar were enlarged to accommodate a light airborne multipurpose system (LAMPS) manned helicopter for antisubmarine warfare, antiship missile defense, search and rescue, and general utility missions. She also received the interim surface-to-surface missile (ISSM) system. The escort ship completed her availability on 27 June, loaded ammunition at Charleston on the 29th, and headed for Guantanamo Bay, Cuba. After refresher training and missile and gunfire qualifications at Vieques Island, she operated with Carrier Division 6 late in July. Trippe returned to Newport on 29 July to prepare for her upcoming deployment.


On 30 August, she departed Newport in company with Dewey (DLG-14) and Harry E. Yarnell (DLG-17). On 7 September, she reported for duty with the 6th Fleet at Lisbon, Portugal. Three days later, she joined units of other NATO navies in Operation "Quickshave," which ended on the 20th. After a visit to Falmouth, England, she headed for the eastern Mediterranean, where she operated with Task Force (TF) 60. For the remainder of the deployment, Trippe screened TF 60 carriers, located submarines of the Soviet Mediterranean Squadron, and participated in gunfire exercises. On 14 January 1974, Trippe turned her duties over to her relief at Rota, Spain, and headed home. She returned to Newport on the 24th and began a month-long, post-deployment standdown. On 28 February, she departed Newport and, on 1 March, entered her new home port, Charleston, S.C. For the remainder of the year, Trippe operated along the east coast conducting training and exercises.


On 9 January 1975, the warship left Charleston and headed for a tour of duty in the Indian Ocean. Steaming via the Cape of Good Hope, she reported on 13 February for duty with the Middle East Force at Mombasa, Kenya. Four days later, Trippe headed north to Bandar Abbas, Iran, where she arrived on the 27th. There, she entertained the Shah's nephew, Prince Shafique, a captain in the Imperial Iranian Navy and commander of its Destroyer Squadron 1.


From there, she voyaged on a tour of visits to ports on the Indian Ocean littoral, among which were Karachi, Pakistan; Djibouti, French territory of Afars and Issas; and Hodeidah, Yemen. Her series of port visits was interrupted late in March when she was called upon to observe political conditions in Saudi Arabia after the assassination of King Faisal. On 1 April, she resumed her itinerary by calling at Jidda, Saudi Arabia, to embark Saudi naval personnel for training. From there, she headed for Bahrain. During that voyage, she encountered units of the Soviet Indian Ocean Squadron off Socotra Island. After five days in Manama, Bahrain, she put to sea on 16 April to observe those same Soviet ships during their Exercise "Okean 75." Upon release from that duty, Trippe visited Bandar Abbas again on the 30th. The warship completed her middle eastern tour at Mombasa on 28 May and headed -via the Suez Canal and the Mediterranean Sea-to the United States. After stopping at Rota, Spain, and crossing the Atlantic, she entered Charleston on 29 June. The next day, Trippe was redesignated a frigate FF-1075. Following a summer of training and a midshipman cruise, the frigate began overhaul at Charleston on 6 October.


Trippe completed overhaul on 23 June 1976. The succeeding three months were spent in the Caribbean where the fleet frigate conducted refresher training. Proceeding to her home port, Charleston, on 8 October, Trippe spent the remainder of 1976 conducting a rigorous schedule of inspections in preparation for a forthcoming deployment to the Middle East.


Following a technical restricted availability from 27 December 1976 to 29 January 1977, Trippe departed from Charleston on 31 January. The ship made a series of visits to West African ports while en route to the Mediterranean for a transit of the Suez Canal. From 8 March to 14 July, Trippe was under the operational control of Commander Middle Eastern Force. Concluding her deployment, Trippe returned to Charleston on 15 September. On the conclusion of post-deployment standdown, the ship conducted a host of inspections, both underway and in port.


December 1977 and January 1978 were spent preparing for an April deployment as well as an intervening fleet exercise, "READEX 1-78," conducted in the Caribbean during February. On 4 April, Trippe deployed to the Mediterranean, returning on 26 October. The customary post-deployment standdown followed which concluded the year 1978.


The frigate remained in service until decommissioned on 30 July 1992. The frigate was transferred to Greece under the Security Assistance Program that same day and arrived at Salamis on 25 August 1992. The frigate served in the Greek Navy as Thrace (F 457) until retirement on 9 February 2001. Trippe earned one battle star for service off the coast of Vietnam.


[Note: The above USS TRIPPE (FF-1075) history may, or may not, contain text provided by crew members of the USS TRIPPE (FF-1075), or by other non-crew members, and text from the Dictionary of American Naval Fighting Ships]