For RATING SHIRTS - Click on your Rating Abbreviation below: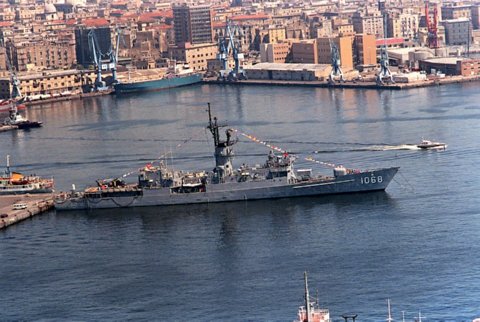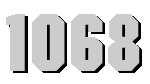 U.S.S. VREELAND
(FF-1068)

WHERE DUTY AND GLORY LEAD
Click to view crew list
USS VREELAND (FF-1068) - a Knox-class frigate
In Commission 1970 to 1992
FF-1068 Deployments - Major Events
Add a FF-1068 Shellback Initiation
Add a FF-1068 Deployment - Major Event
Month
Year
to
Month
Year
Deployment / Event
MAR
1968
-
Keel Date: 20 MAR 1968
at Avondale Shipyard Inc. Westwego LA
JUN
1969
-
Launch Date: 14 JUN 1969
JUN
1970
-
Commissioned: 13 JUN 1970
AUG
1972
-
SEP
1975
Mediterranean
JUN
1977
-
NOV
1977
UNITAS
AUG
1977
-
Shellback Initiation - 21 AUG 1977 - Atlantic Ocean
SEP
1977
-
Shellback Initiation - 15 SEP 1977 - Pacific Ocean
NOV
1978
-
MAY
1979
Mediterranean-Indian Ocean-Persian Gulf
JAN
1982
-
OCT
1982
Mediterranean
APR
1984
-
OCT
1984
Mediterranean
MAY
1985
-
MAY
1985
Caribbean
JUN
1985
-
JUN
1985
Second Consecutive Battle Efficiency Award for Excellence
JUN
1985
-
JUL
1985
SPECOPS North Atlantic
AUG
1985
-
AUG
1985
Dependents Cruise
AUG
1985
-
SEP
1985
Ocean Safari
NOV
1985
-
NOV
1985
Caribbean
JAN
1986
-
MAY
1986
Libya Expedition (Gulf of Sidra and crossing Line of Death)
JAN
1986
-
SEP
1986
Mediterranean
FEB
1986
-
FEB
1986
FLEETEX 1-86 Puerto Rican Oparea
MAY
1986
-
MAY
1986
Distant Hammer 86
JUN
1986
-
JUN
1986
Exercise Tridente 86
AUG
1986
-
AUG
1986
Crown Prince of Spain Visit
OCT
1986
-
OCT
1986
Third Consecutive Battle Efficiency Award for Excellence
NOV
1986
-
NOV
1986
I-SHAREM 1-87
JAN
1987
-
JAN
1987
BLASTEX 1-87
FEB
1987
-
MAR
1987
Port Visit Miami FL
JUN
1987
-
JUN
1987
Dependents Cruise
JUL
1987
-
AUG
1987
Guantanamo Bay
AUG
1987
-
SEP
1987
FLEETEX 4-87
SEP
1987
-
SEP
1987
Port Visit Fort Lauderdale FL
FEB
1988
-
AUG
1988
Mediterranean
DEC
1989
-
JAN
1990
Operation Just Cause (Panama)
DEC
1990
-
JAN
1991
Desert Shield
DEC
1990
-
JUN
1991
Desert Storm
FEB
1991
-
JUN
1992
Decommisioning
JUN
1992
-
JUN
1992
Decommisioning
FF-1068 General Specifications
Class: Knox-class frigate
Named for: Charles E. Vreeland
Complement: 18 Officers and 267 Enlisted
Displacement: 3208 tons
Length: 438 feet
Beam: 46 feet 9 inches
Flank Speed: over 27 knots
Final Disposition: Transferred to Greece 30 June 1992
USS VREELAND (FF-1068)
Vreeland (DE-1068) was laid down on 20 March 1968 by the Avondale Shipyard at Westwego, La.; launched on 16 June 1969; sponsored by Mrs. Jamie L. Whitten, wife of the Congressman representing Mississippi's 2d Congressional District; and commissioned at Charleston, S.C., on 13 June 1970, Comdr. David R. Stefferud in command.


After fitting out at Charleston and shakedown training in the West Indies, Vreeland returned to Charleston to join Destroyer Squadron (DesRon) 4. She completed repairs in February 1971 and final contract trials in March and then began preparations for her first deployment to the Mediterranean area. The warship departed Charleston on 15 April and arrived in Rota, Spain, on the 25th. During the next six months, she steamed the length and breadth of the "middle sea" as a unit of the 6th Fleet. She visited numerous ports and participated in a host of exercises with American and Allied naval forces. She concluded that tour of duty at Gibraltar on 8 October when she changed operational control back to the 2d Fleet and headed home. The warship arrived in Charleston on the 16th and resumed 2d Fleet operations out of Charleston.


In the summer of 1972, the ship began preparations for another cruise in the Mediterranean Sea. That deployment, however, proved different than the previous one. Rather than deploying for six months and then returning home to Charleston, Vreeland received orders changing her home port to Athens, Greece. That assignment lasted for the next three years rather than the normal six months and included the relocation of Vreeland dependents to Athens-all as a part of the Navy's forward deployment program. During those three years, she performed the normal duties of a unit of the 6th Fleet, visiting ports, conducting exercises, and performing surveillance of Soviet ships operating in the Mediterranean.


On 1 July 1975, Vreeland was reclassified a frigate and redesignated FF-1068. Three days later, she departed Greece to begin her voyage back to the United States. The warship concluded that voyage and her three-year deployment at Philadelphia on 30 July. After post-deployment standdown, she moved south to Norfolk in September for repairs but returned to Philadelphia in October in time to participate in the Navy's 200th birthday celebration on the 13th. Duty as a surface warfare school ship and more repairs at Norfolk followed.


On 6 December, the frigate entered the Philadelphia Naval Shipyard where she spent the following year undergoing a major overhaul. Her refurbishing completed on 2 December 1976, the warship resumed duty as an active unit of the Fleet early in 1977. Refresher training and various qualification exercises out of her new home port, Mayport, Fla., occupied her during the first six months of 1977. On 25 July, she departed Mayport for a cruise to South America to participate in UNITAS XVIII, the annual series of exercises in which units of various South American navies join the United States Navy in practicing the skills of hemispheric defense. In November, she concluded her UNITAS cruise and reentered Mayport on the 25th. Leave and upkeep in port took up her time for the remainder of the year.


A part of January and February 1978 was devoted to a restricted availability for Vreeland. The frigate devoted the ensuing months to preparations for her forthcoming deployment to the Middle East. Vreeland departed from Mayport on 23 July in company with Mullinix (DD-944). Following fuel stops at Bermuda, the Azores, and Rota, Spain, the ships transited the Mediterranean and the Suez Canal and arrived at Port Sudan, Sudan, on 9 August. A turnover from Glover (AGFF-1) and Barney (DDG-6) was effected, and Vreeland joined the Middle East Force. The remainder of the year was spent in operations with that group. On 31 December, Vreeland and Mullinix retransited the Suez Canal on their return to the United States.


[Note: The above USS VREELAND (FF-1068) history may, or may not, contain text provided by crew members of the USS VREELAND (FF-1068), or by other non-crew members, and text from the Dictionary of American Naval Fighting Ships]