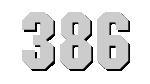 U.S.S. SAVAGE
(DE-386)


Click to view crew list
USS SAVAGE (DE-386) - an Edsall-class destroyer escort
In Commission 1943 to 1969
DE-386 Deployments - Major Events
DE-386 General Specifications
Class: Edsall-class destroyer escort
Named for: Walter Samuel Savage
Complement: 8 Officers and 201 Enlisted
Displacement: 1253 tons
Length: 306 feet
Beam: 36.58 feet
Flank Speed: 21 knots
Range: 9 100 Nautical Miles
Final Disposition:Sunk as target off California on 25 October 1982
USS SAVAGE (DE-386)
Savage (DE-386) was laid down on 30 April 1943 by Brown Shipbuilding Co., Houston, Tex.; launched on 15 July 1943; sponsored by Mrs. Walter S. Savage, Sr.; and commissioned on 29 October 1943, Lt. Comdr. Oscar C. Rohnke, USCG, in command.


Following fitting out at Galveston, shakedown off Bermuda, and a visit to the Charleston Navy Yard, she departed Norfolk on 6 January 1944 as part of Escort Division 23 bound for Casablanca. She spent the remainder of 1944 and part of 1945 escorting convoys from the east coast of the United States to African, Mediterranean, and European ports. On 1 April 1944, off Algiers, the Luftwaffe attacked the convoy (UGS-36) she was escorting to Bizerte. Her only casualty during the action was a member of the depth charge crew who was struck in the ankle by shell fragments.


Following yard availability at the Brooklyn Navy Yard, Savage sailed on 30 May 1945 for training exercises at Culebra. After transiting the Panama Canal on 18 June, she proceeded, via San Francisco, to the Aleutians and arrived at Adak on 8 July.


Savage escorted two convoys from Cold Harbor, Alaska, to Russian waters where the American escort ships were dismissed. One convoy departed Cold Harbor on July 23d and the other on August 25th. During the interim, Savage escorted oilers to refuel Task Force 92 which had been bombarding shore installations in the Kuril Islands. On 27 September, Savage departed Attu for Petropavlovsk, USSR, and arrived there the morning of 2 October. She delivered supplies and mail to Harry L. Corl (APD-108) and departed that evening for Attu.


At the end of hostilities with Japan, Savage was assigned liaison duty in the Far East. She shuttled between Okinawa, Tsingtao, and Shanghai from December 1945 until February 1946 when she sailed for Pearl Harbor. Her ultimate destination was Green Cove Springs, Fla., where she arrived in April. She was decommissioned there on 13 June 1945.


Savage was redesignated a radar picket escort destroyer (DER-386) on 3 September 1954, converted at Boston, and recommissioned on 18 February 1955. In July, she was transferred to the Pacific Fleet with her home port in Seattle. She arrived there on 6 August 1955 and was employed as a radar picket station. Savage served in this capacity for the next three years until December 1958 when her home port was changed to Pearl Harbor.


Savage arrived in Pearl Harbor on 12 January 1959 and operated as a radar picket ship of the mid-Pacific Barrier until March 1960. She then served as search and rescue navigation aid ship until May 1965.


On 17 May 1965, Savage sailed for South Vietnam where she spent more time on station in Operation "Market Time" than any other DER. She guarded against sea infiltration by North Vietnamese and assisted land forces by providing naval gunfire support. She had no periods out of service until October when she made a five-day visit to Hong Kong.


From October 1965 through October 1968, Savage made five more tours off Vietnam on Operation Market Time: 1 to 15 January and 12 June to 16 September 1966; 24 August to 8 September 1967; 16 September to 12 October and 2 to 18 December 1968. She made Taiwan Strait patrols in June, September, and December 1967; and in July and October 1968.


Savage arrived back in Pearl Harbor on 1 February 1969 and entered the naval shipyard for restricted availability and upkeep. On 7 July, she departed for San Francisco and deactivation at San Francisco Bay Naval Shipyard, Vallejo. On 17 October 1969, Savage was decommissioned and joined the inactive reserve fleet.


Savage earned one battle star for World War II service and six for service in Vietnam.


[Note: The above USS SAVAGE (DE-386) history may, or may not, contain text provided by crew members of the USS SAVAGE (DE-386), or by other non-crew members, and text from the Dictionary of American Naval Fighting Ships]