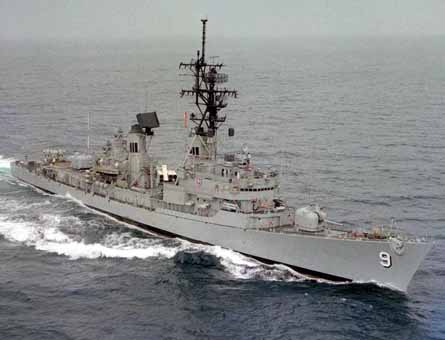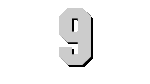 U.S.S. TOWERS
(DDG-9)

MINIMUM DECEPTION MAXIMUM DESTRUCTION
Click to view crew list
The USS TOWERS (DDG-9), a Charles F. Adams-class guided missile destroyer, was commissioned on 6 JUN 1961. USS TOWERS served her country for 29 years, 3 months and 25 days, until decommissioned on 1 OCT 1990.

The USS TOWERS (DDG-9) deployment history and significant events of her service career follow:
DDG-9 Deployments - Major Events
Add a DDG-9 Shellback Initiation
Add a DDG-9 Deployment - Major Event
Month
Year
to
Month
Year
Deployment / Event
APR
1958
-
Keel Date: 1 APR 1958
at Todd Pacific Shipyards Seattle WA
APR
1959
-
Launch Date: 23 APR 1959
JUN
1961
-
JUN
1961
Commisioning
JUN
1961
-
Commissioned: 6 JUN 1961
SEP
1961
-
SEP
1961
Panama Canal
SEP
1961
-
Shellback Initiation - 15 SEP 1961 - Pacific Ocean
SEP
1961
-
Shellback Initiation - 23 SEP 1961 - Pacific Ocean
APR
1962
-
OCT
1962
West Pac
APR
1962
-
Shellback Initiation - 21 APR 1962 - Pacific Ocean
MAY
1963
-
NOV
1963
West Pac
JAN
1965
-
JUN
1965
West Pac
JUN
1966
-
DEC
1966
West Pac-Viet Nam
JAN
1968
-
JAN
1968
West Pac-Viet Nam
JUN
1968
-
Shellback Initiation - 15 JUN 1968 - Pacific Ocean
SEP
1968
-
APR
1969
West Pac-Viet Nam
JAN
1971
-
JUL
1971
West Pac-Viet Nam
JUN
1972
-
JAN
1973
Westpac 1972 - Viet Nam
AUG
1976
-
MAR
1977
West Pac-Indian Ocean
OCT
1976
-
Shellback Initiation - 26 OCT 1976 - Indian Ocean
OCT
1976
-
Shellback Initiation - 26 OCT 1976 - Pacific Ocean
DEC
1980
-
JAN
1981
Change of Home Port to DesRon 31 Yokosuka Japan
OCT
1982
-
Shellback Initiation - 27 OCT 1982 - Pacific Ocean
OCT
1982
-
Shellback Initiation - 27 OCT 1982 - Pacific Ocean
SEP
1983
-
Shellback Initiation - 18 SEP 1983 - Indian Ocean
SEP
1983
-
Shellback Initiation - 18 SEP 1983 - Indian Ocean
SEP
1983
-
SEP
1983
Shellback Initiation - 18 SEP 1983 - Indian Ocean
MAY
1984
-
Shellback Initiation - 20 MAY 1984 - Pacific Ocean
MAY
1984
-
Shellback Initiation - 20 MAY 1984 - Pacific Ocean
NOV
1986
-
Shellback Initiation - 7 NOV 1986 - Pacific Ocean
FEB
1988
-
Shellback Initiation - 3 FEB 1988 - Indian Ocean
OCT
1989
-
Shellback Initiation - 16 OCT 1989 - Indian Ocean
JAN
1990
-
JAN
1991
Decommisioning
OCT
1990
-
Decommissioned: 1 OCT 1990
DDG-9 General Specifications
Class: Charles F. Adams-class guided missle destroyer
Named for: John Henry Towers
Complement: 24 Officers and 330 Enlisted
Displacement: 3277 tons
Length: 437 feet
Beam: 47 feet
Flank Speed: 33 knots
Range: 4 500 nautical miles
Final Disposition:Sunk in live fire exercise 9 October 2002 (SINKEX)
USS TOWERS (DDG-9)
Towers (DDG-9) was laid down on 1 April 1958 at Seattle Wash. by the Todd Shipyard Corp.; launched on 23 April 1959; sponsored by Mrs. Nathaniel Rotoreau Jr.; and commissioned on 6 June 1961 at the Puget Sound Naval Shipyard Bremerton Wash. Comdr. L. D. Cummins in command.
Homeported at San Diego Calif. Towers carried out trials and local operations off the southern California coast into September 1961. She then conducted her shakedown cruise to Callao and Lima Peru; Balboa Panama Canal Zone; and Acapulco Mex. before she deployed to the Western Pacific (WestPac) for the first time in the early spring of 1962.
She arrived at Sydney Australia on 30 April to represent the United States during: the 20th observance of the anniversary of the Battle of the Coral Sea and shifted to Melbourne a week later. She then continued her WestPac deployment with visits to Yokosuka and Sasebo Japan; Buckner Bay Okinawa; Subic Bay Philippines; Keeling Taiwan; and Bangkok Thailand. She then returned home via Guam and Hawaii.
Following a routine schedule of local operations out of San Diego from 1 January to 17 May 1963 Towers departed her home port on 18 May bound for the Far East. En route she stopped at Pearl Harbor and Midway and later took part in exercises and operations off Japan and in the Philippines. She returned to San Diego on 28 November 19~6~3 and operated along the southern California coast through the end of 1964.
Towers departed San Diego on 5 January 1965 bound for her third WestPac tour. As American forces became increasingly involved in the Vietnam War-escalating from an advisory capacity to active combat--the Navy's role in Vietnamese coastal waters expanded. Towers participated in three main facets of the 7th Fleet's operations in the Gulf of Tonkin and the South China Sea. She performed screening and plane-guard duties for fast carrier task forces on "Yankee Station providing protection with her missiles and her rapidfire 5-inch battery. In addition she conducted search and rescue (SAR) patrols on the northern station; and made interdiction patrols in conjunction with Operation "Market Time."
Upon the conclusion of this tour the guided missile destroyer sailed for home on 10 May. En route to the Hawaiian Islands she participated in Operation "Sailor Hat " a special blast test to determine deficiencies in modern ship construction and arrived home at San Diego on 26 June.
From 31 January to 6 February 1966 Towers participated in Operation "Buttonhook " a joint United States and Canadian exercise off the west coast of Canada and the United States which emphasized antisubmarine warfare (ASW) techniques. Following availability at the Long Beach Naval Shipyard during March Towers took part in Operation Gray Ghost" from 12 to 22 April. This exercise dealt with air control intercept tactics and antiaircraft warfare (AAA) measures to prepare the ship for her upcoming deployment to the Gulf of Tonkin off Vietnam. In addition the ship trained to become proficient in tactics to utilize against possible motor torpedo (PT) boat attacks.
Departing San Diego on 4 June Towers steamed west via Pearl Harbor Guam and Subic Bay to Vietnam. She expended some 3 266 rounds of 6-inch ammunition between 2 and 17 July off target areas which included the "Rung Sat Special Zone." Her target assessment included the destruction of 17 enemy buildings and damage to 118 more the sinking of three sampans the killing of 11 Viet Cong soldiers and the destruction of a bridge.
The guided missile destroyer returned to Subic Bay for upkeep and further training in PT-boat countermeasures before she returned to the Gulf of Tonkin to take up her position on the northern SAR station on 1 August. For the next month she deployed with Wiltsie (DD-716) keeping on the alert to spot downed pilots and to direct friendly helicopters to the rescue.
On 6 August Towers directed an HU-16 helicopter to the site of a downed aviator some 69 miles from the ship. The next day Towers directed another HU-16 to a spot behind the enemy-held island of Cac Ba where two Air Force men had bailed out. The "chopper" successfully rescued them from behind communist lines. In the next two weeks the ship participated in two more rescues--picking up two more Air Force pilots in one and a Navy flyer in the other.
Towers' most daring rescue came on the last day of her tour on the SARA station. On 31 August a Navy plane was hit by antiaircraft fire over Haiphong and the pilot bailed out of his doomed aircraft directly over the enemy harbor. As he floated down under his parachute to face what seemed certain capture Towers and King (DLG-10) closed to within visual range of Haiphong harbor. Then King's helicopter sped in under the guidance of Towers' experienced controllers and picked up the pilot whisking him out of danger from beneath the enemy's very nose.
After a brief rest and recreation period Towers returned to the SAR station again on 1 October. However flying weather turned out to be poorer at this time of year and air operations were sharply curtailed. Hence Towers spent much of her time on this tom patrolling the Tonkin Gulf.
Sailing for home on 21 November Towers departed Yokosuka and ran into heavy seas while en route to the west coast suffering minor storm damage before she arrived at her home port on 3 December. After operations at sea from January 1967 to mid-March Towers underwent a major overhaul at Hunters' Point Naval Shipyard from 14 April to 19 October. The guided missile destroyer then operated out of San Diego through the spring of 1968.
Towers then readied herself for her next WestPac deployment. Her preparation included screening and shore bombardment exercises with New Jersey (BB-62) the world's only active battleship. Departing San Diego on 5 September Towers made stops at Pearl Harbor and Subic Bay before arriving off the I Corps tactical zone to commence "Sea Dragon" operations.
While escorting and screening New Jersey Towers knocked out two artillery and three antiaircraft gun sites; destroyed 55 meters of trenches; sank two logistics craft; set off 19 secondary explosions; and killed an estimated 10 enemy soldiers. On 1 October the ship rescued two downed airmen just south of the demilitarized zone (DMZ). The flyers Capt. James Spaith USMC and his observer 1st Lt. U. S. Grant USMC had been shot down when their Douglas A4F "Skyhawk" had been hit while spotting gunfire for New Jersey.
Towers furnished gunfire support for South Vietnamese Army units in January 1969 and shelled shore targets for the American 3d Marine Division and the 101st Airborne Division both north and south of Danang. From her anchorage inside Danang harbor the guided missile destroyer fired frequent night harassment and counter-rocket site fire against communist positions in the surrounding countryside. Her damage assessments for this duty included destruction of targets such as troop concentrations hunkers footbridges and supply-carrying sampans.
Following upkeep at Subic Bay she planeguarded on "Yankee Station" for Constellation (CVA-64) and returned to the I Corps operating zone for urgent gunfire support duties. She provided support for Operation 'Daring Endeavor " launched to destroy enemy troop concentrations south of Danang. Commended for her part in this action Towers remained on the scene from 17 to 30 November. She again provided anti-rocket support out of Danang from the 21st through the 25th. In addition she provided gunfire for Korean marines: and the Army's 101st Airborne.
Towers then sailed north to the Philippines for up keep at Subic Bay before proceeding to Singapore for rest and recreation. She arrived back on "Yankee Station" three days before Christmas to assume the role of escort commander for Intrepid (CVS-11). After

two days of this duty however the guided missile destroyer was back in the IV Corps operating area on night-harassment fire duties against the communist ground forces.
New Year's Day 1970 found the ship still engaging the enemy in the IV Corps' zone supporting Vietnamese ranger battalions. During this period Towers' 5-inch rifles wreaked havoc upon Viet Cong and North Vietnamese troop concentrations bunkers sampans and footbridges. The ship then spent a few days at Hong Kong before she returned to the "gunline " once more at Danang. She supported the 3d Marine Division operating north and south of Danang blasting enemy troops and structures again in support of Korean marines and the 101st Airborne. During the latter period she again stood duty at Danang her guns ready to reply to communist rocket sites.
Shifting again to "Yankee Station " Towers joined the screen of Hancock (CVA-19) on station with TG 77.5 until 7 February. She then sailed for Subic Bay for three days of upkeep before proceeding on to Yokosuka. Departing Japanese waters on 21 February Towers soon headed east and brought this WestPac deployment to a close when she sailed into San Diego harbor on 4 March.
Towers spent much of the year 1970 on routine local operations in the vicinity of her home port in preparation for future WestPac deployments. On 4 September while conducting refresher training out of San Diego the ship directed a helicopter to rescue the pilot from an F-8 "Crusader" that had crashed nearby. The embarked evaluation team from the Fleet Training Group gave the ship a grade of "outstanding" during this "unscheduled evolution."
Deploying again to WestPac on 7 January 1971 Towers proceeded to Vietnamese waters via Pearl Harbor and Midway. While she proceeded west on the 20th one of the other ships in her convoy Roark (DE-1053) suffered a major engine room fire which stopped her dead in the water. Towers turned-to and lent a hand. After the fire was extinguished the guided missile destroyer took Roark in tow until Quapaw (ATF-110) arrived and took over the towing.
Towers arrived back on the gunline on 8 February and provided gunfire support until the 21st when she moved to "Yankee Station" to provide plane-guard service for Ranger (CVA-B1). On 6 March a member of the carrier's flight deck force was blown over the side during launching operations. Towers quickly sped to the scene rescued the sailor and returned him to his ship.
A short visit to Subic Bay followed as did another tour on the gunline and the northern SAR station. The ship then returned to Subic Bay for upkeep and then made still another tour as plane guard and screen for Kitty Hawk (CVA-63). She departed WestPac on 1 July. Arriving at San Diego on the 15th Towers operated out of her home base into the early spring of 1972. Gunnery exercises underway training evolutions (with emphasis on ASW and AAW tactics); plane-guarding for Midway (CVA-41); and an upkeep and inport period all followed as the ship prepared for her upcoming WestPac deployment.
Events in Vietnam however forced a change in plan for Towers and rapidly accelerated her return to the war zone. Although not scheduled for deployment until September she departed the west coast on 20 June bound once more for-the gunline. A massive Viet Cong and North Vietnamese assault had battered South Vietnamese forces in key Quang Tri province and resulted in emergency measures for the supporting naval forces offshore. During the voyage from the west coast to the South China Sea the ship assisted in the rescue of six crewmen from a downed B-52 "Stratofortress" near Guam and received a commendation from the secretary of the Navy.
A curtailed two-day upkeep period at Subic Bay preceded the ship's sailing on 13 July for the gunline. Heavy commitments and long hours of gunfire support duty in support of ARVN troops followed from 17 to 28 July as Towers participated in Operation "Lamson72." From 29 July to 5 August the ship operated on "Linebacker" strikes against targets to the northward of the DMZ in North Vietnam as part of Task Unit 77.1.2. On several occasions during this time she came under fire from communist shore batteries.
The intense gunfire support duties assigned to the ship soon wore out the linings of her two 5-inch guns so the ship sailed for Sasebo where she spent the week from 9 to 15 August undergoing a re-gunning. She soon returned to the "gunline" and supported ARVN troops off Hue. The destroyer also fired night "Linebacker" strikes on 24 and 25 September rounding out the month with gunfire support missions fired for the 1st ARVN division.
A visit to Hong Kong for needed rest and recreation for her crew soon followed and an upkeep period at Subic Bay preceded the ship's return to Vietnamese waters on 21 October. She supported the ARVN 22d Division near Qui Nhon and around Quang Tri. She then again visited Subic Bay and Kaohsiung Taiwan before returning to the gunline again from 3 to 8 December. For the rest of the month Towers fired gunfire support missions against North Vietnamese troop concentrations near Quang Tri. Spirited exchanges of gunfire with enemy shore batteries took place on numerous occasions during this period.
She finished the year 1972 again serving as plane guard for Constellation on "Yankee Station" and closed out her grueling seven-month deployment on the last day of the year when she sailed for Yokosuka. From there she returned home via Midway and Pearl Harbor.
This deployment turned out to be the destroyer's last in support of the Vietnam War. The "Vietnamization" plan placed the burden of self-defense on the shoulders of the South Vietnamese as American land sea and air forces were withdrawn from combat in January and February of 1973. Towers operated out of San Diego from 1973 through 1976 pursuing a regular schedule of local operations routine upkeep and overhaul periods and underway training evolutions.
She departed San Diego on 30 July 1976 for her first extended overseas deployment in three years. She conducted exercises and local operations in the Far East participating in Exercise "Sharkhunt XVII" with the Taiwanese Navy before shifting to the Indian Ocean for an extended cruise. She then took part in "Midlink 76" with units of the Iranian Pakistani British and American Navies in mid-November before participating in "Multiplex/Missilex-76" with United States 7th Fleet units in the South China Sea.
Following port visits to Hong Kong from 6 to 12 January and Bangkok from 29 January to 4 February 1977 Towers engaged in a coordinated ASW exercise "Sharkhunt XX " with the Taiwanese Navy from 22 to 25 February. She returned to San Diego on 21 March to complete a seven-month three-week deployment. Post-deployment operations off the west coast were highlighted by a port visit to Vancouver British Columbia from 9 to 17 July for the annual Sea Festival. Towers' last significant operations at sea for the year occurred during the period 12 to 16 September when she conducted naval gunfire support exercises on the range at San Clemente Island. On 23 September the guided missile destroyer commenced a four-month availability at San Diego which took her into the new year.
Post-availability trials commenced on 26 January 1978 and Towers spent the next nine months evaluating her radar detection and tracking system during numerous at-sea operations for that purpose. On 14 November the ship got underway for Long Beach where she entered the Naval Shipyard on the 15th for commencement of a regular overhaul which took her into 1979.

Towers received one Navy Unit Commendation one Meritorious Unit Commendation and four battle stars for her service in Vietnam.


[Note: The above USS TOWERS (DDG-9) history may or may not contain text provided by crew members of the USS TOWERS (DDG-9) or by other non-crew members and text from the Dictionary of American Naval Fighting Ships]