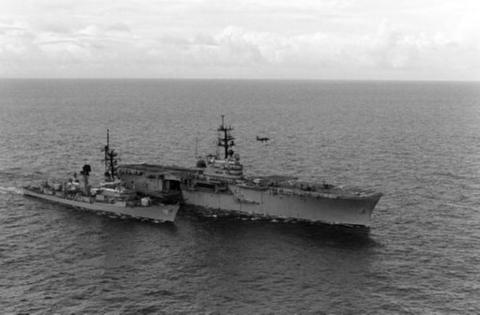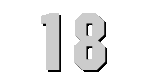 U.S.S. SEMMES
(DDG-18)

DARE TO EXCEL
Click to view crew list
USS SEMMES (DDG-18) - a Charles F. Adams-class guided missle destroyer
In Commission 1962 to 1991
DDG-18 Deployments - Major Events
Add a DDG-18 Shellback Initiation
Add a DDG-18 Deployment - Major Event
Month
Year
to
Month
Year
Deployment / Event
AUG
1960
-
Keel Date: 15 AUG 1960
at Avondale Marine
MAY
1961
-
Launch Date: 20 MAY 1961
JAN
1962
-
APR
1971
West Pac-Viet Nam
JUL
1962
-
NOV
1962
cuban missle crisis
OCT
1962
-
OCT
1962
Guantanamo Bay - Cuban Missile Crisis
DEC
1962
-
Commissioned: 10 DEC 1962
JAN
1964
-
DEC
1966
Antarctic Circle
FEB
1966
-
JUL
1966
Mediterranean
AUG
1966
-
Shellback Initiation - 3 AUG 1966 - Atlantic Ocean
APR
1967
-
MAY
1967
Caribbean
JUL
1967
-
FEB
1968
Mediterranean
APR
1968
-
MAY
1968
Caribbean
JUN
1968
-
DEC
1968
North Atlantic-Med-Indian Ocean
JUN
1968
-
DEC
1968
North Atlantic-Med-Indian Ocean
JAN
1975
-
MAY
1976
Mediterranean-Indian Ocean-Persian Gulf
JAN
1976
-
JUN
1976
Mediterranean-Indian Ocean
FEB
1976
-
Shellback Initiation - 14 FEB 1976 - Indian Ocean
FEB
1976
-
Shellback Initiation - 14 FEB 1976 - Indian Ocean
JAN
1977
-
JUN
1977
Mediterranean-West Africa
OCT
1979
-
MAY
1980
Mediterranean
JUL
1981
-
DEC
1981
Mediterranean-Indian Ocean
APR
1982
-
OCT
1982
Mediterranean-Indian Ocean-Persian Gulf
APR
1984
-
NOV
1984
Mediterranean
JUN
1986
-
DEC
1986
gulf war
APR
1988
-
OCT
1988
Mediterranean-Indian Ocean-Persian Gulf
APR
1991
-
Decommissioned: 14 APR 1991
DDG-18 General Specifications
Class: Charles F. Adams-class guided missle destroyer
Named for: Raphael Semmes
Complement: 24 Officers and 330 Enlisted
Displacement: 3277 tons
Length: 437 feet
Beam: 47 feet
Flank Speed: 33 knots
Range: 4 500 nautical miles
Final Disposition:Sold to Greece
USS SEMMES (DDG-18)
The second Semmes (DDG-18) was laid down on 18 August 1960 at Avondale Shipyards, Inc., Westwego, La.; launched on 20 May 1961; sponsored by Mrs. F. E. Hebert; and commissioned on 10 December 1962, Comdr. Richard G. Alexander in command.


Following shakedown, Semmes joined Destroyer Division (DesDiv) 62, Destroyer Squadron (DesRon) 6, at Charleston, S.C., in July 1963; and, into the summer of 1964, participated in various fleet exercises in the Atlantic and Caribbean. Toward the end of that summer, she sailed east for a six-week NATO exercise, Masterstroke/Teamwork, in the North Atlantic-Norwegian Sea area; and, on 22 September, she crossed the Arctic Circle. Two months later, on 28 November, she deployed to the Mediterranean for her first tour, of four months, with the 6th Fleet. She returned to Charleston in time to participate in the 2d Fleet's exercises during the spring of 1965. She then took part in support operations off the Dominican Republic.


From February to July 1966, the guided missile destroyer conducted her second tour with the 6th Fleet; and, on her return to the United States, changed her home port from Charleston to Norfolk, effective 1 August, in anticipation of her first major overhaul at the Norfolk Naval Shipyard. In April 1967, Semmes resumed operations with refresher training in the Caribbean. In July, she rejoined DesRon 6 at Charleston; and, in August, she deployed for her third tour with the 6th Fleet. She participated in fleet and NATO exercises into January 1968; then returned to Charleston, arriving on the 31st for a month's rest before resuming operations in the Caribbean and off the east coast.


On 10 June, Semmes again sailed east. During that month and into July, she visited Germany and Denmark; then turned south for another 6th Fleet deployment. On 15 November, she was relieved by John King (DDG-3) at Rota, Spain; and, 11 days later, she returned to Charleston where she remained in port for the rest of the year.


In January 1969, she cleared Charleston to oarticipate in ASW and Springboard exercises in the Puerto Rican operating area; then returned to her homeport. In April, she returned to the Caribbean for 2d Fleet exercises.


Through the summer, Semmes continued to conduct exercises in the Caribbean and off the southeastern seaboard. In late September, she again crossed the Atlantic for a seven-month deployment with the 6th Fleet; and, on 10 February 1970, while moored at Naples, she was struck by the Greek freighter, SS Mautric. The damage sustained to her bow was quickly repaired; and, before the end of the month, she had resumed operations. By mid-March, she had arrived at Barcelona for turnover with Conyngham (DDG-17). On the 18th, she departed the Mediterranean; and, on the 28th, she returned to Charleston.


During 1971, her schedule remained basically the same; but her annual tour with the 6th Fleet, 16 July to 11 October, was followed by visits to the Netherlands and to Denmark for binational and NATO operations. On 20 December, Semmes returned to South Carolina; and, in January 1972, she entered the Charleston Naval Shipyard for conversion of her engineering plant to the Navy Distillate Fuel Oil System. With the spring, she resumed operations off the east coast and in the Caribbean. In September, she participated in NATO exercise "Strong Express," which again took her above the Arctic Circle and which was followed by visits to Norway and Denmark. In October, she returned to Charleston. In November, she conducted exercises in the Caribbean; and, in December, she prepared for another deployment in the Mediterranean with NATO's Standing Naval Force, Atlantic.


After sea trials in the Charleston operating area, Semmes got underway from that port on 4 January 1973. She arrived in Portsmouth, England, on the 15th, joining the NATO naval force there. For the next seven months, the guided missile destroyer cruised the Atlantic visiting ports on both sides of that ocean and participating in three exercises: NATO Exercise Sunny Seas, in January and February; Canadian Exercise MARCOT 2/73, in April and May; and Norwegian Exercise Midnight Sun in June. On 1 July, Semmes changed operational control back to the 2d Fleet and, nine days later, returned to Charleston.


Following a month of post-deployment standdown, from 10 July until 10 August, she resumed operations along the eastern seaboard and in the Caribbean. In November and December, she took part in Exercises "Fun in the Sun" and LANTREADEX 2-74. Semmes reentered Charleston on 19 December to prepare for overhaul. As of 31 July 1974, she is still in Charleston completing overhaul.


[Note: The above USS SEMMES (DDG-18) history may, or may not, contain text provided by crew members of the USS SEMMES (DDG-18), or by other non-crew members, and text from the Dictionary of American Naval Fighting Ships]