For RATING SHIRTS - Click on your Rating Abbreviation below:
Click on your Rating abbreviation above: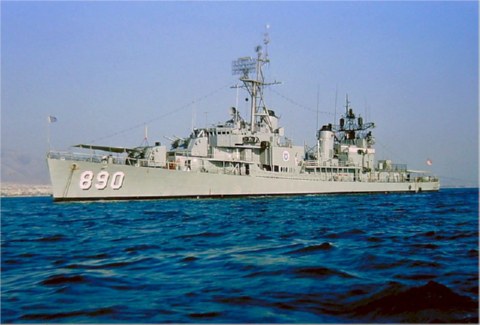 U.S.S. MEREDITH
(DD-890)

CALL SIGN RELENTLESS
Click to view crew list
USS MEREDITH (DD-890) - a Gearing-class destroyer
In Commission 1945 to 1979
DD-890 Deployments - Major Events
Add a DD-890 Shellback Initiation
Add a DD-890 Deployment - Major Event
Month
Year
to
Month
Year
Deployment / Event
JAN
1945
-
Keel Date: 27 JAN 1945
at Consolidated Steel Corporation Orange TX
JUN
1945
-
Launch Date: 28 JUN 1945
DEC
1945
-
Commissioned: 31 DEC 1945
JAN
1954
-
JUN
1954
North Atlantic-Med-Indian Ocean
JAN
1956
-
JUN
1956
Mediterranean-Lebanon
SEP
1956
-
DEC
1956
Mediterranean - Egypt - Suez Canal
APR
1957
-
JUL
1957
Caribbean
JUN
1958
-
SEP
1958
Mediterranean
AUG
1958
-
OCT
1958
West Pac-Indian Ocean-Persian Gulf
FEB
1959
-
AUG
1959
Mediterranean
JUN
1960
-
JUN
1961
FRAM MK I Conversion U.S. Naval Shipyard Philadelphia PA
JAN
1961
-
JAN
1962
Guantanamo Bay
AUG
1961
-
Shellback Initiation - 8 AUG 1961 - Atlantic Ocean
AUG
1961
-
Shellback Initiation - 8 AUG 1961 - Atlantic Ocean
SEP
1961
-
DEC
1961
South Atlantic
AUG
1962
-
MAR
1963
Mediterranean-Indian Ocean-Persian Gulf
FEB
1964
-
JUL
1964
Mediterranean
JUN
1966
-
DEC
1966
Mediterranean
MAY
1967
-
DEC
1967
Mediterranean
FEB
1968
-
JUL
1968
Regular Overhaul
JAN
1969
-
SEP
1969
West Pac-Viet Nam
MAR
1969
-
AUG
1969
West Pac-Viet Nam
JUN
1970
-
DEC
1970
Mediterranean
JUN
1970
-
DEC
1970
Mediterranean
SEP
1970
-
APR
1971
Mediterranean
JUN
1971
-
NOV
1971
Dry Dock
FEB
1972
-
SEP
1972
Mediterranean
DEC
1972
-
Shellback Initiation - 27 DEC 1972 - Atlantic Ocean
JUN
1979
-
Decommissioned: 29 JUN 1979
DD-890 General Specifications
Class: Gearing-class destroyer
Named for: Jonathan Meredith
Complement: 267 Officers and Enlisted
Displacement: 2425 tons
Length: 391 feet
Beam: 41 feet
Flank Speed: 32 knots
Final Disposition: Transferred to Turkey 29 June 1979
USS MEREDITH (DD-890)
The fourth Meredith (DD-890) was laid down by the Consolidated Steel Corp. Orange Tex. 27 January 1945; launched 28 June 1945 sponsored by Miss Juliette S. Kepper great-great-great-grandniece of Sergeant Meredith and commissioned 31 December 1945 Comdr. W. B. Wideman in command.
Following sea trials and shakedown exercises in the spring of 1946 Meredith was employed for a brief period in training submarine officers at New London Conn. before steaming south to serve as plane guard for Randolph during the 1946 midshipmen summer cruise. In the late fall she pointed her bow northward for operations off Newfoundland and Greenland. Remaining in the western Atlantic the following year she cruised from Maine to the Caribbean participating once again in a midshipmen training cruise. The first part of 1948 was spent in conducting experimental tests for the Operational Development Force after which in May she sailed with other ships of her squadron DesRon 6 for her first overseas deployment. From that time until 1953 she got underway in the spring of each year for the Mediterranean and duty with the 6th Fleet. Her 2d Fleet employment for the same period included Arctic maneuvers (November 1949) and several Caribbean cruises as well as training cruises with reservists and another midshipmen summer cruise (1952).
On 7 January 1953 Meredith entered the Norfolk Naval Shipyard for habitability conversion which lasted into November. She then resumed the alternation of duty tours with the 2d and 6th Fleets. During her 1958 oversee deployment she served briefly with the Middle East Force as she and HMS Loch Fyne stood by in the Euphrates Delta area after the Iraqi revolution of 15 July.
Toward the end of the following year Meredith reassigned to DesRon 14 was slated for FRAM (Fleet Rehabilitation and Modernization). Entering the Philadelphia Naval Shipyard 28 June 1960. she remained for 1 year and 2 days during which time her bridge was enclosed her torpedo deck was modified to allow the installation of ASROC and her 7-year-old 3-inch battery was replaced by a helicopter hanger and flight deck to accommodate the DASH (Drone Antisubmarine Helicopter) weapons system.
On 1 July 1961 the "new" Meredith sailed for her new home port Mayport Fla. After refresher training she got underway for a good will tour of various ports in the Caribbean and along the west coast of Africa from Freetown Sierra Leone to Capetown Republic of South Africa. While en route she collected oceanographic data which included piscatoral and avian surveys as well as hydrologic information. Returning to Mayport 18 February 1962 she further tested and evaluated the ASROC system before heading north to embark midshipmen for the fourth time. In August the destroyer once again transited the Atlantic for overseas deployment. This time as in 1958 part of that deployment (14 October to 1 December) was spent with MidEastFor the remainder In the Mediterranean. Since that time into 1969 Meredith has continued to rotate between duty in the Mediterranean and operations in the western Atlantic the latter of which in November 1965 brought her into the space age with an assignment to the Project Gemini Recovery Operations.


[Note: The above USS MEREDITH (DD-890) history may or may not contain text provided by crew members of the USS MEREDITH (DD-890) or by other non-crew members and text from the Dictionary of American Naval Fighting Ships]