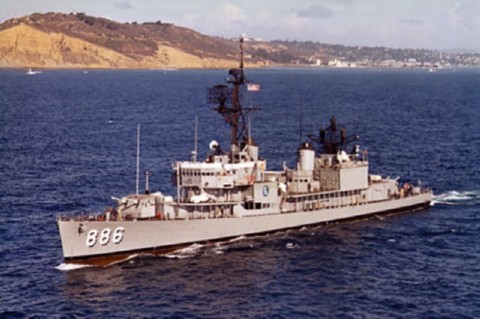 U.S.S. ORLECK
(DD-886)

FORESIGHT AND VIGILANCE
Click to view crew list
USS ORLECK (DD-886) - a Gearing-class destroyer
In Commission 1945 to 1982
DD-886 Deployments - Major Events
Add a DD-886 Shellback Initiation
Add a DD-886 Deployment - Major Event
Month
Year
to
Month
Year
Deployment / Event
NOV
1944
-
Keel Date: 28 NOV 1944
at Consolidated Steel Corporation Orange TX
MAY
1945
-
Launch Date: 12 MAY 1945
SEP
1945
-
Commissioned: 15 SEP 1945
FEB
1951
-
OCT
1951
West Pac
MAY
1952
-
DEC
1952
West Pac
JUL
1952
-
JUL
1952
Destruction of supply train
AUG
1953
-
MAR
1954
West Pac
JAN
1957
-
JUN
1957
West Pac
JAN
1958
-
JAN
1960
Middle Pacific
FEB
1958
-
Shellback Initiation - 28 FEB 1958 - Pacific Ocean
NOV
1960
-
NOV
1969
West Pac-Viet Nam
NOV
1966
-
FEB
1967
Mare Island Shipyards
NOV
1966
-
Shellback Initiation - 25 NOV 1966 - Pacific Ocean
APR
1967
-
APR
1968
West Pac
MAR
1970
-
MAR
1970
Collision with USS Neches (AO-47) off Hue Vietnam 19 Mar 1970
AUG
1971
-
FEB
1972
West Pac
JAN
1972
-
Shellback Initiation - 21 JAN 1972 - Pacific Ocean
JAN
1972
-
Shellback Initiation - 21 JAN 1972 - Pacific Ocean
NOV
1972
-
Shellback Initiation - 3 NOV 1972 - Pacific Ocean
DEC
1972
-
AUG
1973
West Pac
NOV
1973
-
Shellback Initiation - 3 NOV 1973 - Pacific Ocean
OCT
1982
-
Decommissioned: 1 OCT 1982
OCT
1982
-
AUG
2000
Transferred to Turkey for service in the Turkish Navy
JAN
2004
-
JAN
2009
USS Orleck DD886 is now a museum ship in Lake Charles La.
DD-886 General Specifications
Class: Gearing-class destroyer
Named for: Joseph Orleck
Complement: 336 Officers and Enlisted
Displacement: 2616 tons
Length: 390 feet 6 inches
Beam: 40 feet 10 inches
Flank Speed: 36 Knots
Range: 4 500 Nautical Miles
Final Disposition:Transferred to Turkey 1 October 1982
USS ORLECK (DD-886)
Orleck (DD-886) was laid down 28 November 1944 by Consolidated Steel Corporation of Texas Orange Tex. named Orleck 11 January 1945; launched 12 May 1945 sponsored by Mrs. Joseph Orleck widow of Lt. Orleck; and commissioned 15 September 1945 Comdr. J. D. Andrew in command.
Following a caribbean shakedown Orleck got underway 20 January 1946 for San Diego whence she steamed west in mid-March to join the 7th Fleet. Between 20 April and 15 August she conducted mail runs from Hong Kong to Shanghai Tsingtao and Taku China and Jinsen Korea and also assisted in minesweeping operations in Hainan Strait. A month of exercises off Guam preceded her joining TF 77 for new operations off China and Japan.
Sailing home in January 1947 she remained on the West Coast until departing for the western Pacific in February 1948. At Eniwetok during March she participated in Atomic Energy Commission experiments. From Eniwetok she continued west reporting to COMNAVFE 5 April. On completing her second WestPac tour she turned northeast for cold weather operations off Alaska from January to March 1949. Operations off the west coast and Hawaii ended in October as the destroyer again sailed west for her annual overseas deployment. By returning to San Diego in July 1950 she just missed the outbreak of hostilities in Korea.
On 18 February 1951 Orleck sailed for her first combat operations. Joining United Nations forces off the east coast of Korea she remained off that peninsula until June alternating carrier escort duties (TF-77) with shore bombardment missions (TF-95). Retiring to Okinawa during June she returned to the combat zone in July and again operated with both TF 77 and TF 95.
Arriving back at San Diego 15 October she trained destroyer crews and conducted individual and squadron exercises until her next return to the Far East in late June 1952. Arriving at Sasebo on the 26th she soon joined TF 95 for blockade and logistics interdiction missions. On 15 July while patrolling to the south of Yang-do Island she became a charter member of the force's Train Busters Club. Planning and patience had put her in the right position to smash a North Korean supply train as it passed between two tunnels. Duplicating the feat on the 27th she kept up her offensive tactics until reassigned first to carrier duties with TF 77 and then to TF 72 for Taiwan Strait patrol. She returned to Korea 8 October and during the remaining two months of her tour again alternated between TFs 77 and 95.
After Korea Orleck rotated regularly between duty in WestPac and training exercises off the west coast. In the Far East when the Tachen Islands crisis arose she patrolled off those islands until relieved just prior to their evacuation in February 1955.
In May 1960 Orleck's rotation schedule changed and she joined DesRon 3 the first squadron to be homeported in the Western Pacific since before World War II. Based at Yokosuka for 27 months she operated primarily with fast carrier forces and served three tours with TF 72. In August 1962 she returned to the west coast for Fleet Rehabilitation and Modernization. The Mark I overhaul and conversion brought on board the newest in technical equipment and weaponry including ASROC and DASH.
From November 1963 to June 1964 the "new" destroyer homeported at Long Beach conducted training exercises with the 1st Fleet off the west coast. Then rotated back to Yokosuka she joined TF 77 in the South China Sea as American commitments to the Republic of South Viet Nam escalated. Into October she escorted carriers in the Gulf of Tonkin then returned briefly to Japan before taking up patrol of Taiwan Strait. From Taiwan she sailed to the Philippines thence to the Viet Namese coast for TF 77 operations until June. Detached for a month she joined TF 130 to assist in the recovery of the Gemini IV space capsule. In July she returned to Viet Nam to provide escort and plane guard services to Oriskany. Shore bombardment and gunfire support activities followed as the destroyer participated in operations "Starlight" a regimental attack involving amphibious helo-borne and ground operations in the Chu Lai area and "Pirania" a similar assault at Van Tuong. In late September she departed the gun line only to return the next month to support the last "Dagger Thrust" operations at Lang Ke Ga and Phu Thu.
Spending Christmas in Japan Orleck was back off Viet Nam in January 1966 for surveillance operations followed by 30 days bombardment duty in the Chu Lai-Tam Ky area during operation "Double Eagle". In mid-March she returned to Japan whence she headed for the west coast again to be homeported at Long Beach. She remained on the west coast for overhaul and local operations until departing for Viet Nam 19 September 1967. Assigned first to Yankee Station in Tonkin Gulf she alternated plane guard duties with surveillance of a Russian electronic intelligence "trawler". At the end of January 1968 as the Tet offensive reached a climax she shifted to gunfire support duty off Vung Tau. She remained in that area until setting a homeward course 17 February.
Arriving at Long Beach in March she departed 31 July for her third tour as a non-rotated unit of the 7th Fleet. Asian based at Yokosuka she was off Viet Nam by 13 September to support the 9th R.O.K. Infantry in the Cam Ranh Bay-Nha Trang area. She spent much of the remainder of the year off that embattled coast in roles which ranged from blockade and interdiction of Viet Cong logistic vessels in the I Corps area to gunfire support south of Saigon. Into 1970 she has continued to conduct similar missions in support of Allied operations in Viet Nam.
Orleck received 4 battle stars for service during the Korean Conflict.


[Note: The above USS ORLECK (DD-886) history may or may not contain text provided by crew members of the USS ORLECK (DD-886) or by other non-crew members and text from the Dictionary of American Naval Fighting Ships]