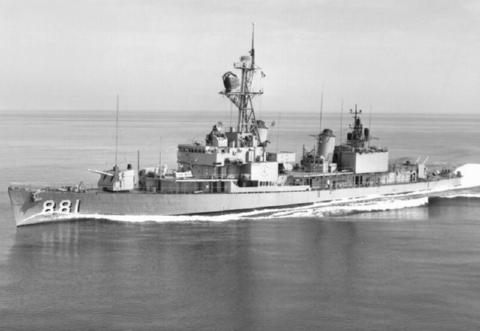 U.S.S. BORDELON
(DD-881)

REMIS VELISQUE
Click to view crew list
USS BORDELON (DD-881) - a Gearing class destroyer
In Commission 1945 to 1977
DD-881 Deployments - Major Events
Add a DD-881 Shellback Initiation
Add a DD-881 Deployment - Major Event
Month
Year
to
Month
Year
Deployment / Event
SEP
1944
-
Keel Date: 9 SEP 1944
at Consolidated Steel Corporation Orange TX
JAN
1945
-
JAN
1947
Mediterranean
MAR
1945
-
Launch Date: 3 MAR 1945
JUN
1945
-
Commissioned: 5 JUN 1945
DEC
1945
-
MAR
1946
Occupation assignment Kure bay Japan Dec.1945 to Mar.1946.
JAN
1952
-
JUN
1952
Mediterranean
APR
1953
-
FEB
1954
Mediterranean
JAN
1960
-
AUG
1960
Mediterranean
JAN
1960
-
AUG
1960
Mediterranean
OCT
1962
-
OCT
1962
Cuban Missle Blockade
FEB
1964
-
APR
1964
Guantanamo Bay
JUL
1964
-
JUL
1964
Assigned to guard duty as civil rights legislation enacted
JAN
1965
-
DEC
1966
Mediterranean
MAR
1965
-
Shellback Initiation - 13 MAR 1965 - Indian Ocean
MAY
1965
-
JUN
1965
Dominican Republic Intervention
SEP
1966
-
JAN
1967
Mediterranean
OCT
1967
-
JUN
1968
Middle Pacific
OCT
1967
-
JUN
1968
West Pac-Viet Nam
NOV
1967
-
JUN
1968
West Pac-Viet Nam
JAN
1968
-
JUL
1968
West Pac-Viet Nam
JAN
1968
-
JAN
1968
Bordelon fired her first shots at an enemy, on 20 January 1968
APR
1968
-
Shellback Initiation - 5 APR 1968 - Pacific Ocean
JUL
1968
-
JUL
1968
Sea Trials
SEP
1968
-
OCT
1968
Antarctic Circle
NOV
1968
-
DEC
1968
Dry Dock
JAN
1969
-
JUN
1969
North Atlantic-Med-Indian Ocean
JAN
1969
-
JUN
1969
Mediterranean-Indian Ocean-Persian Gulf
MAR
1970
-
Shellback Initiation - 22 MAR 1970 - Atlantic Ocean
APR
1970
-
DEC
1970
Com Mideast Force - Indian Ocean/Persian Gulf
JAN
1971
-
DEC
1973
UNITAS
JAN
1971
-
JAN
1972
Guantanamo Bay
JUN
1971
-
DEC
1971
UNITAS
AUG
1971
-
Shellback Initiation - 20 AUG 1971 - Pacific Ocean
AUG
1971
-
Shellback Initiation - 20 AUG 1971 - Pacific Ocean
JAN
1972
-
JAN
1972
Guantanamo Bay
JAN
1972
-
DEC
1974
West Pac-Viet Nam
FEB
1972
-
MAR
1972
Guantanamo Bay
SEP
1972
-
APR
1973
West Pac-Viet Nam
OCT
1972
-
APR
1973
West Pac-Viet Nam
DEC
1972
-
Shellback Initiation - 25 DEC 1972 - Pacific Ocean
NOV
1973
-
DEC
1973
Caribbean
MAY
1974
-
DEC
1974
UNITAS
MAY
1974
-
SEP
1974
UNITAS
JUN
1974
-
SEP
1974
UNITAS
AUG
1974
-
Shellback Initiation - 24 AUG 1974 - Atlantic Ocean
AUG
1974
-
Shellback Initiation - 24 AUG 1974 - Atlantic Ocean
OCT
1975
-
Shellback Initiation - 31 OCT 1975 - Atlantic Ocean
NOV
1975
-
APR
1976
Mediterranean
NOV
1975
-
NOV
1975
Belnapp collision with Air Craft Carrier Kennedy
FEB
1977
-
Decommissioned: 1 FEB 1977
DD-881 General Specifications
Named for: William J. Bordelon
Displacement: 2616 tons
Length: 390.5 feet
Beam: 40.9 feet
Draft: 14.3 feet
Flank Speed: 36 Knots
Final Disposition: Transferred to Iran 1 July 1977
USS BORDELON (DD-881)
Bordelon (DD-881) was launched 3 March 1945 by Consolidated Steel Corp. Ltd. Orange Tex.; sponsored by Mrs. W. J. Bordelon mother of Staff Sergeant Bordelon and commissioned 5 June 1945 Commander M. J. Lyosey in command.
Until November 1945 Bordelon underwent shakedown and training along the east coast and in the Caribbean. She departed Norfolk 7 November and reported to Commander Destroyers Pacific Fleet at Pearl Harbor 28 November. She immediately proceeded to Kure Japan arriving in December. She operated in the area as a part of the occupation force until March 1946. She was then assigned to TF 77 based in the Marianas. During this tour she made several extended cruises to Hong Kong; Manila Philippine Islands; Shanghai and Tsingtao China Sasebo Japan; and Okinawa. She returned to the United States in December 1946.
Bordelon returned to the east coast ln January 1947 and was assigned to Destroyer Squadron 14. She was ordered to Plymouth England in September 1947 and became a unit of the Northern European Task Force. She returned to the United States in February 1948.
Since then Bordelon has carried out the normal operating schedule of Atlantic Fleet ships. She has served tour tours of duty with the 6th Fleet in the Mediterranean; conducted five midshipmen training cruises in European waters and made several voyages to the Caribbean. In addition she has participated in local operations and type training along the eastern seaboard.


[Note: The above USS BORDELON (DD-881) history may or may not contain text provided by crew members of the USS BORDELON (DD-881) or by other non-crew members and text from the Dictionary of American Naval Fighting Ships]