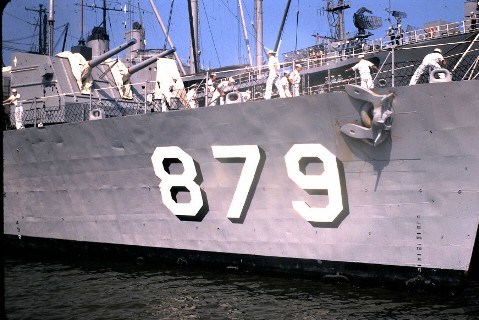 U.S.S. LEARY
(DD-879)

NO QUARTER
Click to view crew list
USS LEARY (DD-879) - a Gearing class destroyer
In Commission 1945 to 1973
DD-879 Deployments - Major Events
Add a DD-879 Shellback Initiation
Add a DD-879 Deployment - Major Event
Month
Year
to
Month
Year
Deployment / Event
AUG
1944
-
Keel Date: 11 AUG 1944
at Consolidated Steel Corporation Orange TX
JAN
1945
-
Launch Date: 20 JAN 1945
MAY
1945
-
Commissioned: 7 MAY 1945
MAY
1949
-
NOV
1949
Mediterranean
MAY
1950
-
NOV
1950
North Atlantic-Med-Indian Ocean
NOV
1957
-
JAN
1959
Mediterranean
FEB
1961
-
SEP
1961
Mediterranean
JAN
1962
-
DEC
1963
Cuban Missle Blockade
OCT
1962
-
Shellback Initiation - 15 OCT 1962 - Atlantic Ocean
OCT
1962
-
Shellback Initiation - 15 OCT 1962 - Atlantic Ocean
OCT
1962
-
DEC
1962
Cuban Missle Blockade
FEB
1963
-
Shellback Initiation - 20 FEB 1963 - Atlantic Ocean
NOV
1963
-
MAR
1964
Mediterranean
AUG
1965
-
SEP
1965
Dominican Republic
MAR
1966
-
AUG
1966
Mediterranean
JUN
1967
-
JAN
1968
West Pac
DEC
1967
-
Shellback Initiation - 23 DEC 1967 - Pacific Ocean
DEC
1967
-
Shellback Initiation - 23 DEC 1967 - Pacific Ocean
JAN
1969
-
OCT
1969
West Pac-Viet Nam
MAY
1970
-
OCT
1970
Mediterranean
DEC
1971
-
JUN
1972
Mediterranean
OCT
1973
-
Decommissioned: 31 OCT 1973
DD-879 General Specifications
Class: Gearing class destroyer
Named for: Clarence F. Leary
Complement: 367 Officers and Enlisted
Displacement: 3460 tons
Length: 390 feet 6 inches
Beam: 41 feet 1 inches
Flank Speed: 34 Knots
Range: 6500Nautical Miles
Final Disposition:Transferred to Spain
USS LEARY (DD-879)
Leary (DD-879) was laid down 11 August 1944 by Consolidated Steel Corp. Orange Tex.; launched 20 January 1945; sponsored by Mrs. Theodore S. Wilkinson wife of Vice Adm. T. S. Wilkinson; and commissioned 7 May 1945 Comdr. Ernest G. Campbell in command.
On 23 June 1945 Leary completed her shakedown off Guantanamo Bay and proceeded to Norfolk. Overhauled and converted to a radar picket destroyer she reported for duty with TF 69 the day before the Japanese accepted terms for surrender. After a period of training off the Maine coast she proceeded to New York and took part in a presidential review 27 October.
Denied a part in the conquest of Japan Leary was destined to play a part in the occupation of the fallen empire. Sailing from New York 31 October she provisioned at Norfolk passed through the Panama Canal 11 to 13 November and arrived off Tokyo 19 December. For 2 months she cruised Japanese waters operating out of Kure before transferring operations to the Marianas and the Ryukyus.
The slow voyage attbi.commenced at Tsingtai China 4 June 1946 with operations and stops en route. Leary moored at San Diego 21 December and early in January 1947 she again transited the Panama Canal and began East Coast operations first out of Norfolk and then Newport.
Her first Mediterranean deployment began in October. Departing Newport 29 October Leary broke a busy operating schedule by visits to ports in Algeria Greece Italy and the island of Rhodes before returning home 14 February 1948. Such sights became commonplace in succeeding years. With the exception of 1957 Leary spent part of each year operating with the 6th Fleet. At times these cruises kind the stimulus of joint NATO operations or Near Eastern crises. She was in the Mediterranean during the Suez crisis of 1956 and the Lebanon landings of 1958 playing her part in the peacekeeping efforts of the 6th Fleet as she served as plane guard and on picket. From 22 October to 24 November 1962 Leary participated in the blockade of Cuba provoked by the Missile crisis as a part of America's determination to keep possible aggressors from mounting threats against free nations. From 6 to 27 August she served with TF 128 on a peacekeeping mission off Santo Domingo as American troops were landed to prevent political chaos and subversion.
When not deployed in the Mediterranean or benefiting from yard work Leary might be found anywhere in the North Atlantic from the Arctic Circle to the Caribbean. During this period the characteristics of the ship changed with the removal of her radar tripod early in 1963 and a FRAM I overhaul April 1964 to January 1965. On 26 June she successfully completed her trials and qualifications with the new DASH weapons system.
Leary returned to her home port Norfolk 16 December 1965 after completing extensive antisubmarine warfare exercises off the coast of North Carolina and Puerto Rico.
Following another month of operations and a month readying for deployment with the 6th Fleet Leary departed Norfolk 4 March 1966 for the Mediterranean With 5 months of operations and sightseeing behind her; she returned to her home port on 12 August for a month of leave and upkeep. The remainder of the year was spent conducting local exercises including an extensive evaluation of her DASH system. From 3 to 17 March she was Sonar School Ship at Key West Fla.
On 5 July 1967 Leary left Norfolk and headed via the Panama Canal for an extended deployment in the Far East. On this cruise she alternated duty with the carriers on Yankee Station with gunfire support off the Vietnamese coast. Arriving back at Norfolk 30 January 1968 the destroyer resumed Atlantic coast operations until entering the Philadelphia Naval Shipyard 14 June. In early September after her yard period Leary returned briefly to Norfolk before conducting training in the Caribbean through October and November. Operations off the east coast continued into 1969.


[Note: The above USS LEARY (DD-879) history may or may not contain text provided by crew members of the USS LEARY (DD-879) or by other non-crew members and text from the Dictionary of American Naval Fighting Ships]