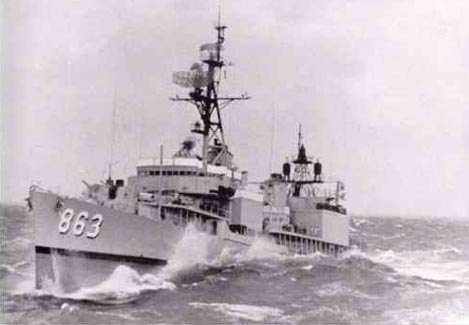 U.S.S. STEINAKER
(DD-863)

FIGHTING DD-863
Click to view crew list
USS STEINAKER (DD-863) - a Gearing-class destroyer
In Commission 1945 to 1982
DD-863 Deployments - Major Events
Add a DD-863 Shellback Initiation
Add a DD-863 Deployment - Major Event
Month
Year
to
Month
Year
Deployment / Event
SEP
1944
-
Keel Date: 1 SEP 1944
at Bethlehem Steel Corporation Staten Island New York
FEB
1945
-
Launch Date: 13 FEB 1945
MAY
1945
-
Commissioned: 26 MAY 1945
JAN
1952
-
MAY
1952
Mediterranean
JUN
1958
-
SEP
1958
Mediterranean-Lebanon
FEB
1959
-
SEP
1959
Mediterranean
JAN
1961
-
NOV
1961
Mediterranean
FEB
1962
-
AUG
1962
Mediterranean
OCT
1962
-
OCT
1962
Cuban Missle Blockade
MAY
1964
-
APR
1965
Dry Dock
NOV
1965
-
MAR
1966
Mediterranean
MAY
1966
-
DEC
1966
Mediterranean
JUL
1966
-
MAY
1967
Mediterranean-Indian Ocean-Persian Gulf
MAR
1968
-
OCT
1968
West Pac-Viet Nam
MAR
1968
-
NOV
1968
West Pac
JUN
1968
-
Shellback Initiation - 12 JUN 1968 - Pacific Ocean
AUG
1968
-
Shellback Initiation - 17 AUG 1968 - Pacific Ocean
JAN
1969
-
JUL
1969
Regular Overhaul
AUG
1969
-
NOV
1969
Sea Trials
SEP
1969
-
OCT
1969
Guantanamo Bay
JAN
1970
-
JUL
1970
North Atlantic
APR
1970
-
APR
1970
Blue Nose - Arctic Circle
JAN
1971
-
JUL
1971
Mediterranean
JUL
1972
-
NOV
1972
North Atlantic Cruise
OCT
1972
-
OCT
1972
Blue nose initiation
JAN
1979
-
JUN
1979
Regular Overhaul
JUL
1980
-
AUG
1980
Guantanamo Bay
NOV
1980
-
Shellback Initiation - 3 NOV 1980 - Atlantic Ocean
MAY
1981
-
AUG
1981
UNITAS
JUL
1981
-
Shellback Initiation - 16 JUL 1981 - Atlantic Ocean
JUL
1981
-
Shellback Initiation - 31 JUL 1981 - Atlantic Ocean
JUL
1981
-
Shellback Initiation - 1 JUL 1981 - Atlantic Ocean
JUL
1981
-
Shellback Initiation - 31 JUL 1981 - Atlantic Ocean
FEB
1982
-
Decommissioned: 24 FEB 1982
DD-863 General Specifications
Class: Gearing-class destroyer
Named for: Private First Class Donald B. Steinaker (1922-1942)
Complement: 336 Officers and Enlisted
Displacement: 3460 tons
Length: 390 feet 6 inches
Beam: 40 feet 10 inches
Flank Speed: 36 Knots
Range: 4500 Nautical Miles
Final Disposition:Sold to Mexican Navy 24 February 1982; still active as of June 2005
USS STEINAKER (DD-863)
Steinaker (DD-863) was laid down on 1 September 1944 by the Bethlehem Steel Co. Staten Island N.Y.launched on 13 February 1945 sponsored by Miss Carol Steinaker; and commissioned on 26 May 1945 Comdr. S. A. McCornock in command.
Steinaker held her shakedown cruise off Guantanamo Bay Cuba and returned to Norfolk her home port where she acted as a training ship for the remainder of the year. Until 1952 the destroyer alternated her operations between the east coast with the Atlantic Fleet and deployment with the 6th Fleet. She was deployed to the Mediterranean in 1947 1949, 1950, 1951, and the first five months of 1952.
Steinaker entered the Norfolk Naval Shipyard on 1 July 1952 for conversion to a radar picket destroyer and was classified as DDR-863. The work was completed on 28 February 1953 and shakedown at Guantanamo Bay followed. She made her first deployment to the 6th Fleet as a picket destroyer from 16 September to 3 February 1954. She also served with the 6th Fleet for portions of 1955 1958, 1959, 1960, 1962, 1963, and 1965. In 1964 the destroyer was converted under the FRAM program and given modern antisubmarine weapons and detection equipment. On 1 July of that year she resumed the designation DD-863.
Steinaker was in the Red Sea and Indian Ocean for two months in 1967 as a unit of the Middle East Force. On 26 March 1968 she stood out of Norfolk headed for her first tour in the western Pacific. She transited the Panama Canal on 31 March and after calling briefly at San Diego Pearl Harbor Midway Guam and the Philippine Islands arrived off Vietnam.
Steinaker was assigned to the 7th Fleet from 20 May trough 1 October and participated in naval gunfire support operations off Binh Thuan and Phu Yen Provinces "Sea Dragon" operations off the coast of North Vietnam to interdict seaborne infiltration of Communist forces into South Vietnam; and antiaircraft picket duty off the demilitarized zone. She also operated with aircraft carriers conducting strikes against North Vietnam.
Steinaker returned to the east coast of the United States via Subic Bay Singapore Yokosuka and Okinawa. She arrived at Norfolk on 5 November 1968 and resumed Atlantic Fleet operations until 9 January 1970. At that time she was assigned to the North Atlantic Treaty Organization's Standing Naval Force Atlantic. This tour lasted until 23 July 1970. She made another voyage to the Mediterranean from 23 February to 23 July 1971 and returned to the North Atlantic from 10 July to 18 November 1972.
Steinaker was transferred to Destroyer Squadron 10 Naval Reserve Force on 1 July 1973 and changed her home port to Baltimore. Into December 1974 she serves as a training ship for reserves.
Steinaker received two battle stars for service in Vietnam.


[Note: The above USS STEINAKER (DD-863) history may or may not contain text provided by crew members of the USS STEINAKER (DD-863) or by other non-crew members and text from the Dictionary of American Naval Fighting Ships]