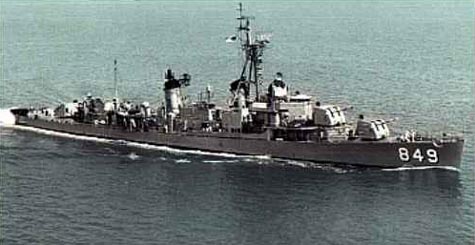 U.S.S. RICHARD E. KRAUS
(DD-849)

SHIPMATES - ALWAYS
Click to view crew list
USS RICHARD E. KRAUS (DD-849) - a Gearing-class destroyer
In Commission 1946 to 1976
DD-849 Deployments - Major Events
Add a DD-849 Shellback Initiation
Add a DD-849 Deployment - Major Event
Month
Year
to
Month
Year
Deployment / Event
JUL
1945
-
Keel Date: 31 JUL 1945
at Bath Iron Works Bath ME
MAR
1946
-
Launch Date: 2 MAR 1946
MAY
1946
-
Commissioned: 23 MAY 1946
JAN
1947
-
JAN
1955
Middle Pacific
OCT
1962
-
NOV
1962
Cuban Missle Blockade
JUN
1963
-
MAY
1964
FRAM 1 ASW ASROC Conversion Boston, MA
JAN
1964
-
JAN
1966
Mediterranean-Indian Ocean
JAN
1964
-
JAN
1966
Mediterranean-Indian Ocean
JAN
1964
-
AUG
1965
Mediterranean-Indian Ocean
JAN
1964
-
JAN
1965
Mediterranean-Indian Ocean
MAY
1964
-
AUG
1965
Mediterranean-Indian Ocean
NOV
1964
-
MAR
1965
Mediterranean-Indian Ocean
JAN
1965
-
Shellback Initiation - 8 JAN 1965 - Indian Ocean
JAN
1966
-
SEP
1966
West Pac-Viet Nam
JUL
1966
-
Shellback Initiation - 9 JUL 1966 - Atlantic Ocean
FEB
1968
-
JUL
1968
Dry Dock
JUL
1968
-
MAY
1969
S. Atlantic - Cape Good Hope-Indian Ocean-Persian Gulf
NOV
1968
-
Shellback Initiation - 15 NOV 1968 - Atlantic Ocean
JAN
1970
-
JUL
1970
South Atlantic Cape Canaveral Polaris Sub Exercise Mid Atlanti
JUN
1971
-
DEC
1971
North Atlantic
OCT
1971
-
Shellback Initiation - 2 OCT 1971 - Atlantic Ocean
FEB
1972
-
Shellback Initiation - 25 FEB 1972 - Indian Ocean
JUL
1972
-
FEB
1973
West Pac- Gitmo, Panama Canal, Hawaii, Subic Bay, DaNang, Taiwan
NOV
1972
-
MAR
1973
West Pac-Viet Nam
JAN
1973
-
Shellback Initiation - 30 JAN 1973 - Pacific Ocean
JUL
1973
-
AUG
1973
Caribbean
MAR
1974
-
JUL
1974
Deployment off Cyprus to evacuate American Citizens
JAN
1975
-
Shellback Initiation - 30 JAN 1975 - Atlantic Ocean
JUL
1976
-
Decommissioned: 1 JUL 1976
DD-849 General Specifications
Class: Gearing-class destroyer
Complement: 336 Officers and Enlisted
Displacement: 3460 tons
Length: 390 feet 6 inches
Beam: 40 feet 10 inches
Draft: 14 feet 4 in
Range: 4 500 Nautical Miles
Final Disposition: Transferred to South Korea 23 February 1977
USS RICHARD E. KRAUS (DD-849)
Richard E. Kraus (DD-849) was laid down by Bath Iron Works Bath Maine 31 July 1945 launched 2 March 1946 sponsored by Mrs. Edwin Olsen and commissioned at the Boston Naval Shipyard 23 May 1946 Comdr. R. J. Oliver in command
Following shakedown off Boston Richard E. Kraus reported to Commander Operational Test and Evaluation Force at Norfolk. Engaged in ordnance development during her first 6 years Kraus earned the title of one of the "Shootingest Ships" in the fleet. In 1947 the after 40mm. gun mount was removed and the first shipboard 3"/50 cal. gun mount was installed for tests.
In 1948 Kraus assisted Mississippi in the development tests of the Terrier Surface to Air Missile. Kraus was subsequently involved in the evaluation of electronic equipment including radar and communication gear. In addition she conducted tests on anchors tow cables and underwater explosives. Reclassified AG-151 on 25 August 1949 Richard E. Kraus was designated DD-849 again 11 January 1954.
In May 1954 Kraus participated in the large-scale antisubmarine warfare development exercise. She trained at Guantanamo Bay in 1955 1958 and 1960. In 1961 she operated with Task Group Bravo one of the Navy's major antisubmarine groups and in that year also represented the United States in ceremonies at St. Eustatius Netherlands Antilles commemorating the first salute to the U.S. flag by a foreign country.
In October and November 1962 Kraus served with the U.S. quarantine forces preventing the introduction of offensive missiles into Cuba. On 1 January 1963 Kraus left her Destroyer Squadron 2. In March and April she operated with the 6th Fleet in the Mediterranean then between June 1963 and May 1964 underwent a FRAM I overhaul and conversion at the Boston Naval Shipyard.
On 18 May 1964 the "new" destroyer now equipped with ASROC and DASH left the shipyard and steamed for her new homeport Newport R.I. After training along the Atlantic coast and in the Caribbean the destroyer deployed on 27 November 1964 for operations with the 6th Fleet and the Middle East Force. Operating primarily in the Red Sea and in the Indian Ocean Kraus added merchant ship assistance and good will visits to East African ports to her destroyer duties. Returning to Newport 13 March 1965 Richard E. Kraus conducted ASW exercises and was part of the Gemini 6 Recovery Force serving on station off western Africa until that mission was canceled.
Deploying to WestPac in early 1966 Kraus operated off Vietnam with TG 77.7 in the Tonkin Gulf with TG 77.6 on Yankee and Dixie Stations and provided gunfire support off South Vietnam until steaming home by way of the Suez Canal arriving at Newport 17 September 1966. She operated off the Atlantic coast and in the Caribbean until May 1967 when she deployed to the Mediterranean. During the 6-day Arab-Israeli War she operated out of Suda Bay Crete. Back at Newport in late September she assisted in extinguishing a fire in the after engine room of Stickell (DD-888) in November.
Through the remainder of 1967 and through most of 1968 Kraus operated off the Atlantic coast and in the Caribbean. Homeported at Charleston in July she departed the United States for another extended cruise. Sailing south and east she rounded the Cape of Good Hope and entered the Indian Ocean where she remained until the spring of 1969. On 13 May 1969 Richard E. Kraus returned to Charleston. Richard E. Kraus operated off the east coast of the United States through July 1970 visiting Cape Kennedy Norfolk New York and the city of Montreal in Canada. She transited the St. Lawence Seaway on 28 July en route to Europe via Nova Scotia Newfoundland and Iceland. She cruised the North Sea area until 10 December visiting Scotland Denmark Norway the Netherlands and Belgium. She arrived at Charleston S.C. 19 December after short stops at Ponta Delgado in the Azores and Bermuda B.C.C. Richard E. Kraus remained in the Charleston area through September 1971 undergoing regular overhaul and post-overhaul tests and exercises. On the 23d she steamed out of Charleston headed for the Indian Ocean. After stopping at Puerto Rico; Recife Brazil; Luanda Angola; and Loureneo Marques Mozambique she arrived at Majunga Madagascar 30 October and was officially transferred to COMIDEASTFOR.
Kraus remained with COMIDEASTFOR circuiting the Indian Ocean until 12 February 1972. On her way home she visited several ports Africa and arrived in Charleston 11 March where she immediately went into a 30-day stand down period. After six months of operations out of Charleston she embarked 1 November upon another major deployment this time with the Seventh Fleet in the western Pacific. Stopping at Guantanamo Bay Cuba Rodman in the Canal Zone Pearl Harbor Hawaii and Midway Island she made Yokosuka Japan 29 November. She cruised with the Seventh Fleet often just off the coast of Vietnam through March 1973. At that time Kraus was ordered back to Charleston and operations in tee Atlantic and Caribbean. She has continued in this employment into 1974.
Richard E. Kraus received two battle stars for Vietnam service.


[Note: The above USS RICHARD E. KRAUS (DD-849) history may or may not contain text provided by crew members of the USS RICHARD E. KRAUS (DD-849) or by other non-crew members and text from the Dictionary of American Naval Fighting Ships]