For RATING SHIRTS - Click on your Rating Abbreviation below:
Click on your Rating abbreviation above: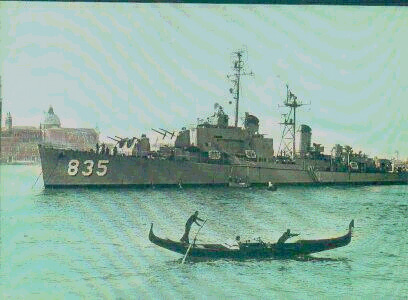 U.S.S. CHARLES P. CECIL
(DD-835)

THE CHARLIE P
Click to view crew list
USS CHARLES P. CECIL (DD-835) - a Gearing-class destroyer
In Commission 1945 to 1979
DD-835 Deployments - Major Events
Add a DD-835 Shellback Initiation
Add a DD-835 Deployment - Major Event
Month
Year
to
Month
Year
Deployment / Event
DEC
1944
-
Keel Date: 2 DEC 1944
at Bath Iron Works Bath ME
APR
1945
-
Launch Date: 2 APR 1945
JUN
1945
-
Commissioned: 29 JUN 1945
OCT
1954
-
MAR
1955
Mediterranean
JUL
1955
-
AUG
1955
Guantanamo Bay
OCT
1962
-
NOV
1962
Cuban Missle Blockade
SEP
1964
-
JAN
1965
Mediterranean
AUG
1965
-
DEC
1965
Mediterranean
MAR
1966
-
MAR
1966
GEMINI 8 NASA NAVY RECOVERY SHIPS
APR
1966
-
MAR
1967
West Pac-Viet Nam
MAY
1966
-
OCT
1967
Circumnavigation
MAY
1966
-
OCT
1967
West Pac-Viet Nam
JUN
1966
-
SEP
1966
Dependents Cruise
AUG
1966
-
APR
1967
West Pac-Viet Nam
OCT
1966
-
APR
1967
West Pac-Viet Nam
OCT
1966
-
OCT
1966
Panama Canal
JAN
1967
-
APR
1967
SUEZ CANAL
MAR
1967
-
Shellback Initiation - 17 MAR 1967 - Pacific Ocean
APR
1967
-
APR
1967
STRAITS OF GIBRALTAR THE ROCK
JAN
1968
-
DEC
1970
Mediterranean-Indian Ocean
MAR
1969
-
SEP
1969
Red Sea cruise
MAR
1969
-
Shellback Initiation - 19 MAR 1969 - Atlantic Ocean
FEB
1972
-
Shellback Initiation - 13 FEB 1972 - Atlantic Ocean
APR
1972
-
JUL
1972
West Pac-Viet Nam
OCT
1979
-
Decommissioned: 1 OCT 1979
DD-835 General Specifications
Class: Gearing-class destroyer
Named for: Charles P. Cecil
Complement: 336 Officers and Enlisted
Displacement: 3460 tons
Length: 390 feet 6 inches
Beam: 40 feet 10 inches
Flank Speed: 35 knots
Range: 4 500 Nautical Miles
Final Disposition:Sold to Greece 8 August 1980
USS CHARLES P. CECIL (DD-835)
Charles P. Cecil (DD-835) was launched 22 April 1945 by Bath Iron Works Bath Maine; sponsored by Mrs. C. P. Cecil; and commissioned 29 June 1945 Commander W. Outerson in command.
Charles P. Cecil arrived at San Diego her home port 20 November 1945 and almost at once sailed on a tour of Pacific duty which found her operating as part of Joint Task Force One in the atomic bomb tests at Bikini as well as supporting occupation forces with operations in Japanese waters. She returned to San Diego 9 August 1946 and took part in exercises off the west coast until 26 August 1947 when she cleared for her second deployment to the Far East. She touched at many Pacific islands as well as calling at ports in China Japan and Okinawa before her return to San Diego 5 May 1948.
Reclassified DDR-835 18 March 1949 Charles P. Cecil left San Diego astern 4 April 1949 bound for Newport R.I. and assignment to the Atlantic Fleet. First from Newport and from December 1950 from Norfolk Va. Charles P. Cecil operated through 1960 with the Atlantic Fleet taking part in midshipmen training cruises periodic deployments to the Mediterranean and the overhauls and refresher training necessary to maintain her readiness. She participated in a long list of North Atlantic Treaty Organization operations in waters ranging from those north of the Arctic Circle to the Mediterranean. Her tours of duty with 6th Fleet in the Mediterranean included one which coincided with the Suez Crisis of fall 1956 during which she took up watchful patrol in the eastern Mediterranean.
From January 1959 when she was fitted with highly complex electronic computational and tracking equipment Charles P. Cecil concentrated on air defense experiments and exercises contributing to the development of advanced techniques. Her training however continued to include the areas such as antisubmarine warfare and amphibious operations required of the versatile destroyer.


[Note: The above USS CHARLES P. CECIL (DD-835) history may or may not contain text provided by crew members of the USS CHARLES P. CECIL (DD-835) or by other non-crew members and text from the Dictionary of American Naval Fighting Ships]