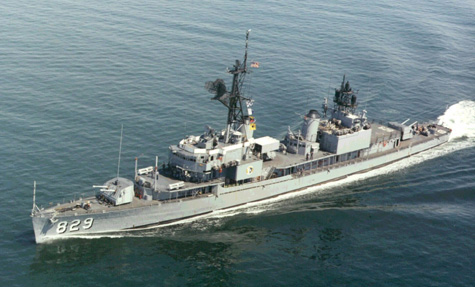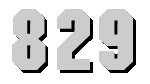 U.S.S. MYLES C. FOX
(DD-829)

VINCIT QUI PATITUR
HE WHO PERSEVERES CONQUERS
Click to view crew list
USS MYLES C. FOX (DD-829) - a Gearing-class destroyer
In Commission 1945 to 1979
DD-829 Deployments - Major Events
Add a DD-829 Shellback Initiation
Add a DD-829 Deployment - Major Event
Month
Year
to
Month
Year
Deployment / Event
AUG
1944
-
Keel Date: 14 AUG 1944
at Bath Iron Works Bath ME
JAN
1945
-
Launch Date: 13 JAN 1945
MAR
1945
-
Commissioned: 20 MAR 1945
JUN
1953
-
AUG
1953
South America
AUG
1956
-
Shellback Initiation - 8 AUG 1956 - Pacific Ocean
MAY
1966
-
MAY
1967
West Pac-Viet Nam
MAR
1967
-
Shellback Initiation - 14 MAR 1967 - Pacific Ocean
JUN
1968
-
OCT
1968
Mediterranean
MAR
1969
-
Shellback Initiation - 20 MAR 1969 - Atlantic Ocean
JUN
1969
-
DEC
1969
UNITAS
JUN
1970
-
DEC
1970
UNITAS
DEC
1971
-
AUG
1972
West Pac-Viet Nam
DEC
1971
-
AUG
1972
westpac cruise vitnam deployment
JAN
1972
-
Shellback Initiation - 17 JAN 1972 - Atlantic Ocean
JAN
1972
-
AUG
1972
West Pac-Viet Nam
JAN
1972
-
AUG
1972
West Pac-Viet Nam
JAN
1972
-
MAY
1972
West Pac-Viet Nam
APR
1972
-
JUL
1972
West Pac-Viet Nam
JAN
1974
-
JAN
1979
North Atlantic-Med-Indian Ocean
OCT
1979
-
Decommissioned: 1 OCT 1979
DD-829 General Specifications
Named for: Myles C. Fox
Complement: 367 Officers and Enlisted
Displacement: 2425 tons
Length: 390 feet 6 inches
Beam: 41 feet 1 inches
Draft: 18 feet 6 in
Final Disposition: Transferred to Greece for spare parts 2 August 1980
USS MYLES C. FOX (DD-829)
Myles C. Fox (DD-829) was laid down by the Bath Iron Works Corp. Bath Maine 14 August 1944 Iaunched 13 January 1945; sponsored by Mrs. James C. Fox mother of Lieutenant Fox; and commissioned at Boston 20 March 1945 Comdr. John S. Fahy in command.
After Caribbean shakedown and training off New Jersey Myles C. Fox sailed 5 July 1945 for the Panama Canal San Diego and Hawaii arriving Pearl Harbor on the 28th. She departed Pearl Harbor 10 August for the Marshalls receiving word en route of cessation of hostilities. After calling at Eniwetok she continued to Japan anchoring in Tokyo Bay 9 September to begin duty screening carriers providing air cover for the occupation landings on Japan.
The destroyer served in the occupation until sailing for Saipan 8 January 1946. On 25 March she headed from the Marianas for San Diego with veterans aboard for transportation home. Arriving 11 April. she operated alone the west coast until 6 January 1947 when she sailed for the Far East arriving Yokosuka on the 25th. In ensuing months she called at principal ports of Japan with missions to Korea China Okinawa and Hong Kong.
On 19 July Myles C. Fox and Hawkins (DD-873) with British escort ship HMS Hart saved the crew and passengers of SS Hong Kheng after the passenger ship had run aground on Chilang Point some 8 miles north of Hong Kong. Six motorboats two from each warship and two skiffs from Hong Kong made 76 trips to rescue some 1 800 survivors.
Myles C. Fox departed Yokosuka 23 September and reached San Diego 8 October. After west coast operations and overhaul she made another Far Eastern cruise 2 October-23 December 1948 operating principally in the ocean approaches to Tsingtao China with fast carrier forces. She then operated out of San Diego until sailing 2 May 1949 for a new home port Newport R.I. She had been redesignated a radar picket destroyer (DDR-829) 18 March 1949.
Following arrival Newport 23 May 1949 the ship served in the North Atlantic for a year before getting underway from Norfolk 3 May 1960 for the Mediterranean. Her 6th Fleet operations included simulated attack problems with submarines and other fleet readiness exercises. She visited ports of France Italy Turkey Trieste Greece and Spain cleared Gibraltar 1 October and returned to Newport on the 10th.
Repairs in New York Naval Shipyard convoy exercises to Bermuda and tactics in the Virginia Cape area kept her busy until 20 March 1951 when she put to sea with a carrier striking force that reached Gibraltar 6 April. She returned from this Mediterranean cruise to Newport 4 October.
After working on the east coast for almost a year she stood out from Newport 26 August 1952 with a fast carrier striking force built around Midway (CVB-41) and Franklin D. Roosevelt (CVB-42). This cruise took her to Greenock Scotland and thence into the Norwegian Sea as a unit of the NATO force guarding the free world. She visited ports of the British Isles before proceeding by way of Lisbon to the Mediterranean for another tour with the powerful 6th Fleet returning Newport 4 February 1953.
On 8 June 1953 Myles C. Fox left Norfolk on a midshipman cruise that included good will calls at Rio de Janeiro and Cartagena Colombia. She debarked the midshipmen at the Naval Academy 5 August and returned to Newport. For the next 2 years she operated on the east coast and in the Caribbean. She departed Newport 2 May 1955 for the Mediterranean. After 3 months with the 6th Fleet she returned to Newport 25 August.
During the ensuing years Myles C. Fox continued this pattern of service alternating operations on the east coast and in the Caribbean with 6th Fleet deployments. In 1961 she won the Battle Efficiency "E " and in 1964 her home port was changed to Boston. That year the ship underwent FRAM I overhaul and modernization and she was redesignated DD-829 on 1 April.
The destroyer was assigned to the Gemini 8 recovery team 6 March 1966 and stationed in the eastern Atlantic. While off the coast of Africa she sped to the aid of Swedish freighter M/V Palma which was a fire. For 3 days fire fighting teams battled the blaze before Caloosahatchee (AO-98) and Charles P. Cecil (DD-836) arrived to lend a hand. The combined efforts of these U.S. Navy ships finally extinguished the flames and Palma resumed steaming under her own power.
After DASH qualifications off the Virginia Capes the destroyer operated along the east coast until getting underway for the Far East 4 October. Steaming via the Panama Canal Hawaii Japan and the Philippines the destroyer arrived off the coast Of North Vietnam 7 January 1967. While in the war zone Myles a. Fox delivered numerous fire support missions against enemy ground forces and installations. Her guns also damaged three enemy Junks and two Communist sampans. She headed home on the second half of a round-the-world cruise 20 February and arrived Newport from Suez and Gibraltar 25 April.
Myles C. Fox operated on the coast and in the Caribbean during most of 1967. She entered Boston Naval Shipyard 26 September for overhaul through 31 January 1968.


[Note: The above USS MYLES C. FOX (DD-829) history may or may not contain text provided by crew members of the USS MYLES C. FOX (DD-829) or by other non-crew members and text from the Dictionary of American Naval Fighting Ships]