For RATING SHIRTS - Click on your Rating Abbreviation below:
Click on your Rating abbreviation above: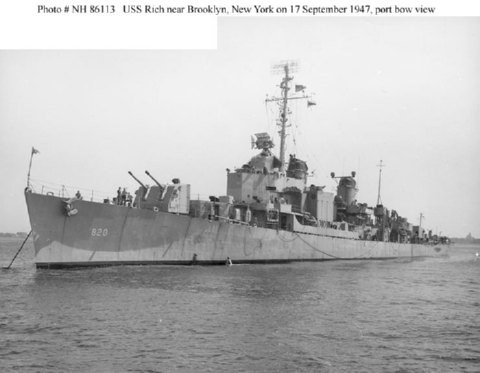 U.S.S. RICH
(DD-820)

DESRON 2 - SECOND TO NONE
Click to view crew list
USS RICH (DD-820) - a Gearing class Destroyer
In Commission 1946 to 1977
DD-820 Deployments - Major Events
Add a DD-820 Shellback Initiation
Add a DD-820 Deployment - Major Event
Month
Year
to
Month
Year
Deployment / Event
MAY
1945
-
Keel Date: 16 MAY 1945
at Consolidated Steel Corporation Orange TX
OCT
1945
-
Launch Date: 5 OCT 1945
JUL
1946
-
Commissioned: 3 JUL 1946
OCT
1962
-
OCT
1962
Cuban Missle Blockade
OCT
1964
-
Shellback Initiation - 12 OCT 1964 - Indian Ocean
OCT
1964
-
Shellback Initiation - 12 OCT 1964 - Indian Ocean
FEB
1966
-
Shellback Initiation - 24 FEB 1966 - Indian Ocean
MAR
1968
-
NOV
1968
West Pac-Viet Nam
JUN
1968
-
Shellback Initiation - 12 JUN 1968 - Pacific Ocean
JUL
1969
-
JUL
1969
Emeraled Shellback Day 00 Latitude 00 Longitude.
JUL
1969
-
JAN
1970
Mediterranean-Indian Ocean
JUL
1969
-
Shellback Initiation - 21 JUL 1969 - Atlantic Ocean
JUL
1969
-
JAN
1970
West Pac-Indian Ocean-Persian Gulf
JAN
1971
-
JUL
1971
Mediterranean
OCT
1972
-
MAR
1973
West Pac-Viet Nam
DEC
1972
-
Shellback Initiation - 9 DEC 1972 - Pacific Ocean
NOV
1977
-
Decommissioned: 10 NOV 1977
DD-820 General Specifications
Class: Gearing class Destroyer
Named for: LT(JG) Ralph McMaster Rich
Displacement: 2425 tons
Length: 390 feet 6 inches
Beam: 41 feet 1 inches
Draft: 18 feet 6 in
Final Disposition: Sold for scrapping 5 December 1979
USS RICH (DD-820)
The second Rich (DD-820) was laid down on 16 May 1944 by the Consolidated Steel Corp. Orange Tex. launched 5 October 1945 sponsored by Mrs. Ralph McM. Rich and commissioned on 3 July 1946 Comdr. R. C. Houston in command.
After shakedown in the Caribbean Rich departed Norfolk in late October for a Mediterranean tour most of which December 1946 to March 1947 was spent on patrol in the Atlantic. Returning to the United States in March she was converted to a specialized antisubmarine ship at the New York Naval Shipyard; and in the fall she resumed operations with the 2d Fleet. Throughout 1948 and into 1949 she operated as a unit of a hunter-killer (HUK) group based at Key West Fla. in the development of antisubmarine warfare tactics. In August 1949 the destroyer crossed the Atlantic for a brief visit to Cherbourg; then returned to east coast and Caribbean operations. In the fall of 1950 Rich redesignated an escort destroyer (DDE-820) the previous March returned to the Mediterranean for a month of exercises with the 6th Fleet. By January 1951 she was conducting exercises in the Caribbean; and in February she entered the Philadelphia Naval Shipyard.
Rotated regularly to duty with the 6th Fleet Rich operated during the 1950's and 1960's principally off the east coasts of the United States and Canada; in the Caribbean and in the Mediterranean. In addition to participation in fleet and NATO exercises she steamed with the 6th Fleet in the eastern Mediterranean during the Suez Crisis of 1956. Two years later she supported the Marine landings in Lebanon.
While with the 2d Fleet Rich served in the search and rescue group which steamed along the route of President Kennedy's flight to South America on his good will visit in 1960. The next year she participated in Project Mercury as Lieutenant Colonel Glenn USMC became the first American to orbit the earth; and from 25 October to 25 November 1962 she operated with the Cuban Quarantine Force during the missile crisis.
Modernized in 1963 during a 10-month FRAM I conversion to increase her habitability and combat capability she resumed operations with the Atlantic Fleet's Antisubmarine forces in 1964. A year later she was detached for another mission in support of NASA projects and in March and May 1965 she served as a recovery ship for Gemini space shots.
In 1968 Rich's Atlantic-Mediterranean employment schedule was interrupted for duty off Vietnam. From 13 May to 20 July she provided escort and plane guard services for attack carriers m the Gulf of Tonkin. At the end of the month she assumed search and rescue duties off the coast of North Vietnam and continued them into September. She then concluded her tour in the Far East with naval gunfire support missions for South Vietnamese Army Forces and USMC operations in the I Corps area of northern South Vietnam 21 September to 1 October.
Rich arrived back at Norfolk on 5 November. Six months later in May 1969 she was again on station in the Atlantic for another NASA mission this time Apollo X. Toward the end of the month she returned to Norfolk and prepared for an extended deployment with the Middle East Force. Underway on 3 July she operated in the Indian Ocean area into December and on 21 January 1970 returned to Norfolk Va. Overhaul occupied the spring and summer and in the fall she resumed operations with the 2d Fleet. In December she began preparations for another 6th Fleet deployment. After almost two months of operations along the Atlantic seaboard Rich embarked 22 February 1971 for the Mediterranean and a five-month cruise with the Sixth Fleet. She returned to the east coast 23 July and continued normal operations and exercises out of Norfolk until November. Rich departed from Norfolk 17 October and arrived in Subic Bay Philippine Islands a month and a day later. Just over three months Iater she was on her way back to Norfolk arriving 23 March 1973. Since that time Rich has continued normal operations along the Atlantic coast homeported at Norfolk Va.
Rich was awarded three battle stars for service off Vietnam.


[Note: The above USS RICH (DD-820) history may or may not contain text provided by crew members of the USS RICH (DD-820) or by other non-crew members and text from the Dictionary of American Naval Fighting Ships]