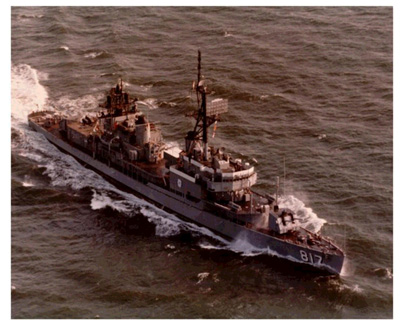 U.S.S. CORRY
(DD-817)

PAIX ET PATRIE
Click to view crew list
USS CORRY (DD-817) - a Gearing-class destroyer
In Commission 1946 to 1981
DD-817 Deployments - Major Events
Add a DD-817 Shellback Initiation
Add a DD-817 Deployment - Major Event
Month
Year
to
Month
Year
Deployment / Event
APR
1945
-
Keel Date: 5 APR 1945
at Consolidated Steel Corporation Orange TX
JUL
1945
-
Launch Date: 28 JUL 1945
FEB
1946
-
Commissioned: 27 FEB 1946
JAN
1952
-
JUL
1953
Mediterranean
APR
1952
-
OCT
1952
Mediterranean
OCT
1956
-
MAR
1957
Mediterranean
FEB
1962
-
SEP
1962
Mediterranean
OCT
1962
-
OCT
1962
Cuban Missle Blockade
NOV
1964
-
Shellback Initiation - 1 NOV 1964 - Atlantic Ocean
JUN
1965
-
OCT
1965
Mediterranean-Indian Ocean-Persian Gulf
JUL
1966
-
DEC
1966
Med cruise including entry into Black Sea
JAN
1968
-
FEB
1969
West Pac-Viet Nam
JUL
1968
-
NOV
1968
West Pac-Viet Nam
SEP
1968
-
FEB
1969
uss corry dd-817deployment
SEP
1968
-
FEB
1969
uss corry dd-817/ westpac
SEP
1968
-
APR
1969
West Pac-Viet Nam
MAR
1970
-
SEP
1970
Mediterranean
JUN
1972
-
AUG
1973
West Pac-Viet Nam
SEP
1972
-
OCT
1972
Blue Nose - Arctic Circle
SEP
1972
-
OCT
1972
North Atlantic
SEP
1972
-
OCT
1972
NATO EXERCISE
SEP
1972
-
SEP
1972
X Artic Circle: 17 September @ 02 18 00 longitude, light snow
DEC
1972
-
JUN
1973
West Pac-Viet Nam
JAN
1978
-
NOV
1978
Dry Dock
DEC
1978
-
DEC
1978
Sea Trials
MAR
1979
-
APR
1979
Guantanamo Bay
FEB
1981
-
Decommissioned: 27 FEB 1981
DD-817 General Specifications
Class: Gearing-class destroyer
Named for: William M. Corry
Complement: 336 Officers and Enlisted
Displacement: 3460 tons
Length: 390 feet 6 inches
Beam: 40 feet 10 inches
Flank Speed: 35 knots
Range: 4 500 Nautical Miles
Final Disposition:Transferred to Greece 8 July 1981
USS CORRY (DD-817)
The third Corry (DD-817) was launched 28 July 1945 by Consolidated Steel Corp. of Texas Orange Tex.sponsored by Miss Corry commissioned 27 February 1946 Commander M. S. Shellabarger in command; and reported to the Atlantic Fleet.
Corry sailed from Galveston Tex. 28 March 1946 for shakedown training in the Caribbean and arrived at Norfolk 10 July. Following a tour of duty in European and Mediterranean waters from 23 July 1946 to 19 March 1947 Corry conducted Reserve training cruises from the Potomac River Naval Command then reported to Pensacola to serve as plane guard for carriers operating off Florida from 22 September 1947 to 28 April 1950.
Corry joined Destroyer Squadron 8 at Norfolk 22 May 1950 for antisubmarine exercises which included a cruise to Quebec in July. From 2 September to 12 November she served with the 6th Fleet in the Mediterranean and joined a midshipman cruise to northern Europe visiting Gotesburg and Cherbourg France from 1 June to 27 July 1951. Her next tour of duty with the 6th Fleet was from 22 April to 23 October 1952. Corry sailed out of Norfolk for local operations until 1 April 1953 when she was decommissioned for conversion to a radar picket destroyer. She was reclassified DDR-817 9 April 1953.
Recommissioned 9 January 1954 Corry carried NROTC midshipmen on a cruise to New Orleans and through the Panama Canal for operations at Balboa in the summer of 1954. From September 1954 through 1960 Corry alternated four tours of duty with the 6th Fleet in the Mediterranean with operations out of Norfolk along the east coast and exercises in the Caribbean.


[Note: The above USS CORRY (DD-817) history may or may not contain text provided by crew members of the USS CORRY (DD-817) or by other non-crew members and text from the Dictionary of American Naval Fighting Ships]