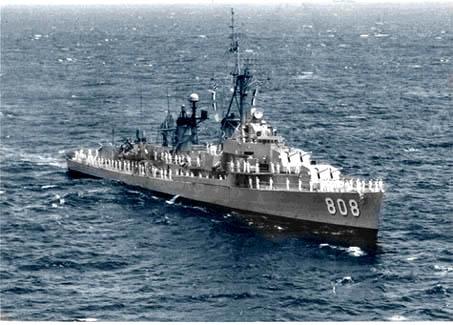 U.S.S. DENNIS J. BUCKLEY
(DD-808)

LEAVE THE STEAMING TO US
Click to view crew list
USS DENNIS J. BUCKLEY (DD-808) - a Gearing-class destroyer
In Commission 1945 to 1973
DD-808 Deployments - Major Events
Add a DD-808 Shellback Initiation
Add a DD-808 Deployment - Major Event
Month
Year
to
Month
Year
Deployment / Event
JUL
1944
-
Keel Date: 24 JUL 1944
at Bath Iron Works Bath ME
DEC
1944
-
Launch Date: 20 DEC 1944
MAR
1945
-
Commissioned: 2 MAR 1945
OCT
1948
-
FEB
1949
Circumnavigation
APR
1953
-
OCT
1953
Mediterranean
JUN
1956
-
NOV
1956
West Pac
MAY
1957
-
OCT
1957
West Pac
OCT
1957
-
APR
1958
West Pac
JAN
1959
-
Shellback Initiation - 19 JAN 1959 - Pacific Ocean
FEB
1961
-
JUL
1961
West Pac Cruise
JUN
1962
-
DEC
1962
West Pac
JAN
1964
-
JAN
1968
West Pac
JAN
1965
-
JAN
1965
West Pac-Viet Nam
APR
1965
-
NOV
1965
West Pac-Viet Nam
MAY
1965
-
NOV
1965
Middle Pacific
MAY
1965
-
Shellback Initiation - 1 MAY 1965 - Pacific Ocean
MAY
1965
-
NOV
1965
West Pac
JUN
1965
-
Shellback Initiation - 14 JUN 1965 - Pacific Ocean
JUN
1965
-
JUL
1965
West Pac-Viet Nam
MAY
1966
-
NOV
1966
West Pac-Viet Nam
JAN
1968
-
AUG
1968
West Pac
AUG
1969
-
FEB
1970
West Pac-Viet Nam
JAN
1971
-
OCT
1971
West Pac-Viet Nam
FEB
1971
-
AUG
1971
West Pac-Viet Nam
APR
1972
-
NOV
1972
West Pac
APR
1972
-
NOV
1972
West Pac-Viet Nam
JUL
1973
-
Decommissioned: 2 JUL 1973
DD-808 General Specifications
Class: Gearing-class destroyer
Named for: Fireman Dennis J. Buckley
Complement: 336 Officers and Enlisted
Displacement: 3460 tons
Length: 390 feet 6 inches
Beam: 40 feet 10 inches
Flank Speed: 35 knots
Range: 4 500 Nautical Miles
Final Disposition:Sold for scrap 29 April 1974
USS DENNIS J. BUCKLEY (DD-808)
Dennis J. Buckley DD-808) was launched 20 December 1944 by Bath Iron Works Corp. Bath Maine sponsored by Mrs. D. J. Buckley mother of Fireman First Class Buckley; and commissioned 2 March 1946 Commander K. C. Walpole in command. She was reclassified DDR-808 18 March 1949.
Dennis J. Buckley sailed from Norfolk 7 November 1945 for occupation duty in the Western Pacific arriving at Tokyo Bay 22 December. She operated in the Marianas and visited Manila Philippine Islands before returning to San Diego 13 April 1946. On her second tour of duty in the Far Fast in 1947 she cruised off the coast of China providing services to the Fleet and joined in exercises off Okinawa. On 1 October 1948 she steamed for Tsingtao China where she patrolled during the evacuation of civilians from the threat of the Communist advance into northern China. She joined Tarawa (CV-40) and Hawkins (DD-813) and sailed by way of Hong Kong and Singapore; Colombo Ceylon Bahrein and Jidda Saudi Arabia; and Port Said Egypt to Athens Greece where the three ships joined others for a visit to Istanbul Turkey. She returned to New York 22 February 1949 completing a round-the-world cruise.
Dennis J. Buckley departed New York 1 March 1949 for a brief period of operations on the west coast returning to the Canal Zone 10 May for exercises in Caribbean waters. She then operated along the eastern seaboard from Norfolk to Argentia Newfoundland and sailed from Newport 15 April for a tour of duty in the Mediterranean with the 6th Fleet returning to Newport 6 October for local and Caribbean operations. From April to October 1951 she cruised to northern Europe visiting Plymouth Liverpool and Weymouth England; Bremerhaven Germany; Antwerp Belgium; and Cork and Londonderry Ireland.
Between 1952 and 1955 Dennis J .Buckley completed three tours of duty in the Mediterranean and served as gunnery and engineering school ship for destroyer officers. She participated in air defense exercises in the North Atlantic and the Gulf of Mexico and trained midshipmen and reservists.
Dennis J. Buckley sailed from Boston 1 May 1956 to join the Pacific Fleet. Arriving at Long Beach 28 June she got underway 9 July for a tour of duty in the western Pacific from which she returned to Long Beach 21 October. During her second Far Eastern tour in 1957 she screened Princeton (CV-37) patrolled off Taiwan briefly and served as flagship for Commander Destroyer Flotillas western Pacific during October when she was visited by the Chief of Naval Operations Admiral A. A. Burke. Local operations engaged Dennis J. Buckley until 23 August 1958 when she again sailed for the Far East where she joined TF 72 to resupply Nationalist Chinese holding the Quemoy Islands against the threat of Communist seizure.
Returning to Long Beach 27 February 1959 she sailed again for duty in the western Pacific 15 October. She returned to Long Beach 11 March 1960 for operations until May underwent a 3-month overhaul and then resumed west coast duty for the remainder of the year.


[Note: The above USS DENNIS J. BUCKLEY (DD-808) history may or may not contain text provided by crew members of the USS DENNIS J. BUCKLEY (DD-808) or by other non-crew members and text from the Dictionary of American Naval Fighting Ships]