For RATING SHIRTS - Click on your Rating Abbreviation below:
Click on your Rating abbreviation above: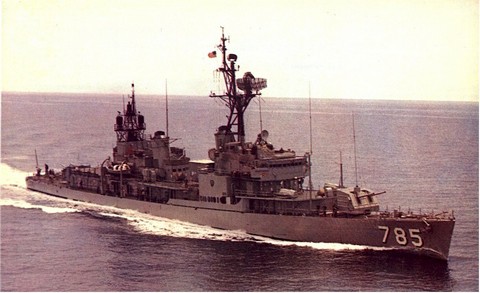 U.S.S. HENDERSON
(DD-785)

HENDY MARU
Click to view crew list
USS HENDERSON (DD-785) - a Gearing-class destroyer
In Commission 1945 to 1980
DD-785 Deployments - Major Events
Add a DD-785 Shellback Initiation
Add a DD-785 Deployment - Major Event
Month
Year
to
Month
Year
Deployment / Event
OCT
1944
-
Keel Date: 27 OCT 1944
at Todd Pacific Shipyards Seattle WA
MAY
1945
-
Launch Date: 28 MAY 1945
AUG
1945
-
Commissioned: 4 AUG 1945
JUN
1950
-
JUL
1953
Korean War
SEP
1956
-
Shellback Initiation - 4 SEP 1956 - Pacific Ocean
OCT
1957
-
Shellback Initiation - 17 OCT 1957 - Pacific Ocean
JAN
1958
-
MAY
1958
West Pac
FEB
1958
-
Shellback Initiation - 15 FEB 1958 - Pacific Ocean
JAN
1959
-
Shellback Initiation - 5 JAN 1959 - Pacific Ocean
JAN
1959
-
MAY
1959
West Pac
JAN
1960
-
MAY
1960
West Pac
JUN
1962
-
JUN
1963
West Pac-Viet Nam
SEP
1962
-
JUN
1963
West Pac-Viet Nam
SEP
1962
-
JUN
1963
West Pac-Viet Nam
OCT
1963
-
SEP
1965
West Pac-Viet Nam
JUN
1964
-
DEC
1964
West Pac-Viet Nam
JUL
1965
-
JAN
1966
West Pac-Viet Nam
JAN
1967
-
MAY
1967
West Pac
JAN
1967
-
AUG
1967
West Pac-Viet Nam
JAN
1967
-
MAY
1967
West Pac-Viet Nam
FEB
1968
-
JAN
1969
West Pac-Viet Nam
APR
1968
-
NOV
1968
West Pac-Viet Nam
APR
1968
-
SEP
1968
West Pac
MAY
1968
-
JUN
1968
USS Pueblo support off N. Korea
NOV
1969
-
MAY
1970
West Pac-Viet Nam
JAN
1970
-
JAN
1972
West Pac
JUL
1971
-
Shellback Initiation - 4 JUL 1971 - Pacific Ocean
JUL
1971
-
Shellback Initiation - 4 JUL 1971 - Pacific Ocean
NOV
1972
-
MAY
1973
West Pac-Viet Nam
NOV
1972
-
MAY
1973
West Pac-Viet Nam
JAN
1973
-
Shellback Initiation - 24 JAN 1973 - Pacific Ocean
SEP
1980
-
Decommissioned: 30 SEP 1980
DD-785 General Specifications
Class: Gearing-class destroyer
Named for: Lofton R. Henderson
Complement: 336 Officers and Enlisted
Displacement: 3460 tons
Length: 390 feet 6 inches
Beam: 40 feet 10 inches
Flank Speed: 35 knots
Range: 4 500 Nautical Miles
Final Disposition:Sold to Pakistan 1 October 1980
USS HENDERSON (DD-785)
Henderson was laid down by Todd Pacific Shipyards, Seattle, Washington, on 27 October 1944; launched on 28 May 1945; sponsored by Mrs. A. R. Early; and commissioned at Seattle on 4 August 1945, Commander H. A. Knoertzer in command.
Henderson conducted shakedown cruise out of San Diego then departed Seattle 31 October for Hawaii. Upon her arrival 7 November she operated as a screen ship for escort carriers in Hawaiian waters and conducted experimental sonar tests with submarines before returning to San Diego 23 April 1946. After divisional exercises off California she departed 2 December 1946 for Operation "High Jump " an antarctic exploration and test program. This important operation included tests of clothing and equipment as well as mapping and weather work. Henderson reached Sydney Australia 13 March 1947 and San Diego 6 April 1947.
After two long cruises to the Pacific in support of U.S. occupation forces in Japan. Henderson departed San Diego 5 August 1950 to join the United Nations forces in Korea. Arriving Yokosuka 19 August she served as a screening ship for fast carrier forces whose planes flew ground support and other missions in Korea. As U.S. forces prepared to leap northward with the historic Inchon invasion Henderson was with the assault forces. She steamed up Flying Fish Channel on 13 September destroying mines and bombarding the Inchon waterfront preparatory to the invasion. The destroyers also traded blows with Communist shore batteries. The gunfire support group again entered the channel into Inchon Bay 14 to 15 September softening up shore defenses. General of the Army Douglas MacArthur soon made signal as the Marines landed that day: "The Navy and Marines have never shone more brightly than this morning." Henderson remained on fire support duty at Inchon until 1 October.
The destroyer returned to screening duty after Inchon first along the coast of Korea and then in the Formosa Strait. This duty continued until she departed Keelung 20 March arriving San Diego 7 April 1951. After coastwise exercises and a cruise to Hawaii for training Henderson sailed 4 January 1952 for her second tour of duty in Korea. She arrived off Hungnam 16 February to take part in the blockade of' that port and the coastal areas to the north. Her duties included gunfire support and bombardment of industrial sites until 7 March when she screened carrier Bataan off the coast of Japan. For the remainder of her tour Henderson operated with the fast carrier task forces around Korea and in the Formosa Strait. She departed Yokosuka 25 July and arrived San Diego 10 August 1952.
Henderson conducted training exercises off San Diego until 22 March 1953 when she departed for her third Korean tour. She took part in the siege of Wonsan harbor supporting Korean troops with accurate and continuous gunfire and conducted antisubmarine operations off Okinawa. The destroyer engaged in the vital coastal patrol maintaining Allied control of the seas around Korea until after the Korean armistice in July 1953. She arrived San Diego 19 October 1953 after a total of 22 months of Korean duty.
Following Korea Henderson established a pattern of cruises to the Far East with the fast and mobile 7th Fleet a main guarantor of peace in the region. Since 1954 she has made more than a dozen such cruises. Highlights of this phase Of her service include protection of the Quemoy Islands from Communist aggression in September 1954 relief of Ceylonese flood victims in January 1958 and important fleet and individual exercises during her periods at sea.
Commencing 11 August 1964 Henderson began annual cruises in Vietnamese waters supporting 7th Fleet amphibious and shore bombardment operations and guarding the fast-striking hard hitting carriers. She returned to Long Beach 16 December underwent modernization overhaul and intensive shore bombardment training and returned to the intensified struggle against Communist aggression in South Vietnam 10 July 1965. During the next 5 months she ranged the South China Sea and Gulf of Tonkin while screening Oriskany and pounding Viet Cong positions. In December she steamed to the Gulf of Siam where she blasted V.C. coastal targets on the Ca Mau Peninsula. As escort for Bon Homme Richard the veteran destroyer departed Hong Kong 26 December and arrived Long Beach 13 January 1966.
Henderson spent the next year serving as an ASW school ship out of San Diego and taking part in squadron exercises out of Long Beach. Late in July she joined in a massive but unsuccessful air-sea search for the Hawaii-bound aircraft carrying Brigadier General Joseph W. Stilwell Jr. USA. After completing preparations for another WestPac deployment she returned to the troubled waters of Southeast Asia in January 1967. Over the next 4 months she supported attack carrier operations and conducted even more intensive shore bombardment assignments thus contributing to the determined American effort to restore the peace and insure the freedom in Southeast Asia. Henderson returned to Long Beach in mid-June to prepare for further duty in defense of the Nation and the free world.
Henderson received eight battle stars for Korean War service and shared in the Navy Unit Commendation given her task unit for its part in the Inchon landings.


[Note: The above USS HENDERSON (DD-785) history may or may not contain text provided by crew members of the USS HENDERSON (DD-785) or by other non-crew members and text from the Dictionary of American Naval Fighting Ships]