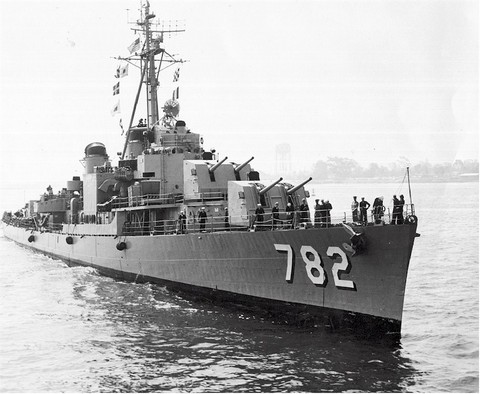 U.S.S. ROWAN
(DD-782)

GOIN-ROWAN
Click to view crew list
USS ROWAN (DD-782) - a Gearing-class destroyer
In Commission 1945 to 1975
DD-782 Deployments - Major Events
Add a DD-782 Shellback Initiation
Add a DD-782 Deployment - Major Event
Month
Year
to
Month
Year
Deployment / Event
MAR
1944
-
Keel Date: 25 MAR 1944
at Todd Pacific Shipyards Seattle WA
DEC
1944
-
Launch Date: 29 DEC 1944
MAR
1945
-
Commissioned: 31 MAR 1945
SEP
1955
-
Shellback Initiation - 22 SEP 1955 - Pacific Ocean
AUG
1956
-
Shellback Initiation - 31 AUG 1956 - Pacific Ocean
JUL
1958
-
Shellback Initiation - 20 JUL 1958 - Pacific Ocean
JUL
1958
-
AUG
1958
South America
JAN
1959
-
JUL
1959
West Pac
APR
1961
-
Shellback Initiation - 17 APR 1961 - Pacific Ocean
APR
1961
-
NOV
1961
West Pac
APR
1961
-
Shellback Initiation - 19 APR 1961 - Pacific Ocean
MAY
1962
-
Shellback Initiation - 9 MAY 1962 - Pacific Ocean
JUL
1962
-
AUG
1962
Atomic Tests, Joint Task Force 8 in 1962
NOV
1964
-
JUL
1965
West Pac-Viet Nam
JAN
1965
-
JUL
1965
West Pac-Viet Nam
JAN
1965
-
APR
1965
West Pac-Viet Nam
JAN
1965
-
AUG
1966
West Pac
JAN
1970
-
JAN
1971
West Pac-Viet Nam
APR
1970
-
MAR
1971
West Pac
APR
1970
-
MAY
1971
West Pac-Viet Nam
SEP
1970
-
MAR
1971
West Pac-Viet Nam
SEP
1970
-
MAR
1971
West Pac
NOV
1970
-
Shellback Initiation - 8 NOV 1970 - Pacific Ocean
NOV
1970
-
Shellback Initiation - 8 NOV 1970 - Indian Ocean
AUG
1971
-
SEP
1973
West Pac-Viet Nam
JAN
1972
-
JAN
1977
West Pac
JUL
1972
-
JUL
1972
West Pac-Viet Nam
AUG
1972
-
AUG
1972
West Pac-Viet Nam
AUG
1972
-
AUG
1972
Operation Lions Den
MAR
1975
-
APR
1975
West Pac-Viet Nam
APR
1975
-
MAY
1975
West Pac-Viet Nam
DEC
1975
-
Decommissioned: 18 DEC 1975
DD-782 General Specifications
Class: Gearing-class destroyer
Named for: Stephen C. Rowan
Complement: 336 Officers and Enlisted
Displacement: 3460 tons
Length: 390 feet 6 inches
Beam: 40 feet 10 inches
Flank Speed: 35 knots
Range: 4 500 Nautical Miles
Final Disposition:Ran aground and wrecked while under tow 22 August 1977
USS ROWAN (DD-782)
The fourth Rowan (DD-782) was laid down on 25 March1944 by Todd Pacific Shipyards; Inc. Seattle Wash.; launched 29 December 1944; sponsored by Mrs. David S. Folsom great-grandniece of Vice Admiral Rowan and commissioned on 31 March1945 Comdr. W. A. Dunn in command.
After completing shakedown off southern California Rowan returned to Puget Sound. On 20 July she departed Seattle for Hawaii whence she continued on to Okinawa. Arriving after Japan's surrender she remained in the Ryukyus until 9 September then moved on to Japan where she supported occupation forces into December. At the end of December she retraced her route returned to Okinawa thence in late January 1946 continued on to the United States.
Arriving at San Diego on 10 February Rowan was immobilized until February 1947 when she resumed operations along the west coast and in Hawaiian waters. Six months later she deployed to the western Pacific (WestPac) for operations in Japanese Chinese and Korean waters. She returned to San Diego on 30 April 1948; conducted local operations into 1949 and deployed again to WestPac from March to November of that year.
On 25 June 1950 the North Korean Army crossed the 38th Parallel into the Republic of Korea. Six weeks later Rowan sailed for Japan. She arrived at Yokosuka on 19 August shifted to Sasebo on the 21st and on the 25th commenced operations off Korea.
On 12 September she departed Sasebo for her first support mission for a wartime amphibious landing. On the 15th she arrived off Inchon with TF 90 provided support while the 1st and 5th Marines went ashore then remained in the area until after Allied forces had pushed back across the 38th Parallel. On 3 October she left Inchon to take up duties off the Korean east coast.
In mid-October Rowan arrived with the Wonsan attack force. South Korean forces however took that city prior to "D-day " 20 October and the 1st Marines were landed on the Kalma Peninsula on the 26th. Rowan remained in the Wonsan area into November then provided gunfire support and served on plane guard duty as U.N. forces pushed to the Yalu and then retreated. In February 1951 she sailed for home
Local and Hawaiian training operations occupied the remainder of the year and in early January 1952 Rowan again headed for Korea. By 15 February she was back in the Wonsan area. Seven days later while patrolling the northern sweep area she took a direct hit from a North Korean shore battery on the portside which damaged a 40 mm. gun her radar and superstructure. During the ensuing duel Rowan and James E Kyes (DD-787) destroyed three guns and an ammunition dump.
Into June Rowan continued to operate off the embattled peninsula on gunfire support and interdiction missions and as plane guard and escort for the carriers. In late June she steamed south served on the Taiwan Patrol Force into July then returned briefly to Korea and at the end of the month sailed for San Diego.
Rowan was back in the western Pacific for her third Korean tour by mid April 1953. Again she operated off Korea through the spring and shifted to Taiwan patrol duty in July. She returned to Korea in August and through September conducted patrols off that coast to maintain the uneasy truce that began in late July. On 2 October she departed Yokosuka for California.
After Korea Rowan remained in active service. Through the fifties and into the sixties she rotated between assignments with the 7th Fleet in the western Pacific and operations and exercises with the 1st Fleet off the west coasts of the Americas and in the Hawaiian area. During the early sixties she also supported scientific experiments: recovering a NERV capsule containing information on the earth's atmosphere (September 1960); and participating in Operation "Dommie " nuclear tests in the Christmas Island area (March-July 1962).
On 3 June 1963 Rowan departed San Diego for a FRAM (Fleet Rehabilitation and Modernization) I conversion at the Philadelphia Naval Shipyard. She returned to California a year later with improved living spaces up-to-date communications and ASROC and DASH weapons systems. Local operations took her into the fall and on 5 January 1965 she resumed her schedule of WestPac deployments this time to another combat area Vietnam
Off Vietnam into the summer; she provided gunfire support for units of the Vietnamese Navy Junk Force and Allied ground forces during operations in the Qui Nhon area and served on "Market Time" patrol to interdict the Communists coastal waterborne logistics line. In August she returned to San Diego but in May 1966 was back off the South Vietnamese coast to support Vietnamese troops in the IV Corps area. Later adding plane guard duty to her activities she continued Vietnamese operations until August when she departed for San Diego and more "routine" duties with the 1st Fleet.
In November she served as gunnery and ASW Schoolship at San Diego. In December she conducted evaluation tests off California. Most of 1967 was spent preparing for or undergoing overhaul. In the fall she resumed her 7th Fleet deployments in support of ground operations in Vietnam this time in the IV and II Corps areas and on plane guard duty in Tonkin Gulf. Detached in April 1968 Rowan rejoined the 7th Fleet on 6 April 1969 and after operations in the Sea of Japan again served off Vietnam returning to San Diego in September for local operations which took her into 1970.
Late in January 1970 she entered the dryDock at Hunter's Point Naval Shipyard for overhaul. Rowan's overhaul was completed 15 June and she returned to normal operations off the coast of southern California until 8 September. On that date she was redeployed to the western Pacific operating often along the Vietnamese coast.
Rowan did not return to the United States until 12 March1971. Upon arrival in San Diego she resumed operations off the west coast and continued to be so employed into October. On 20 October 1971 Rowan again steamed westward out of San Diego bound for Yokosuka Japan and ultimately the coast of Vietnam. This time she departed on an extended deployment remaining in the western Pacific throughout 1972 and 1973. As of January 1974 she is in port at Yokosuka.
Rowan earned four battle stars for Korean service and eleven for Vietnamese service.


[Note: The above USS ROWAN (DD-782) history may or may not contain text provided by crew members of the USS ROWAN (DD-782) or by other non-crew members and text from the Dictionary of American Naval Fighting Ships]