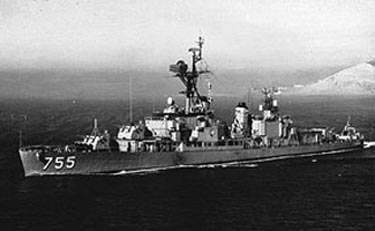 U.S.S. JOHN A. BOLE
(DD-755)

DEFENSOR PACIS
Click to view crew list
USS JOHN A. BOLE (DD-755) - an Allen M. Sumner class destroyer
In Commission 1945 to 1970
DD-755 Deployments - Major Events
Add a DD-755 Shellback Initiation
Add a DD-755 Deployment - Major Event
Month
Year
to
Month
Year
Deployment / Event
MAY
1944
-
Keel Date: 20 MAY 1944
at Bethlehem Steel Staten Island
NOV
1944
-
Launch Date: 1 NOV 1944
MAR
1945
-
Commissioned: 3 MAR 1945
SEP
1950
-
SEP
1950
Inchon Landing
APR
1953
-
AUG
1954
Regular Overhaul
JUL
1957
-
JAN
1958
West Pac
AUG
1958
-
FEB
1959
West Pac
FEB
1961
-
SEP
1961
West Pac
FEB
1963
-
NOV
1963
West Pac-Viet Nam
APR
1963
-
DEC
1963
West Pac
JAN
1965
-
JUL
1966
West Pac-Viet Nam
JAN
1965
-
JUL
1965
West Pac-Viet Nam
JAN
1965
-
DEC
1966
wesrpac veit nam yankee
MAR
1966
-
SEP
1966
West Pac-Viet Nam
AUG
1966
-
Shellback Initiation - 10 AUG 1966 - Pacific Ocean
DEC
1967
-
MAY
1968
West Pac
DEC
1967
-
JUN
1968
West Pac-Viet Nam
MAY
1968
-
Shellback Initiation - 28 MAY 1968 - Pacific Ocean
MAY
1968
-
Shellback Initiation - 28 MAY 1968 - Pacific Ocean
MAY
1968
-
Shellback Initiation - 28 MAY 1968 - Pacific Ocean
OCT
1968
-
NOV
1969
West Pac-Viet Nam
MAR
1969
-
Shellback Initiation - 5 MAR 1969 - Pacific Ocean
MAY
1969
-
FEB
1970
West Pac
JAN
1970
-
JUN
1970
West Pac-Viet Nam
JAN
1970
-
JUN
1970
West Pac-Viet Nam
NOV
1970
-
Decommissioned: 6 NOV 1970
DD-755 General Specifications
Class: Allen M. Sumner class destroyer
Named for: John A. Bole
Complement: 336 Officers and Enlisted
Displacement: 2200 tons
Length: 376 feet 6 inches
Beam: 40 feet
Flank Speed: 34 knots
Range: 6500 Nautical Miles
Final Disposition:To Taiwan 6 May 1974 and cannibalized for spare parts
USS JOHN A. BOLE (DD-755)
John A. Bole (DD-755) a name originally assigned to DD-783 was laid down 20 May 1944 by Bethlehem Steel Co. Staten Island N.Y.; launched 1 November 1944; sponsored by Mrs. John A. Bole Jr. widow of Lt. Comdr. Bole; and commissioned 3 March1945 Comdr. E. B. Billingsley in command.
Following shakedown training out of Guantanamo Bay Cuba John A. Bole escorted damaged carrier Franklin (CV-13) north to New York arriving 24 April 1945. After moving to Boston to join Saint Paul (CA-73) she sailed 15 May for the Pacific during the final push in the war against Japan. Steaming via the Panama Canal she arrived Pearl Harbor 7 June 1945. The ship joined a carrier group in Hawaiian waters took part in the air strike on Wake Island 20 June; and escorted a carrier to Eniwetok arriving 21 June.
John A. Bole arrived Okinawa 29 June for picket and patrol duty; and. although ground fighting had virtually ceased weeks of intermittent air raids and dangerous picket duty were still in store for the fleet. The ship remained off Okinawa until the Japanese acceptance of surrender terms 15 August then departed for the East China and Yellow Seas to support the occupation and to take part in minesweeping operations. John A. Bole joined a cruiser-destroyer force 8 September off Jinsen Korea to cover the landings of troops at that important port. She remained until 25 September and arrived 3 days later at Saishu To south of the Korean Peninsula to accept the surrender of the island and demilitarize it.
The veteran destroyer remained in the Far East after the end of the war to carry mail and passengers between .Japan Korea and Chinese ports supporting the efforts of American marines to protect Allied lives and stabilize the Chinese situation. While at Tsingtao 20 February 1946 upon receiving a distress signal from a sinking merchantmen she succeeded in rescuing 13 survivors. John A. Bole departed 5 March for San Francisco and after stopping at Guam and Pearl Harbor arrived 27 March 1946.
Following a long repair period to prepare her for peacetime service the destroyer arrived San Diego 10 April 1947 to begin a regular schedule of training maneuvers and cruises for Naval Reservists. She continued to operate on the West Coast with occasional visits to Hawaii through 1949.
With the outbreak of the Korean War in June 1950 John A. Bole began intensive preparations for combat service. Sailing from San Diego 30 September she steamed via Japan to join Task Force 77 off the Korean coast. With the brilliant amphibious assault on Inchon 15 September an end run made possible by control of the sea the tide of the ground war rapidly reversed. The nearly victorious enemy armies far to the south collapsed. John A. Bole exemplifying the flexibility of seapower promptly shifted from amphibious attack to fire support of our advancing troops. She then screened carriers during the vital air operations helping to support both battleline air strikes and interdiction of northern supply lines. John A. Bole also steamed with support convoys into Inchon before returning to San Diego in mid-June 1951.
The veteran ship was underway again for Korea 3 January 1952. Upon arrival she helped maintain the pressure on Communist troops in the stalemated land war by screening carriers during air attacks. John A. Bole also took part in shore bombardment along both the east and west coasts of North Korea operating with British and Dutch ships. The ship moved to the Formosa Straits for patrol duty designed to deter Chinese Communist aggression there finally returning to San Diego 11 July 1952.
Following a yard period in which she added 3-inch rapid fire guns to her armament. John A. Bole departed 21 February 1953 for her third Korean tour. During March she operated off the coast with cruiser Saint Paul and sailed 10 April for the Formosa Strait to resume patrol duty. Then after returning to Korean waters the destroyer sailed 1 June to Wonsan harbor for 6 days dueling with shore batteries while protecting the Allied-held offshore islands. She then screened battleship New Jersey (BB-62) before the Korean armistice 27 July 1953. after which she returned to Japan. Escort duty with Princeton (CVL-23) closed her cruise and John A. Bole arrived San Diego 22 September 1953.
The veteran ship returned to the Far East again in 1954 taking part in the continuing Formosa Patrol and in amphibious training exercises. She sailed from San Diego 20 April and returned 17 October adding carrier operations in the South China Sea and antisubmarine warfare exercises off Okinawa to her busy schedule. In 1955 and again in 1956 she spent 6 month periods in these familiar waters training and showing graphically the value of seapower to the security of the United States and her allies.
John A. Bole sailed 29 July 1957 for the Western Pacific this time visiting Pago Pago; Auckland New Zealand; and Manus en route to Japan. She took part in carrier operations with Bon Homme Richard (CV-31) and in December again steamed Formosa Strait. The ship returned to San Diego 8 January 1958 and took part in exercises off California until July. John A. Bole again sailed westward 23 August 1958 this time amid mounting chaos from revolt in Indonesia and growing trouble in southeast Asia. She operated in the Philippines and on Formosa Patrol helping to stabilize affairs in this strategic region. returning to San Diego 16 February 1959.
The destroyer made still another cruise to the Far East 1959 - 60 sailing 30 October. She operated with the 7th Fleet's hunter-killer force off Okinawa during November and December arriving Formosa 4 January 1960 for patrol duty. She returned to San Diego 12 March 1960. In June John A. Bole served as a air-sea rescue station ship for President Eisenhower's flight across the Pacific. and during the summer she embarked NROTC Midshipman for training. In October she was assigned to a hunter-killer group built around veteran carrier Kearsarge (CV-33); and after training. departed 4 March1961 for the Far East. The ships carried out further training. this time with Canadian ships out of Pearl Harbor but with a worsening of the Laos situation steamed to Subic Bay to bolster Navy strength and deter more serious trouble. Hunter-killer operations continued until September and John A. Bole returned to California via the northern great-circle route to help gather hydrographic data arriving her home port 18 September.
John A. Bole entered San Francisco Naval Shipyard in late 1961 to undergo a major Fleet-Rehabilitation-and Modernization overhaul designed to equip her with the latest equipment and lengthen her active service life several years. Emerging in July 1962 she took part in training operations for the remainder of the year intercepted by several weeks of alert at sea during the Cuban Missile Crisis in October. During the first few months of 1963 she operated out of San Diego sailing 1 April 1963 for Pearl Harbor and the Western Pacific. This cruise helped to maintain the vital American presence in the Far East. and she returned to San Diego 3 December 1963. In the first half of 1964 she was engaged in antisubmarine operations including tests of her new DASH. John A. Bole sailed 23 October 1964 for the Western Pacific with a group composed of Yorktown (CV-10) and other destroyers. After maneuvers in Hawaiian waters she reported to Commander 7th Fleet 2 January 1965 to resume peacekeeping operations in the troubled region. During the deployment John A. Bole operated with a carrier task group and an ASW hunter-killer group then patrolled Taiwan Straits. From 9 to 25 February she operated off Vietnam.
Returning to San Diego 24 May the destroyer entered Hunter's Point Naval Shipyard late in June for overhaul and stayed there through the remaining summer. She operated out of San Diego until sailing 22 March 1966 for the Far East. On 18 April she began naval gunfire support duties off Vietnam which continued until she began plane guard patrol at Yankee Station 4 May. On the 8th the destroyer sailed to Japan for repairs but was back at Yankee Station on the 25th. But for brief runs to Hong Kong and Subic Bay John. A. Bole remained in the war zone until 27 July when she headed for Taiwan. She visited Malaysia before heading home via Subic Bay Guam. and Pearl Harbor arriving San Diego 24 September. She operated out of home port for the remainder of the year and in 1967 prepared for future action.
John A. Bole received one battle star for World War II service and seven for Korean service.


[Note: The above USS JOHN A. BOLE (DD-755) history may or may not contain text provided by crew members of the USS JOHN A. BOLE (DD-755) or by other non-crew members and text from the Dictionary of American Naval Fighting Ships]