For RATING SHIRTS - Click on your Rating Abbreviation below:
Click on your Rating abbreviation above: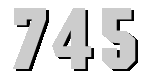 U.S.S. BRUSH
(DD-745)

THE MIGHTY BEANO
Click to view crew list
USS BRUSH (DD-745) - an Allen M. Sumner class destroyer
In Commission 1944 to 1969
DD-745 Deployments - Major Events
Add a DD-745 Shellback Initiation
Add a DD-745 Deployment - Major Event
Month
Year
to
Month
Year
Deployment / Event
JUL
1943
-
Keel Date: 30 JUL 1943
at Bethlehem Steel Staten Island
DEC
1943
-
Launch Date: 28 DEC 1943
APR
1944
-
Commissioned: 17 APR 1944
OCT
1944
-
JAN
1945
Middle Pacific
JUL
1945
-
JUL
1945
anti-shipping sweeps in Sagami Nada (Southern Tokyo Bay)
JAN
1957
-
SEP
1957
West Pac
MAR
1964
-
OCT
1964
West Pac
JAN
1965
-
JAN
1966
West Pac-Viet Nam
NOV
1965
-
JUL
1966
West Pac-Viet Nam
APR
1967
-
OCT
1967
West Pac-Viet Nam
APR
1967
-
OCT
1967
West Pac-Viet Nam
APR
1967
-
OCT
1967
West Pac-Viet Nam
OCT
1968
-
MAR
1969
West Pac-Viet Nam
OCT
1969
-
Decommissioned: 27 OCT 1969
DD-745 General Specifications
Class: Allen M. Sumner class destroyer
Named for: Charles F. Brush
Complement: 336 Officers and Enlisted
Displacement: 2200 tons
Length: 376 feet 6 inches
Beam: 40 feet
Flank Speed: 34 knots
Range: 6500 Nautical Miles
Final Disposition:Sold to Taiwan 9 December 1969
USS BRUSH (DD-745)
Brush (DD-745) was launched 28 December 1943 by Bethlehem Steel Co. Staten Island N. Y.; sponsored by Miss Virginia Perkins great-granddaughter of Charles Brush; and commissioned 17 April 1944 Commander J. E. Edwards in command.
On 30 August 1944 Brush arrived at Pearl Harbor and after training got underway for Eniwetok Marshall Islands 28 September. From Eniwetok she escorted convoys to Ulithi and the Palau Islands.
Serving with the 5th and 3d Fleets she took part in the Leyte operation (5 November-16 December 1944); Luzon-Formosa-China coast-Nansei Shoto strikes (3-22 January 1945); invasion of Iwo Jima and the supporting 5th Fleet raids (15 February-5 March) and Okinawa operation (17 March-27 April) including the 21 April bombardment of Minami Daito Shima. She retired to Ulithi Caroline Islands where she lay 30 April-10 May before joining the 5th Fleet for the projected invasion of Kyushu Japan. Brush lay at anchor in Leyte Gulf from 13 June to 1 July 1945 and then departed for a raid on the Japanese island of Hokkaido. On 22 July Brush and other destroyers of her squadron conducted an anti-shipping sweep near the entrance of Tokyo Bay. She remained in this area on air-sea rescue duty until 14 September when she steamed into Tokyo Bay. On 24 September 1945 she left the Far East for the United States.
She arrived at Seattle Wash. 15 October 1945 and operated along the west coast until early 1946 when she departed for Guam. She remained at Guam until 9 March and then steamed to Tsingtao China arriving on the 19th. With the exception of two voyages to the Philippine Islands she operated in the East China Sea between Tsingtao and Shanghai until January 1947. Brush returned to Guam 18 January 1947 for repairs.
Repairs completed 16 February 1947 she sailed to San Diego via Saipan Kwajalein and Pearl Harbor arriving 24 March. Until May 1950 Brush remained on the west coast participating in local operations plane guard duties and type training. In May 1950 she was ordered to the Far East and entered Formosan waters as a unit of TF 77 on 29 June 1950. She screened the carrier units during the United Nations air strikes against North Korea and participated in shore bombardment. On 26 September 1950 while shelling the shore off Tanchon Korea Brush struck a mine ripping her midships section and breaking her keel. Thirteen men were killed and 31 injured. Brush received temporary repairs at Japan and returned under her own power to Puget Sound Naval Shipyard arriving 22 December 1950.
Almost a year later Brush departed on her second Korean cruise. She stopped at Pearl Harbor for one month and then joined TF 77 for anti-submarine and anti-aircraft duties off Korea until 25 February 1952. In March Brush was assigned to the Formosan patrol and then participated in hunter-killer exercises off Okinawa. She returned to Japan 12 April and joined the blockade of Korea's west coast with TF's 95 and 77. She returned to San Diego 26 June 1952.
Brush operated off the California coast until February 1953 when she commenced her third Korean cruise. She returned to the United States 30 August. Since September 1953 Brush has operated along the west coast and has completed three more Far Eastern cruises.
Brush received five battle stars for World War II service and four battle stars for her Korean operations.


[Note: The above USS BRUSH (DD-745) history may or may not contain text provided by crew members of the USS BRUSH (DD-745) or by other non-crew members and text from the Dictionary of American Naval Fighting Ships]