For RATING SHIRTS - Click on your Rating Abbreviation below:
Click on your Rating abbreviation above: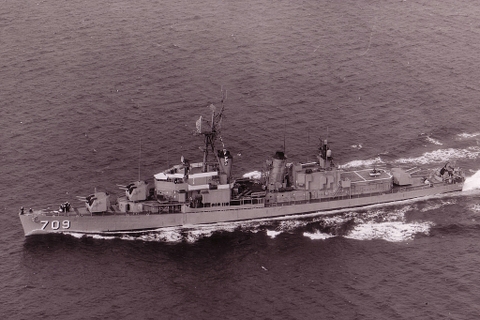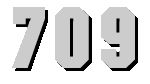 U.S.S. HUGH PURVIS
(DD-709)

HAZE GRAY AND UNDERWAY
Click to view crew list
USS HUGH PURVIS (DD-709) - an Allen M. Sumner class destroyer
In Commission 1945 to 1972
DD-709 Deployments - Major Events
Add a DD-709 Shellback Initiation
Add a DD-709 Deployment - Major Event
Month
Year
to
Month
Year
Deployment / Event
MAY
1944
-
Keel Date: 23 MAY 1944
at Federal Shipbuilding and Dry Dock Company
DEC
1944
-
Launch Date: 17 DEC 1944
MAR
1945
-
Commissioned: 1 MAR 1945
JAN
1952
-
DEC
1952
Operation Mainbrace Nato Operation 1952
AUG
1952
-
NOV
1952
Blue Nose - Arctic Circle
AUG
1952
-
DEC
1952
Ops Mainbrace Nato Ops Scotland Le Havre France Blue Nose
OCT
1952
-
NOV
1952
Blue Nose - Arctic Circle
JUN
1957
-
AUG
1957
Midshipmen cruise Norfolk, Panama Canal, Valparaiso Chile
MAR
1961
-
OCT
1961
Mediterranean-Indian Ocean-Persian Gulf
OCT
1962
-
OCT
1962
Cuban Missle Blockade
AUG
1968
-
APR
1969
West Pac-Viet Nam
FEB
1969
-
Shellback Initiation - 22 FEB 1969 - Pacific Ocean
SEP
1970
-
APR
1971
Mediterranean
JUN
1972
-
Decommissioned: 15 JUN 1972
DD-709 General Specifications
Class: Allen M. Sumner class destroyer
Named for: Hugh Purvis
Complement: 336 Officers and Enlisted
Displacement: 2200 tons
Length: 376 feet 6 inches
Beam: 40 feet
Flank Speed: 34 knots
Range: 6500 Nautical Miles
Final Disposition:Sold to Turkey July 1 1972
USS HUGH PURVIS (DD-709)
Hugh Purvis (DD-709) was launched by Federal Shipbuilding building & Dry Dock Co. Kearny N.J. 17 December 1944; sponsored by Mrs. Mary Alice Purvis widow of Corporal Purvis and commissioned 1 March 1945 Comdr. B. L. Gurnette in command.
Following shakedown training in the Caribbean Hugh Purvis transited the Panama Canal to take part in training exercises in Hawaiian waters after the close of World War II returning to Casco Bay Maine 16 April 1946. After a long overhaul at New York she trained in the Caribbean and arrived her new homeport Newport 14 December 1948. Hugh Purvis sailed for her first European cruise 2 February 1947 and after exercises with allied ships in the north Atlantic formed a part of America's official party at the burial of! King Christian c, Denmark in April. The ship returned to Newport 14 August and took part in antisubmarine exercises off the New England coast the balance of the year.
Hugh Purvis departed Newport for her first cruise with the 6th Fleet 13 September 1948. For the next 5 months she took part in the fleet's vital work of peace-keeping. Returning to Newport 10 February 1949 she operated from that port until sailing 27 June for New Orleans. Hugh Purvis made reserve training cruises out of the gulf port until returning to Newport and regular fleet duties 10 December 1950.
As the demands on the Navy increased during the Korean conflict Hugh Purvis continued intensive readiness training. She made another Mediterranean cruise March to October 1951 and took part in another giant NATO cruise in August 1952. Another 6th Fleet cruise was completed in July 1953 after which the veteran ship embarked midshipmen for a Caribbean training cruise. She participated in Operation Springboard in the Caribbean before returning to Newport 23 November 1953.
Hugh Purvey spent 1954 on training operations on this side of the Atlantic but sailed 5 January 1955 for another important deployment with the 6th Fleet. She returned 26 May to join a hunter-killer group in antisubmarine exercises until July 1956. On 2 July she sailed again for duty in the troubled Mediterranean joining other 6th Fleet units in that ancient center of civilization. During this period American power afloat did much to dampen the Suez crises and to discourage foreign interference in this vital area. While in the Persian Gulf in October 1956 Hugh Purvis acted as an escort vessel during evacuation of refugees from Haifa Israel and the removal of United Nations Truce Team officials from Gaza Egypt.
During the summer of 1957 the destroyer took part in another midshipman training cruise to Chile and the Canal Zone and operated with NATO units in the north Atlantic. In early 1958 she trained in the Caribbean sailing 12 June for visits to NATO countries in northern Europe. It was during this crucial period that the 6th Fleet was proving its peace-keeping power in the Lebanon crisis and was successful in preventing a leftist revolt.
After her return from Europe in August 1958 she began 16 months of training and experimental work with the Destroyer Development Group designed to increase her fighting capacity for the modern Navy. In March 1960 she entered Boston Naval Shipyard to begin a FRAM (Fleet Rehabilitation and Modernization) overhaul which included extensive refitting and the installation of a helicopter landing deck and hangar aft. Emerging with a greatly increased life span the ship took part in antisubmarine exercises in January 1961 including the use of the new DASH antisubmarine drone helicopter. Hugh Purvis then sailed 8 March for her sixth deployment to the Mediterranean. During this cruise the fleet stood by for any eventuality during a deepening of the Berlin crisis materially strengthening America's hand in this confrontation of power. The ship returned to Newport 4 October 1961.
In January 1962 as the dawning space age increased America's need for control of the sea Hugh Purvis operated in the Atlantic recovery area aiding in the historic recovery of Col. John Glenn's Mercury space capsule. Sonar exercises occupied her until late October when the introduction of offensive missiles into Cuba precipitated another cold war crisis. Hugh Purvis joined the quarantine line off Cuba helping to force the withdrawal of the missiles - another dramatic example of the power of the fleet when firmly used in checking communism and keeping the peace. She returned to Newport 20 December 1962 and throughout the next year took part in antisubmarine exercises with ASW carriers and helicopters in the Atlantic.
The year 1964 found her preparing for her annual operational readiness inspection and in February of that year she entered the Boston Naval Shipyard for a regular overhaul. After overhaul and a new radar radome mounted on a 30-foot mast she began evaluation of a new ASW sensor. On 18 January 1965 she sailed from Newport to become an important part of Operation "Springboard". At the completion of competitive year 1965 Hugh Purvis was awarded two Cruiser Destroyer Force Atlantic Fleet departmental excellence awards in operations and weaponry. During the latter part of 1965 Hugh Purvis was adapted for a new conformed planar array sonar at the Boston Naval Shipyard. This new equipment will increase the "vision" of the Fleet thereby providing a better tool to safeguard the peace and freedom of the world and the future of the American way of life.
Ready for action 21 January 1966 Hugh Purvis operated along the Atlantic coast and in the Caribbean through most of the year. On 6 March she rescued fishing boat Good Will II and her crew of five. The destroyer sailed for the Mediterranean 29 November and transited the Straits of Gibraltar 7 December to join the 6th Fleet. She operated in the eastern Mediterranean into 1967 protecting the peace and security of the free world.


[Note: The above USS HUGH PURVIS (DD-709) history may or may not contain text provided by crew members of the USS HUGH PURVIS (DD-709) or by other non-crew members and text from the Dictionary of American Naval Fighting Ships]