For RATING SHIRTS - Click on your Rating Abbreviation below: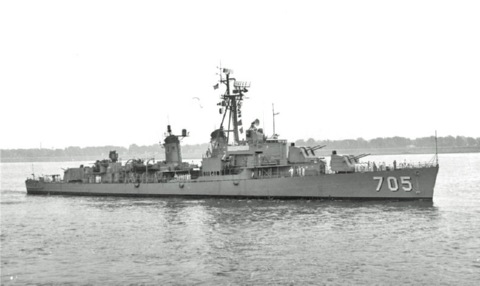 U.S.S. COMPTON
(DD-705)


Click to view crew list
USS COMPTON (DD-705) - an Allen M. Sumner class destroyer
In Commission 1944 to 1972
DD-705 Deployments - Major Events
Add a DD-705 Shellback Initiation
Add a DD-705 Deployment - Major Event
Month
Year
to
Month
Year
Deployment / Event
MAR
1944
-
Keel Date: 28 MAR 1944
at Federal Shipbuilding and Drydock Company
SEP
1944
-
Launch Date: 17 SEP 1944
NOV
1944
-
Commissioned: 4 NOV 1944
MAR
1945
-
AUG
1945
WW-II Pacific Theater Okinawa and Ulithi
DEC
1956
-
MAR
1957
Mediterranean-Indian Ocean
DEC
1956
-
Shellback Initiation - 2 DEC 1956 - Indian Ocean
JAN
1961
-
Mediterranean - please reenter with exact dates
JUN
1962
-
OCT
1962
Mediterranean
OCT
1962
-
NOV
1962
cuban blockade
JAN
1964
-
JAN
1967
Guantanamo Bay
SEP
1972
-
Decommissioned: 17 SEP 1972
DD-705 General Specifications
Class: Allen M. Sumner class destroyer
Named for: Lewis Compton
Complement: 336 Officers and Enlisted
Displacement: 2200 tons
Length: 376 feet 6 inches
Beam: 40 feet
Flank Speed: 34 knots
Range: 6500 Nautical Miles
Final Disposition:To Brazil 27 September 1972
USS COMPTON (DD-705)
Compton (DD-705) was launched 17 September 1944 by Federal Shipbuilding and Drydock Co. Kearny N.J.; sponsored by Mrs. L. Compton; and commissioned 4 November 1944 Commander R. O. Strange in command.
Compton cleared Norfolk 17 February 1945 for training at Pearl Harbor between 16 March and 5 April when she sailed to escort ships to Kwajalein and Eniwetok. Sailing on to Ulithi she cleared for Okinawa 20 April. As the operations there continued Compton offered pinpoint gunfire support to forces ashore and served in the antisubmarine and antiaircraft screens protecting shipping off the island. On 12 May she covered the occupation of nearby Tori Shima and while returning to her station off Okinawa was attacked by a lone Japanese plane which she splashed.
After repairs at Leyte from 17 May to 16 June 1945 Compton returned to Okinawa for continued operations until 4 July when she sailed to escort a convoy to Guam returning to Leyte Gulf 10 July. For the remainder of the month she screened ships training in the Gulf then returned to Okinawa where she lay at anchor in Buckner Bay until 25 August. Sent then to carry mail to the 3d Fleet at sea Compton entered Sagami Wan 28 August. For the next 6 months she served on patrol in the western Pacific and acted as planeguard while air organizations were redistributed throughout the Far East. She cleared Yokosuka 21 February 1946 for San Pedro Calif. arriving 15 March. Two weeks later she sailed to join the Atlantic Fleet raising Portland Maine 16 April. After overhaul she operated along the northeast coast and in the Caribbean until 3 February 1947 when she sailed for her first tour of duty in the Mediterranean. Compton returned to her home port Newport R.I. 14 August 1947.
Along with east coast operations Compton cruised the Caribbean on intensive training and midshipmen cruises in the years that followed as well as serving as school ship and training members of the Naval Reserve. During her 1948-49 deployment to the Mediterranean she had duty with the United Nations Palestine Patrol. She returned to the Mediterranean in 1951 and in the late summer of 1952 cruised in European waters in NATO Operation "Mainbrace." Assignment to duty with the 6th Fleet in the Mediterranean came once more in 1953 and 1955 and in the spring of 1956 Compton exercised off Bermuda with ships of the British Home Fleet in NATO operation "New Broom V."
Compton was serving at Bahrein in the Persian Gulf in the fall of 1956 when the Suez Crisis erupted and stood by to evacuate American civilians in the Persian Gulf and Red Sea areas should that become necessary. With the Canal closed Compton made her homeward passage by way of Mombasa Durban the Cape of Good Hope Simonstown Recife and Trinidad returning to Newport 8 January 1967. That fall she again cruised off the British Isles in a series of NATO operations. From November 1957 to April 1968 she again served in the Mediterranean the Persian Gulf and the Red Sea and that summer cruised to Rotterdam and Bergen with midshipmen on board for training. From that time into 1960 her operations were coastwise and in the Caribbean as she aided research and development projects including major meteorological research and gave service to the Fleet Sonar School at Key West. In August 1960 Compton again sailed to the Mediterranean for duty in the 6th Fleet.
Compton received one battle star for World War II service.


[Note: The above USS COMPTON (DD-705) history may or may not contain text provided by crew members of the USS COMPTON (DD-705) or by other non-crew members and text from the Dictionary of American Naval Fighting Ships]