For RATING SHIRTS - Click on your Rating Abbreviation below:
Click on your Rating abbreviation above: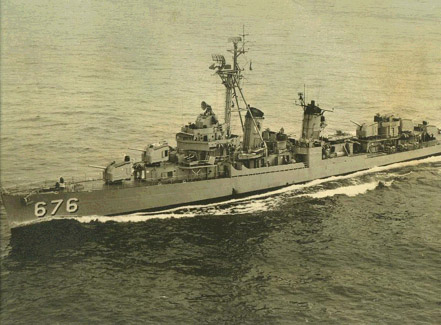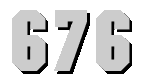 U.S.S. MARSHALL
(DD-676)

SHELLBACK
Click to view crew list
USS MARSHALL (DD-676) - a Fletcher class destroyer
In Commission 1943 to 1969
DD-676 Deployments - Major Events
Add a DD-676 Shellback Initiation
Add a DD-676 Deployment - Major Event
Month
Year
to
Month
Year
Deployment / Event
APR
1943
-
Keel Date: 29 APR 1943
at Federal Shipbuilding & Dry Dock Co. Kearny N.J.
AUG
1943
-
Launch Date: 29 AUG 1943
OCT
1943
-
Commissioned: 16 OCT 1943
APR
1962
-
Shellback Initiation - 27 APR 1962 - Pacific Ocean
JUL
1969
-
Decommissioned: 19 JUL 1969
DD-676 General Specifications
Class: Fletcher class destroyer
Named for: Thomas W. Marshall
Complement: 319 Officers and Enlisted
Displacement: 2050 tons
Length: 376 feet 5 inches
Beam: 39 feet 8 inches
Flank Speed: 38 kn
Range: 6 500 nautical miles
Final Disposition:Sold for scrap July 1970
USS MARSHALL (DD-676)
Marshall (DD 676) was laid down by the Federal Shipbuilding & Dry Dock Co. Kearny N.J. 29 April 1943; launched 29 August 1943; sponsored by Mrs. Thomas W. Marshall mother of Lt. Comdr. Marshall; and commissioned 16 October 1943 Lt. Comdr. Sinclair B. Wright in command.
Marshall's first big assignment came while she was still on her shakedown cruise off Bermuda. Speeding from that area she rendezvoused in mid-Atlantic with Iowa 13 December 1943 to escort President Roosevelt back from the Big Three Conference at Teheran (28 November to 1 December).
On 6 January 1944 Marshall departed New York for Pearl Harbor arriving on the 28th. She remained at Pearl Harbor undergoing further training and providing escort services to battle-damaged ships returning for repairs until mid-March. Then with TF 58.2 she sailed for Majuro arriving on the 20th.
Fast Carrier Task Force 58 with Marshall taking station in the antisubmarine screen departed Majuro 22 March to conduct aerial sorties against Palau 30th and Woleai 1 April. Marshall next participated in TF 58's airstrikes against Japanese installations at Wakde and Hollandia in New Guinea 21 to 27 April. On the 29th Truk was the recipient of the force's aerial message while on the 30th her battleships commenced the bombardment off Ponape and her cruisers shelled Satawan. In May the force moved against Wake and Marcus Islands with Marshall assigned to Join in an antishipping sweep north of the latter.
The next month the task force was called on to support amphibious operations in the Marianas. On the 17th the force headed west to intercept a Japanese force reported en route to the Marianas to support enemy troops fighting on Saipan Tinian Guam Rota and Pagan Islands. On the 19th the Battle of the Philippine Sea commenced. In the course Or the 2-day battle the Japanese Fleet lost three aircraft carriers and 395 carrier planes (92 percent of her carrier plane strength).Marshall was credited with an assist in splashing two of those planes. For the next month and a half Marshall continued to support operations in the southern Marianas interrupted only by participation in the strikes against Chichi Jima and Iwo Jima 4 July and against Palau Ulithi and Yap 23 to 27 July.
Marshall returned to Eniwetok in mid-August for voyage repairs and upkeep departing again on the 23d for operations in the Palau Islands. As a unit of TF38 (Formerly 58) she took part in the Palau and Philippine operations 6 to 24 September. On 12 September she picked up 44 Japanese survivors from the cruiser Natori sunk 18 August by Hardhead (SS-365).
After repair and replenishment at newly won Ulithi Marshall's task group got underway 6 October for strikes against Okinawa 10th and Formosa 12th to 14th. Marshall was then ordered to provide antiaircraft cover for the damaged cruiser Canberra during airstrikes against enemy strongholds throughout the Philippines. On the 22d she rejoined her task group in a search for the enemy in the Sibuyan Sea and the Mindoro Strait. On the 25th the Task Force moved north towards Cape Engano while Marshall Joined TG 34.5 proceeding to San Bernardino Strait to intercept units of the Japanese Fleet withdrawing from Leyte Gulf. In the first hours of the 26th a Japanese destroyer was sighted and sunk by the group. Returning to the fast carrier force on the 31st Marshall continued to operate in the Philippines until the end of the year.
The new year 1945 brought further strikes against the Philippines and with operations in the South China Sea against Formosa and the coast off China. On 10 February Marshall with TG 58.2 sailed for the enemy's home islands and on the 16th and 17th the carrier planes flew against Tokyo. The force then sped southeast to support the landings on Iwo Jima returning to the Honshu area for further strikes on the 25th. By 1 March the task force was off Okinawa commencing strikes in preparation for that campaign. On the 15th strikes were directed against Ryushu. On the 19th Franklin received a direct hit and Marshall joined in the rescue taking off 212 off her crew and on the 20th escorted the listing ship back to Ulithi.
During the Okinawa campaign Marshall operated as advanced radar picket for her task group and escorted damaged ships to safety 8 April to 9 May. On 9 May she departed for Ulithi continuing on to Leyte and finally San Francisco arriving 6 July for overhaul. Before Completion the war ended and Marshall inactivated. Decommissioned in December she was placed in the Reserve Fleet at San Diego.
On 27 April 1951 Marshall recommissioned and on 22 August Joined TF 77 in the Sea of Japan once more screening carriers in combat this time against Communist forces in Korea. During this tour in the Far East Marshall served with the Formosa Strait patrol and with the U.N. Blockade and Escort Force off Korea's east coast as well as on carrier screen duty in the Yellow Sea.
In March 1962 the destroyer returned to San Diego for overhaul and on 4 October sailed again tor the Far Fast. Arriving on the 28th she once again began a Korean combat tour as a screening unit for carriers. In midNovember she was detached and after 2 weeks of hunterkiller operations joined TF 95 in the bombardment of Wonsan 10 December. On 7 January 1953 she steamed south to join the Formosa Strait patrol. In mid-February Marshall rejoined TF 77. Two months later her western Pacific deployment completed she headed home arriving San Diego 6 May.
For the next 11 years Marshall operated as a unit of the Pacific Fleet Home ported at San Diego she was regularly deployed with the 7th Fleet in the western Pacific. While with that fleet she operated primarily with TF 77 and in 1960 was a unit of a carrier strike group standing by in the South China Sea during the uprising of the Communist Pathet Lao in Laos.
On 1 September 1964 Marshall changed her home port to Tacoma Wash. There she relieved Watts as the Naval Reserve training ship for the 13th Naval District. Continuing this assignment as part of the Navy's Selected Reserve Antisubmarine Warfare Component into 1969 Marshall trained her Ready Reserve Crew 1 weekend a month and 2 weeks during the summer and carries out afloat training responsibilities tor naval reservists in the northwestern United States.
Marshall received eight battle stars tor World War II service and four for Korean service.


[Note: The above USS MARSHALL (DD-676) history may or may not contain text provided by crew members of the USS MARSHALL (DD-676) or by other non-crew members and text from the Dictionary of American Naval Fighting Ships]