For RATING SHIRTS - Click on your Rating Abbreviation below:
Click on your Rating abbreviation above: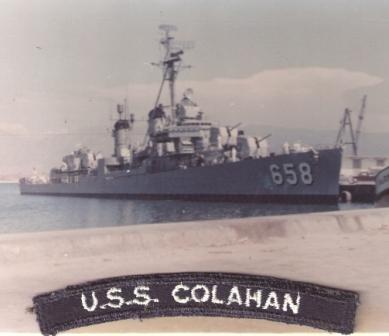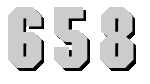 U.S.S. COLAHAN
(DD-658)


Click to view crew list
USS COLAHAN (DD-658) - a Fletcher class destroyer
In Commission 1943 to 1966
DD-658 Deployments - Major Events
Add a DD-658 Shellback Initiation
Add a DD-658 Deployment - Major Event
Month
Year
to
Month
Year
Deployment / Event
OCT
1942
-
Keel Date: 24 OCT 1942
at Federal Shipbuilding and Drydock Company Kearny New J
MAY
1943
-
Launch Date: 3 MAY 1943
AUG
1943
-
Commissioned: 23 AUG 1943
APR
1945
-
APR
1945
Leyte Gulf
AUG
1951
-
MAR
1952
West Pac
SEP
1961
-
JUL
1962
Recalled to active duty as a result of the Berlin Crisis.
JAN
1962
-
JUN
1962
West Pac
FEB
1962
-
JUL
1962
West Pac
FEB
1962
-
JUL
1962
Depart Long Beach, CA for WESPAC
AUG
1966
-
Decommissioned: 1 AUG 1966
DD-658 General Specifications
Class: Fletcher class destroyer
Named for: Charles E. Colahan
Complement: 319 Officers and Enlisted
Displacement: 2050 tons
Length: 376 feet 6 inches
Beam: 39 feet 8 inches
Flank Speed: 35 knots
Range: 6500 Nautical Miles
Final Disposition:Sunk as a target 18 December 1966
USS COLAHAN (DD-658)
Colahan (DD-658) was launched 3 May 1943 by Bethlehem Steel Co. Staten Island N.Y.; sponsored by Mrs. P. C. Hinkamp adopted granddaughter of Commander Colahan; and commissioned 23 August 1944 Lieutenant Commander D. T. Wilber in command.
Colahan arrived at Pearl Harbor 11 December 1943 to join the Pacific Fleet. She sortied with Task Force 52 for the invasion of the Marshall Islands 19 January 1944 and screened Mississippi (BB-41) during her bombardment of Enubuj and Kwajalein Islands on 31 January.
After repairs and training at Pearl Harbor Colahan sailed 31 May 1944 to rejoin the 5th Fleet operated on radar picket shore bombardment and fire support duty during the bombardment capture and occupation of Guam from 12 July to 15 August and screened air strikes in support of the invasion of the southern Palaus from 29 August to 28 September. Colahan screened TF 38 as it prepared for the Leyte assault with air strikes on the Nansei Shoto and Formosa from 10 to 14 October then began strikes in the Philippines until 20 October day of the landings. Carriers she guarded struck the retiring Japanese forces after the Battle of Surigao Strait phase of the massive Battle for Leyte Gulf of 24 to 26 October. Continued air operations in the Philippines claimed her services until she put in to Ulithi for repairs late in December.
From 30 December 1944 to 22 January 1945 Colahan resumed duty as advanced radar picket for the 3d Fleet raids on Formosa Luzon Camranh Bay in Indo-China Hong Kong and Hainan Island which were coordinated with the Lingayen assault. On 10 February she put to sea to serve on the scouting line as TF 58 swept close to Japan for air strikes in the Tokyo area. Colahan served on radar picket duty off Iwo Jima as it was invaded on 19 February and for 5 days afterward returning to Ulithi for repairs and replenishment.
Colahan operated with TF 58 in preparations for the Okinawa operation from 14 March 1945 to 1 April screening during air strikes on Kyushu and Okinawa. Continuing carrier task force operations after the initial assault she went to the aid of Hazelwood (DD-531) on 29 April rescuing some 140 survivors of the kamikaze victim. After replenishing at San Pedro Bay Leyte Colahan rejoined TF 38 13 June for the last great series of air raids against the Japanese home islands. Entering Sagami Wan 27 August the destroyer became harbor entrance control vessel for Tokyo Bay until 3 September. On 8 October she aided the Japanese MV Kiri Maru which had gone aground on Miyake Shima and transferred the survivors to Okubo.
Clearing Tokyo Bay 31 October 1945 Colahan returned to San Diego where she was placed out of commission in reserve 14 June 1946 and assigned to the 12th Naval District for use in training Naval Reservists.
Recommissioned 16 December 1950 Colahan had training from her home port at San Diego until 20 August 1951 when she cleared San Francisco for service in the Korean war with the 7th Fleet. Conducting shore bombardment and fire support to aid forces ashore she also had antisubmarine training off Okinawa before returning to the west coast 10 March 1952. On 1 November 1952 she sailed again from San Diego to bombard Korean targets and screen carriers as well as serve on the Taiwan Patrol and train off Okinawa. She returned to the west coast 1 June 1953 and in 1964 1966 1966 and 1957 returned to the Far East for service with the 7th Fleet. From 1958 through 1963 her operations have been along the west coast training members of the Naval Reserve.
Colahan received eight battle stars for World War II service and five for Korean war service.


[Note: The above USS COLAHAN (DD-658) history may or may not contain text provided by crew members of the USS COLAHAN (DD-658) or by other non-crew members and text from the Dictionary of American Naval Fighting Ships]